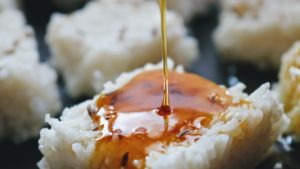 Print Recipe
Vishu katta
Raw rice cooked in coconut milk and served with jaggery syrup
Pin Recipe
Raw rice and jaggery preparation:
Soak the raw rice in water for 30 min - 1 hour

Soak the jaggery in warm water until it dissolves.
Steps to extract coconut milk:
Grate 1 large coconut

without adding any water, Blend the grated coconut and extract the coconut milk out of it which is our "onnampaal" or the first extract = 1/2 cup

Add 1 cup of warm water and blend it again. Extract milk out of it now to get the "rendampaal" or the second extract

Again add 1 cup of water and blend it. Extract now to get the "Moonampaal" or the third extract
Cooking the rice in coconut milk:
Filter the soaked rice, discard the water and put it in the vessel on the stove along with the third and second extract. Mix well.

Let it cook on medium flame until all the coconut milk is absorbed.

Now, pour in the first extract, cumin seeds, and salt. let it cook in medium flame until rice is done.

Stir until thick and it should leave the sides of pan while stirring.
Setting it:
Pour it over the greased pan/ pan lined with banana leaf, sprinkle cumin seeds on top and shape it to a smooth top surface.

Let it cool down completely to become intact. cut it down to pieces you desire and pour the jaggery syrup on top.
Jaggery syrup recipe:
Soak the jaggery in warm water until it dissolves.

Filter to remove impurities and heat it until it thickens.

Add powdered cardamom, dry ginger and mix well.

cook until thick and serve it along with Katta pieces