Kerala Sadhya recipes ~ Onam Recipes
---
sadhya recipes – Onam is the grand colourful festival of keralites and it is celebrated for 10 days in kerala with Sadhya prepared on the last day of onam. Starting from the day of atham till thiruvonam. On all these days we use to put pookolam at our houses and the festive mood would begin well at the day of atham. There are lots of cultural activities that will happen around these days.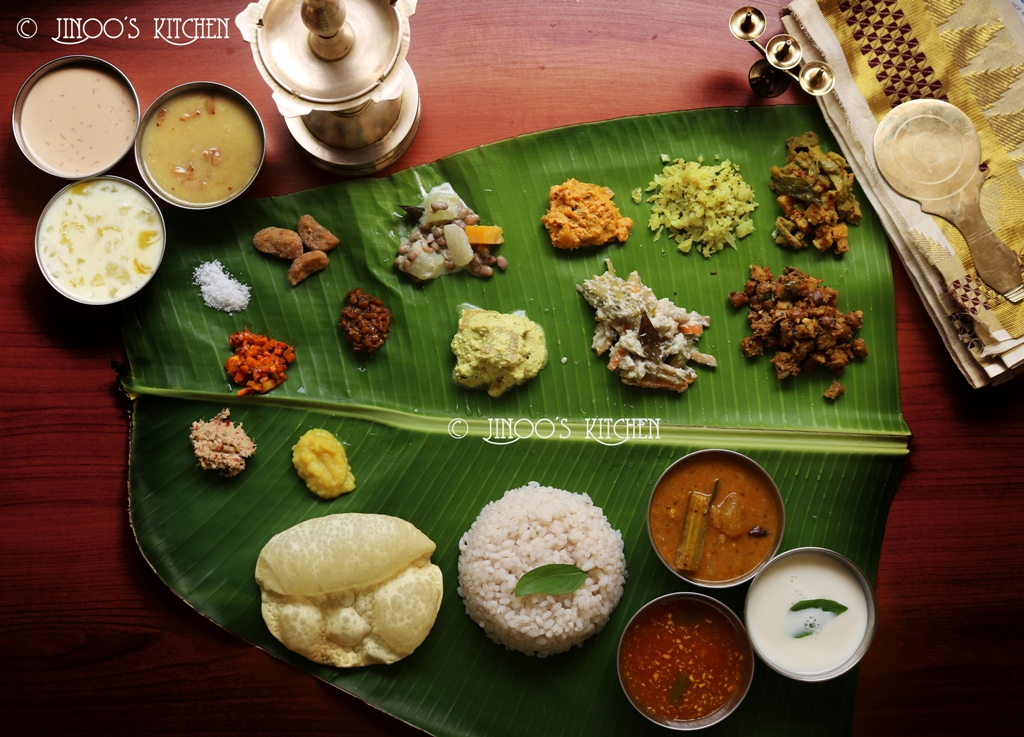 10th day that is thiruvonam is most important and sadhya is one thing which we eagerly wait for. Sadhya is the traditional vegetarian dishes served on banana leaves. The basic sadhya list starts from 10- 12 and the feast sadhya at marriages will have around 28- 30 varieties of dishes. Tasting just a spoonful of each curry will make your tummy overloaded !! Yummy and fun it is to taste each of it and commenting on it.
there is one more latest and mroe detailed post on preapring kerala sadhya recipes here.
Onam sadya recipes | Kerala sadhya recipes| Onam vaibhavangal #1
quick video compilation of all the recipes:
Menu lists start with (starting from the left top corner of banana leaf)
Salt, Pickle, Pappadam, Banana chips, Chakkaravattu, Chakka chips, steamed Banana, pachadi, kichadi, Kalan, olan, thoran, puliserry, eriserry, kootu curry, avial, Steamed rice, sambar, rasam, mor kootan, buttermilk/curd, pradhaman, paal payasam, vella payasam.
This is basic list in which we have so many varieties. For instance, There are lot of thoran- cabbage thoran, cabbage carrot thoran, mixed vegetable thoran so on. We at jinooskitchen are trying to explore as many sadhya recipes possible and will share with you our recipes. Try it, taste it and give us your feedback!
Tips and tricks on preparing Sadhya:
Preparing entire sadhya Single handed is very difficult and time consuming that it takes your entire daytime to prepare it and you will finally end up sitting at kitchen and miss out all your favorite onam special TV shows 🙂 Of course if you have your dear ones to help or anyone else to help you around, then fine. Even then, these few simple tips can make your sadhya preparation easier.
First and foremost main ingredient in all the recipes is Coconut. Never go short of the grated coconut. have it handy, We use to grate the 4-5 coconut previous night and store it in the freezer. Its so much of a relief when you cook.
Avail Vegetables cut is time consuming, so have the dry vegetables cut previous day and store them in air tight container in fridge. Leave out the pumpkin, Yam which can be cut only on that day. If your putting up on freezer, you can even cut those and store. It wont get spoiled.
Some recipes which have more shelf life like Inji Puli, Manga achar, chakka chips, sarkara varatti can be prepared earlier so that you need not run on that day.
Onashamsakal!