Onam sadya recipes | Kerala sadhya recipes| Onam vaibhavangal #1
Kerala sadhya recipes / Onam sadya recipes – traditional kerala sadya recipes with quick videos , step wise pics and tips on how to plan and prepare delicious sadhya with less effort and super neat planning.
We prepare the grand sadhya at home minimum of 6-8 times a year for Onam, Vishu, birthdays, special days and so on..
onam and vishu, both these festivals are most important of all festivals celebrated in Kerala. Onam is considered as "happy onam" only if the delicious and flavor rich Kerala sadhya is prepared at home.
Onasadhya is very special and particularly cooked by all the family members together to spread this grand and rich meal thats enjoyed on auspicious days. In any Keralites Wedding lunch, its mandate to serve sadhya to guests. Being a keralite and being a food blogger, am wondering how i missed posting this complete sadhya compilation for so many days.
"ഹാപ്പി ഓണം"

from Jinoo's kitchen
quick video compilation of all the recipes:
so, here is the 3 day planning and ideas for spreading this beautiful sadhya.
Day 1:
Day 1, I prepared instant mango pickle and inji puli. You can also plan of making sarkaravaratti. this time I purchased sarkara varatti. But if you are planning to cook it, Plan on day 1 itself.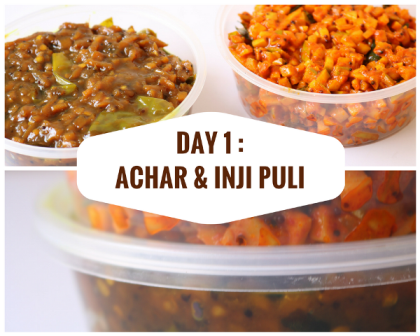 prepare, store it in a clean box and refrigerate.
Day 2:
Day 2, I cooked kurukku kalan, pineapple pachadi. kurukku kalan takes a little longer time and has to done with enough patience. so, have it planned on day 2.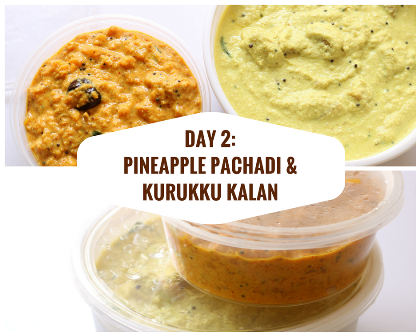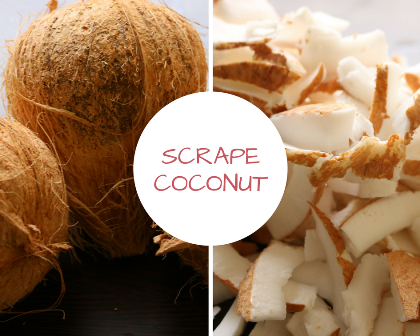 apart from this, On day 2, I removed the coconut meat and put them in refrigerator so that the day 3 sadhya preparation is easy.
coconut grating is very difficult task as almost all the dishes in sadhya uses coconut. So the previous day, i.e., day 2, cut and scrape the coconut using the coconut scraping tool and you can grind it as and when needed.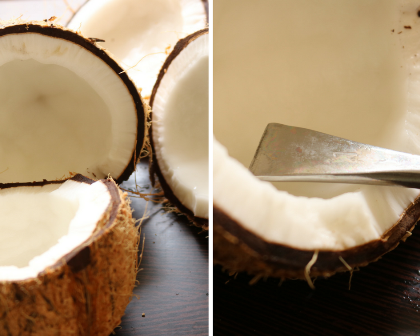 also one of the time consuming process is cutting vegetables for avial. so, other than kumblanga(white pumpkin) , chena(yam), raw banana all other vegetables can be cut the previous night and stored in air tight box.
also, do not forget to soak red cow peas (for olan) and chickpeas (for kootu curry) on day 2(previous day) night.
Day 3:
On day 3, prepare the remaining dishes and there we are. Given below are the recipe links and quick video of it.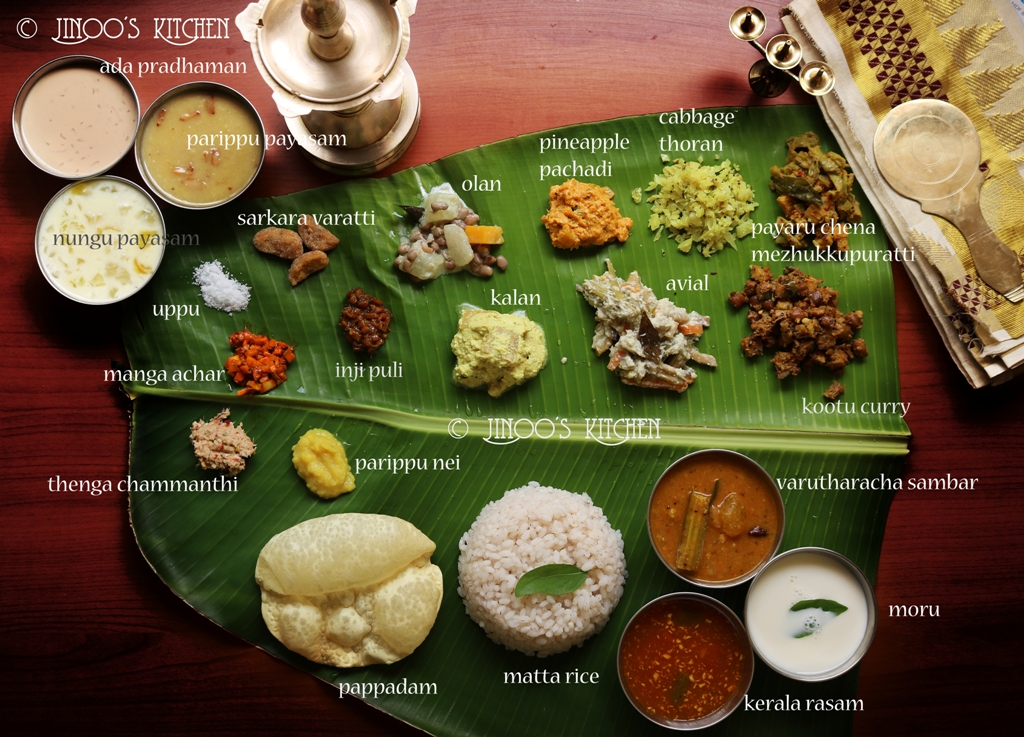 Instant mango pickle: Quick and easy mango pickle recipe | Instant raw mango pickle recipe | Manga achar – Raw mango pickle is super easy and this south Indian style tempered instant pickle is easy to make and is ready in just less than 15 minutes.
Inji Puli: Puli Inji – Inji curry is a finger licking sides in onam sadhya. Sadhya isn't complete without Inji puli. It is tangy, spicy and sweet dish. Main ingredients being Ginger, green chilly ,tamarind and jaggery.
Sarkara varatti: Sarkara varatti is one of the main sides in kerala sadhya. It is prepared with Banana(Nendran/plantain) and Jaggery with little spices. It can be prepared well ahead of time and stored. It stays fresh for longer time.
Thenga chammandhi: simple, quick and super easy dish that can be made within minutes and usually had as side dish with kanji, served in sadhya and also had as side dish with most rice and curries.
Chena Kalan: kalan/kurukku kalan is little thick in consistency as well as smooth and silky in texture. this can be prepared and stored for about a week. it gets very thick with time. so leave it creamy. made with yam/raw banana, this dish is one of the prime dish in Kerala sadhya.
Pineapple pachadi: Pineapple pachadi recipe with step by step photos and video recipe. Pineapple cooked with coconut, curd and jaggery. A sweet, tangy and savory curry recipe in Kerala sadhya.
Olan: Olan is a traditional Kerala dish and inevitable item in Onam Sadhya. Here is the recipe for the special olan. It is cooked either with cowpeas or long beans and with white pumpkin and yellow pumpkin.
kootu curry: It is made with black chickpea/kala channa or with kadala parippu(Bengal gram). This recipe of kootu curry is made with chenna (Yam) and black chickpeas. koottukari / koottu curry is one of the prime dish of onam sadhya recipes.
Avial: Mixed vegetables curry with coconut flavored. Aviyal recipe is almost the same across all regions except for the slight modifications in including few items while grinding coconut.
Cabbage thoran: Cabbage stir fry recipe with detailed photo description and quick video. This dish is typically a south Indian dish which is very commonly included in everyday menu.
payaru mezhukkupuratti: Achinga payar mezhukkupuratti is very common sadhya recipe. this one is the actual kerala sadhya mezhukkupuratti and very tasty recipe that i wanted to share with you all.
varutharacha sambar: authentic Kerala style sambar where sambar masala is freshly prepared along with roasted coconut. served in kerala sadhya for onam and vishu, this recipe is typical nadan sambar.
Kerala rasam: Easy Rasam recipe Kerala style | tomato rasam recipe Kerala style | without rasam powder and dal with step by step photos and video. simple, easy to cook Kerala style rasam recipe without dal and rasam powder.
Ada pradhaman: Ada pradhaman is one of the traditional and mouth watering prime dessert of kerala. Sadhya is incomplete without pradhaman and especially palada pradhaman.
parippu pradhaman: simple pradhaman/payasam recipe kerala style with moong dal and jaggery made with coconut milk. typical payasam made for the kerala sadhya. this is also made with chana dal (kadala paruppu). this one is with moong dal(cherupayar parippu / pasi paruppu)
hope you will enjoy cooking these recipes. I would be very happy to hear your feedback on your experience of making this sadhya. leave a comment if you have tried this post or send a photo of your tried sadhya recipe to [email protected] and it will be posted here.
Happy cooking!
Ellavarkkum ente hridayam niranja Onashamsakal ! 🙂