Puli Inji / Inji curry recipe step by step pictorial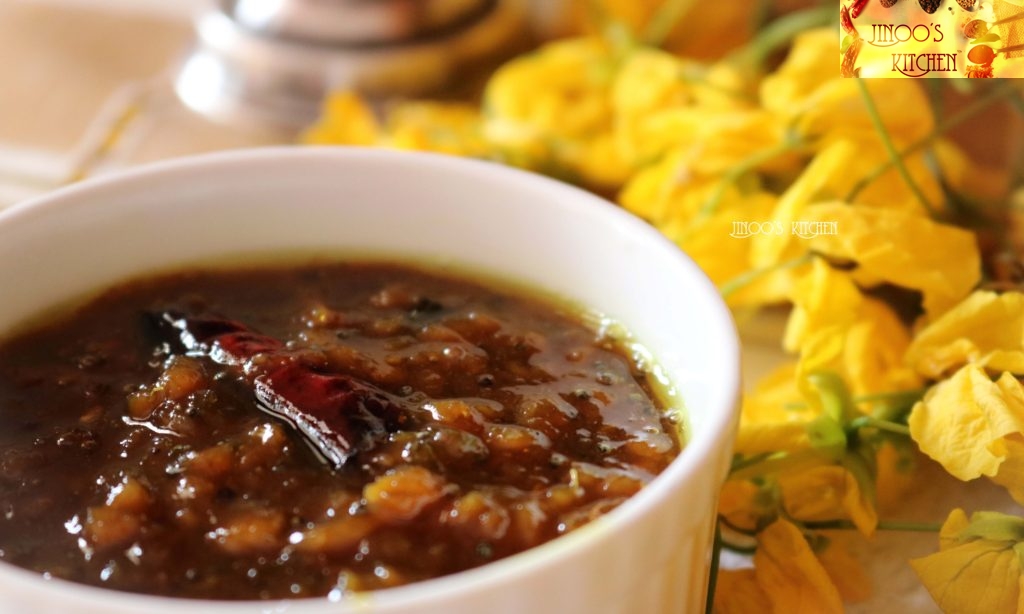 Puli Inji – Inji curry is a finger licking sides in onam sadhya. Sadhya isn't complete without Inji puli. It is tangy, spicy and sweet dish ? Main ingredients being Ginger, green chilly ,tamarind  and jaggery.
Onam sadya recipes | Kerala sadhya recipes| Onam vaibhavangal #1
The Three earthen flavors gotten to a amazing dish. You call it spicy? sweet? sour? Well, all these three has to be neutralised to get the perfect Inji curry.
there is another Inji puli recipe on my blog. 
This is slightly different from that recipe and both are adapted in my house.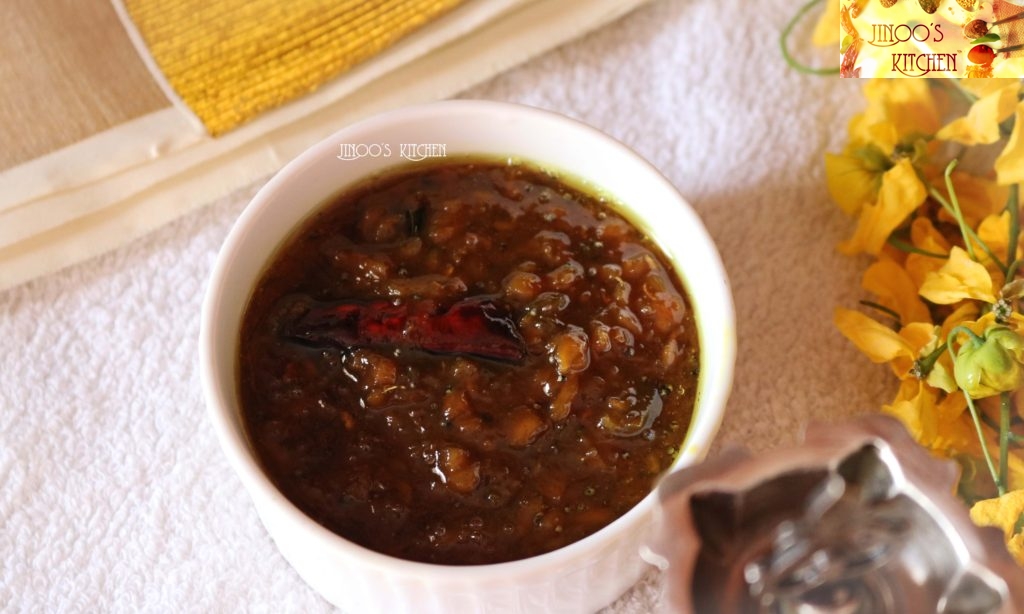 We can call this a ginger tamarind pickle/thokku. In tamilnadu, it is known well as inji thokku.
Check out my collection of sadhya recipes. 
with all the interesting curries, thoran, pickles, condiments, sambar, rasam, avial, payasam and many other recipes.
Shelf life:
You can store this pickle/thokku/curry in refrigerator just like any other pickle, stays fresh for a month long. Use clean spoon for serving to keep it fresh.
Inji Curry video recipe:
check out my Youtube channel for more videos

Puli Inji – Inji curry recipe:
Inji Curry
Ingredients
1

cup

ginger chopped finely

1/4

cup

green chilli chopped finely

1/4

cup

jaggery syrup

1

cup

jaggery soaked in 3 cups water

1/2

tsp

fenugreek seeds

1

tbsp

rice
seasoning
1

tsp

musatrd seeds

1

spring

curry leaves

2

no

red chilli broken
Instructions
Chop Ginger, green chillies finely


Soak tamarind and jaggery in warm water for 30 min


Melt jaggery to bring to one string consistency


heat oil, fry ginger until raw smell goes off


add green chilli and fry for 2 min


Add tamarind water, salt and turmeric powder


mix well and let it boil and get to a thick consistency


Add jaggery syrup and fenugreek-rice powder (Dry roast fenugreek and rice until it browns and rice puff up and grind to fine powder)


Mix well and let it boil again.


F0r seasoning, heat oil, splutter mustard seeds, curry leaves and red chilli. Add it to the curry

Puli Inji – Inji curry pictorial directions:
Soak Jaggery in warm water for 30 min
Soak tamarind in warm water for 30 min
Finely chop ginger
finely chop green chillies
Dry roast fenugreek seeds and rice
until it gets brown and rice gets puffed up
Grind it to a fine powder. You can store this powder. we are not going to use it fully. A tsp of it is more than sufficient.
Heat oil, add the chopped ginger and fry for 5 minutes.
Add chopped green chillies and fry again
Add turmeric powder
and pour in tamarind extract
When it boils, add the salt
The curry has to shrink and get thickened. At this stage add the jaggery syrup
While adding jaggery syrup. taste  the curry. It has to be sweet, sour and spicy as well. the spices have to be neutralised. Based on the jaggery quality, the sweetness will differ. so keep tasting the curry to check for the sweetness.
add the fenugreek-rice powder which we prepared
let it boil again and change its color. Keep stirring in between to avoid burning.
All these process has to be done in simmer
For seasoning: (Varathu kottan)
Heat oil, splutter mustard seeds, Pop in curry leaves and red chilli.
Add this seasoning/tadka to the curry.