Paruppu Payasam recipe | Cherupayar payasam | Moong dal payasam
Paruppu Payasam recipe | Cherupayar payasam | Moong dal payasam with step by step photos and video recipe. simple pradhaman/payasam recipe kerala style with moong dal and jaggery made with coconut milk. typical payasam made for the kerala sadhya. this is also made with chana dal (kadala paruppu). this one is with moong dal(cherupayar parippu / pasi paruppu)
Popularly known as parippu payasam in kerala and paruppu payasam in tamilnadu, this is one of the most opted dish when it comes to coconut milk payasam. Here when making it with moong dal, roasting it is essential step as it not only helps cooking faster but the built in aroma is let out so that the flavor of payasam is awesome.
We usually add only coconut pieces fried in ghee in any sadhya payasam and only for paal payasam, we add cashew nuts. But based on your preference, add cashews, raisins and coconut pieces. I prefer it to be simple with just fried coconut pieces flavor as cashews alter the authentic flavor of vella payasam.
some of the payasam recipes:
so, here is the quick video of paruppu payasam recipe/ moong dal payasam :
Lets see step wise making of moong dal kheer/ payasam. Firstly, roast 1 cup moong dal in medium flame. dry roast until it is slightly aromatic. takes half a minute to 1 minute. when you get a nice aroma out of moong dal/paruppu. switch off. Keep stirring so that it does not get burnt as obviously, this is our main ingredient of the dish.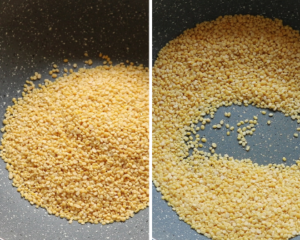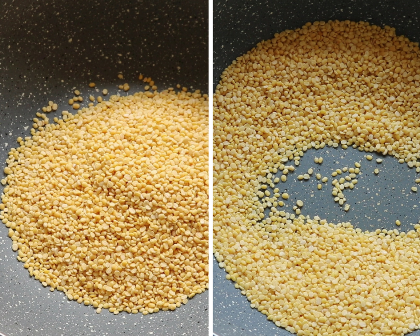 Now, lets pressure cook moong dal. I prefer cooking it in a vessel inside cooker. you can also add it directly. add a cup of water to cooker. place a vessel and pour in the roasted moong dal/paruppu to the vessel. add 1.5 cups water. close and pressure cook for 3-4 whistles. generally moong dal cooks faster. let the pressure settle down before you open it. it should be completely cooked.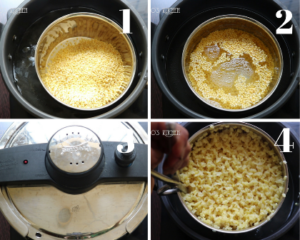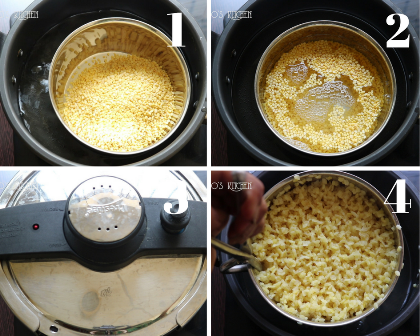 transfer the cooked moong dal /parippu to a thick bottomed vessel. I took the same cooker after discarding the water .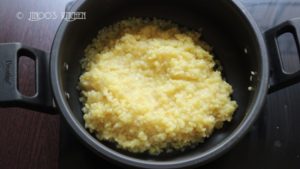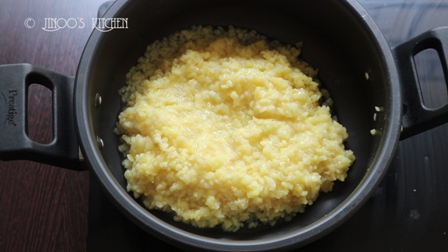 meanwhile, melt the jaggery with little water. I took 2.5 cups jaggery to 1 cup dal. adjust sweetness according to your taste. Mine was not so sweet but of correct sweetness. stir and melt it until lump free.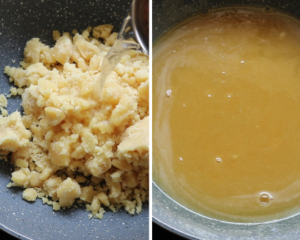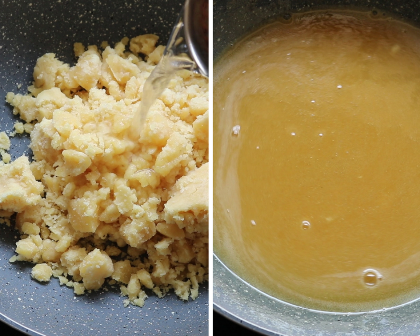 strain the jaggery syrup to the cooked dal and mix well. you can add the syrup as such if using organic jaggery and your sure it does not have any impurities.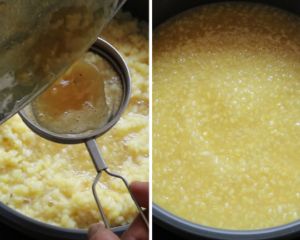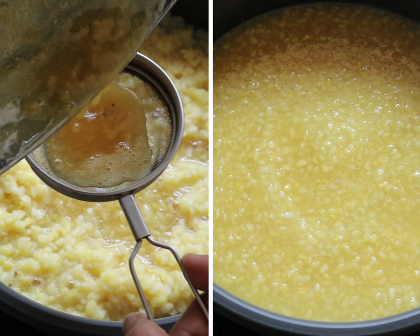 Let it boil and start to thicken. boil for just 2-3 minutes. need not boil more than that. color has already changed to dark yellow from light yellow.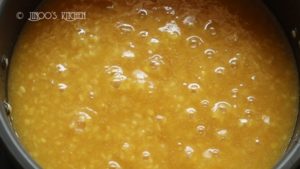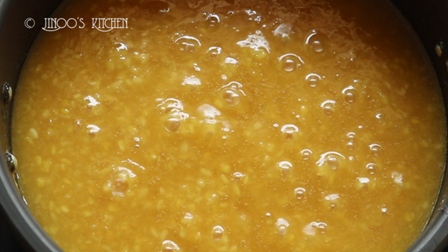 lastly, keep the flame low and add cardamom powder and coconut milk. I have taken coconut milk out of 3/4th coconut and it is medium thick as you see. take the first extract and second extract, mix both and make it to 2 cups. You can adjust the coconut milk until you get the consistency you require.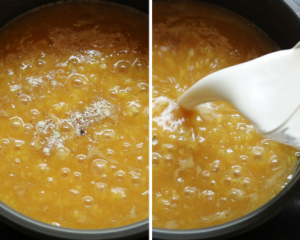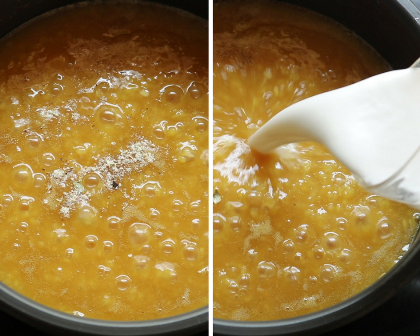 Mix well and let it just get heated in simmer. stir in between until it gets heated.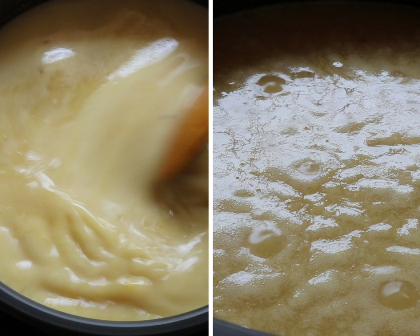 meanwhile, heat ghee and drop coconut pieces into it. fry until it is reddish in color. add it to the payasam and mix well.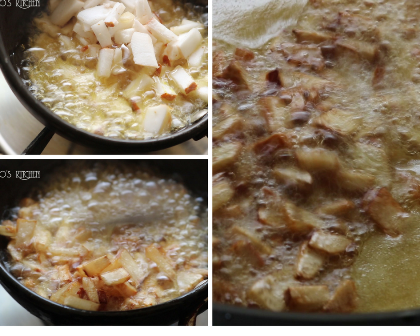 you can serve it hot or chilled based on your preference.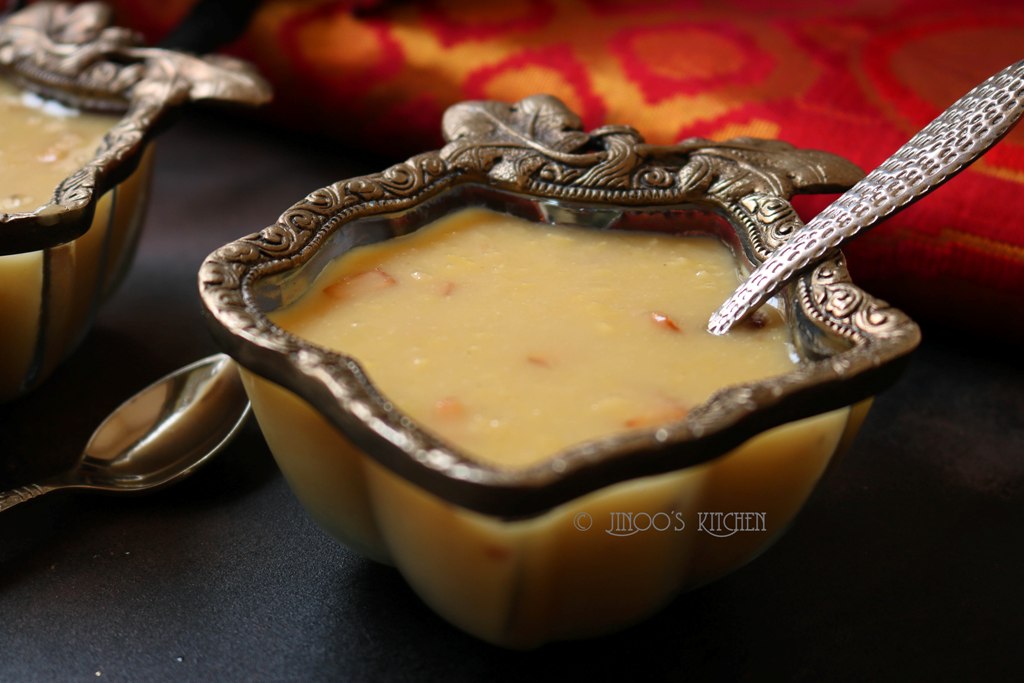 paruppu payasam
Ingredients
1

cup

moong dal

2.5

cups

jaggery

1

pinch

cardamom powder

2

cups

coconut milk

2

tbsp

coconut pieces

2

tbsp

ghee
Instructions
dry roast moong dal until aromatic and pressure cook with enough water until mushy.

transfer to a thick bottomed vessel. melt the jaggery till lump free and strain it to the dal.

mix well and let it boil for 5 minutes until it starts to thicken.

keep the flame to low and now add cardamom powder, coconut milk.

keep stirring until the dessert gets heated up.

heat ghee and fry the coconut pieces until reddish and add it to the payasam.

mix well and serve the delicious payasam !