Chicken Chinthamani ~ Bachelors' Chicken
Chicken Chinthamani  is a special, simple and unique cuisine of  tamilnadu. Chicken Chinthamani as the heading gives out another name- Bachelors chicken is super easy to cook, quick & Spicy Chicken fry. One pot, 3 Step preparation and the fry will get ready in ease.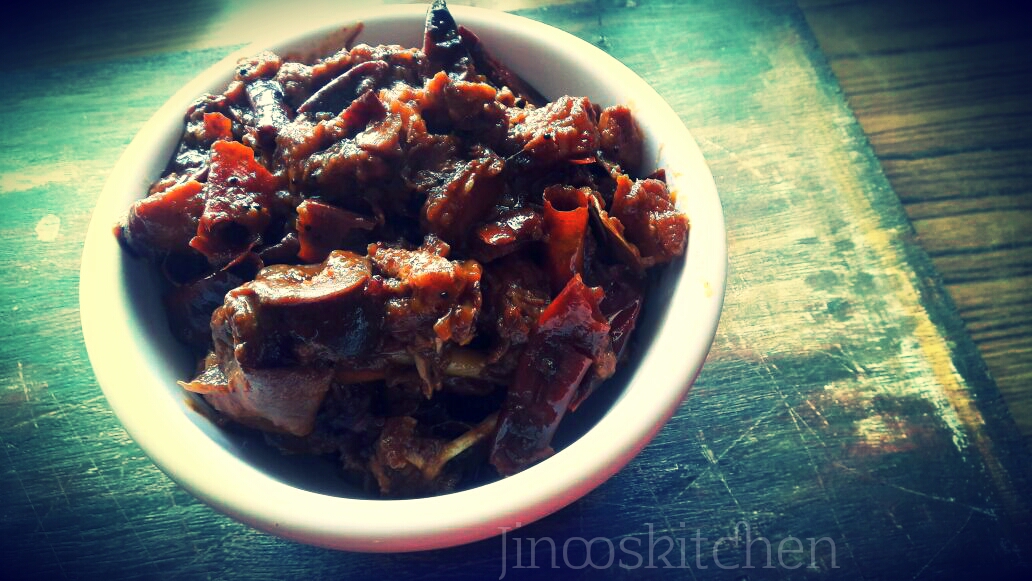 Chicken Chinthamani video:
Chicken Chinthamani pictorial directions:
Heat sesame oil, crackle mustard seeds. Put in shallots/small onions. shallots to be used is 1/2 the amount of chicken. If 800 g chicken is used, put in 400g shallots and 200 g red chilli.
(1: 1/2 : 1/4 – Chicken : small onions : red chilli – 800g:400g:200g)
Break the red chillies and de-seed them. adjust red chillies if you do not want it to be too spicy. reduce it to 150-180g.
Fry shallots and red chillies together until shallots turn pink and starts browning. fry in between so that red chillies don't get burnt. It takes 5-10 minutes on high flame.
Put in chicken pieces. Using nattu kozhi(country chicken) gives a super duper taste in this recipe. Mix well and fry for a couple of minutes.
Add turmeric powder and salt. mix well. when it starts to release water, close and let it cook in simmer until chicken is done. It may take 30 min-45 minutes. sometimes even more depending upon chicken type. slow cooking helps in exotic flavor of onions and chillies to infuse with chicken.
Check in between if water dries out. If so, just sprinkle little water only if necessary.
Chicken Chinthamani recipe:
Bachelors' Chicken
Ingredients
800

gms

Chicken

400

gms

Shallots/Small onions

200

gms

Red chillies

broken and seeds removed

Oil

1/2

tsp

turmeric powder

Salt

to taste

1

tsp

mustard seeds
Instructions
Heat oil, crackle mustard seeds.


Fry shallots and red chillies until shallots are brown.


Now add cleaned chicken pieces, salt and turmeric powder. Add little water. close the lid and cook for 15 min in medium flame. Once chicken is cooked, open and leave it to dry. Serve hot !