Kareli aur aloo ki sabzi ~ bittergourd and potato fry | simply spicy
Ingredients :
Bitter gourd – 2
Potato -2
Shallots – finely chopped 1 cup
Mustard seeds
Oil
Turmeric powder – 1 tsp
Chilli powder – 1 tsp
Salt
Method :
1. Clean bitter gourd and cut it into very small pieces..very tiny bits. Take time and cut them tiny as the look adds taste to the dish.
Tips : cut them into thin long vertical slices and then cut each slices horizontally.
2. Remove potato skin and cut them into same size as bittergourd.
3. Take the vegetables in an oven bowl. Mix salt, turmeric powder and chilli powder with very little oil. Mix well.
4. Cook in oven for 30 min or until completely roasted.
Note : Mix inbetween and add little oil if required.
5. Heat oil in kadai, splutter mustard seeds. Fry chopped shallots with little salt.
6. Once shallots turn pink , add the fried vegetables to it and saute until it mixes well. Adjust salt to taste.
Note : The more you add shallots to this , you get tastier dish and also it takes away bitter taste.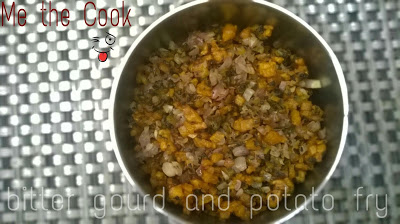 Kareli aur aloo ki sabzi ~ bittergourd and potato fry | simply spicy