Thenga Poricha Keera Kootu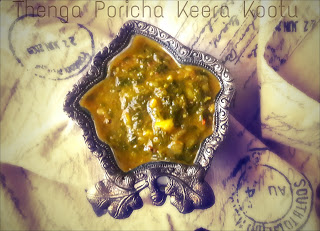 Ingredients:
Spinach/Palak chopped 1 cup
Moong dhal/Pasi parupu 2 tbsp
garlic pods 2 no chopped
Shallots chopped 1/2 cup
Tomato 1 no chopped
Mustard seeds 1 tsp
Cumin seeds 1 tsp
Red chilli 1 broken half
Grated coconut 2 tbsp
turmeric powder 1 tsp
Chilli powder/Sambar powder 1 tsp
Salt to taste
Method:
1. Heat oil, fry chopped shallots and garlic.
2. Add chopped tomatoes to this and saute until its mushy.
3. Saute chopped spinach, moong dhal and add water, salt, turmeric powder and red chilli powder.
4. Cook for 3 whistle.
5. Heat coconut oil/ghee in another wok, splutter mustard seeds, cumin seeds, red chilli and add coconut grated and saute for a min or until coconut turns red. But make sure not to burn it. Add this to the cooked dhal and spinach curry. Mix well.
Serve hot with rice.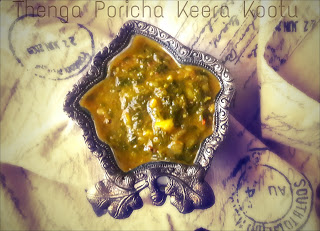 Thenga Poricha Keera Kootu