Akkaravadisal recipe – Akkara adisil recipe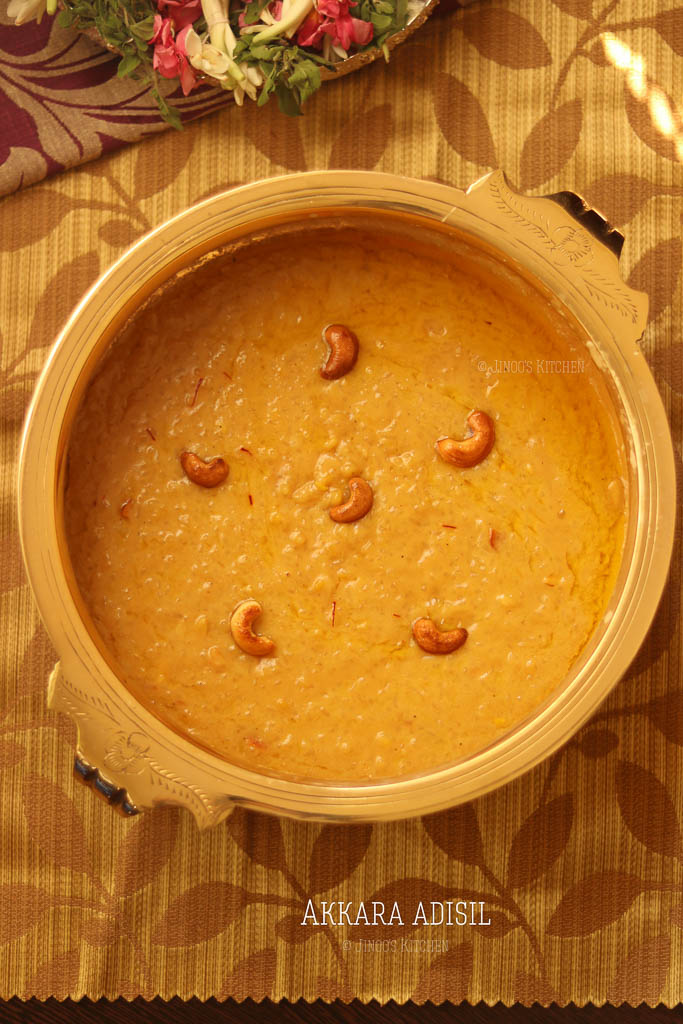 Akkaravadisal recipe – A traditional iyengar recipe of milk sweet pongal where the rice and dal is cooked entirely in milk and generous amount of ghee and sweetener. This is served as a neivedhyam/offering to god on special occasions on tamil – margazhi month and also for Panguni Uthram.
This is a kind of melt in mouth dish where the ghee has to float on top of the dish. No water is added while cooking for god. It is specially prepared in bronze vessel and served as prasadham to everyone. Even today, at many temples of vishnu/venkatachalapathy, this prasadham is served.
This is my mothers' recipe who had a iyyengar neighbour paati who taught her this dish when my mom was young. she kept telling me to shoot the video of her recipe but it never happened. at last, here it is!
akkaravadisal in history
Akkaravadisal is a traditional Iyengar dish of tamilnadu which holds its mention in nachiyar thirumozhi where the andal says

"நாறு நறும் பொழில் மாலிருஞ்சோலை நம்பிக்கு நான்
 நூறு தடாவில் வெண்ணெய் வாய்நேர்ந்து
 பராவி வைத்தேன்
 நூறு தடா நிறைந்த அக்கார அடிசில் சொன்னேன்
 ஏறு திருவுடையான் இன்று வந்து இவை
 கொள்ளுங் கொலோ!' 

Translation:
The Lord of Malirumsolai surrounded by fragrant groves, I give my word to offer a hundred pots of butter, and a hundred pots of akkaravadisal filled to the brim. Will the Lord come today to accept them?
How to cook akkaravadisal traditionally ?
It temples, it is cooked in bronze vessel. There is also a saying that it is completely cooked in milk and no water has to be added. It is offered to god and a generous amount of ghee and sugar is to be added.
Can we cook the pongal in cooker?
Yes, For that, cook the rice and dal in a pot inside cooker and add water according to the measurements. Since milk is added to cook the rice and dal, it is suggested to put a small vessel inside the pot to avoid overflowing. But i suggest this method, as the slow cooking increases the taste of the dish.
Measurements of Akkaravadisal
Raw rice: Ghee: jaggery: Milk in the ratio 1:1:3:12 for open cooking method, we need 12 measure of milk for 1 measure of rice. In case you are cooking in pressure cooker, then reduce it to 7-8 measures. Ghee and rice is always 1:1 measure. While you can adjust sugar and ghee as per the needs.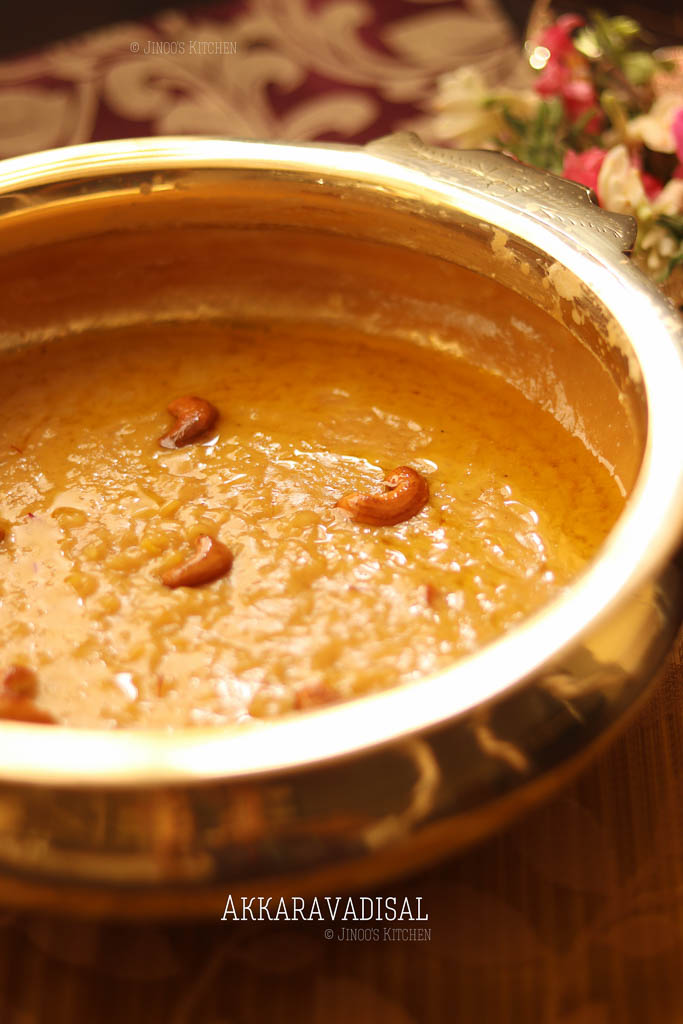 Akkaravadisal video recipe
Akkara adisil recipe
Akkaravadisal
Ingredients
6

cups

milk

1.5

tbsp

moong dal

1/2

cup

raw rice

1.25

cups

jaggery

1/8

tsp

cardamom powder

1/2

cup

ghee

1

pinch

saffron

2

tbsp

cashews

roasted in ghee
Instructions
Take a thick bottomed pan and add milk to it.

when its boiling, add moong dal and washed rice to it.

mix well and let it cook in medium heat until rice s soft. stir often.

meanwhile, melt 1.25 cups jaggery with very little water until it is melted. strain and keep it aside.

when the rice is cooked, add the jaggery syrup, cardamom powder and 1/2 the amount of ghee

mix well and cook till it is bubbling and thick.

add saffron threads and remaining ghee. mix well. cook for another minute and serve it hot!
Video
How to make Akkaravadisal recipe
To make this akkaravadisal, firstly take a thick bottomed vessel and add milk to it. Let it come to a boil. When it starts boiling, add moong dal, It can be slightly roasted or added as such. roasting it tends to give a beautiful aroma while the traditional method does not call for roasting it. Next, add washed raw rice.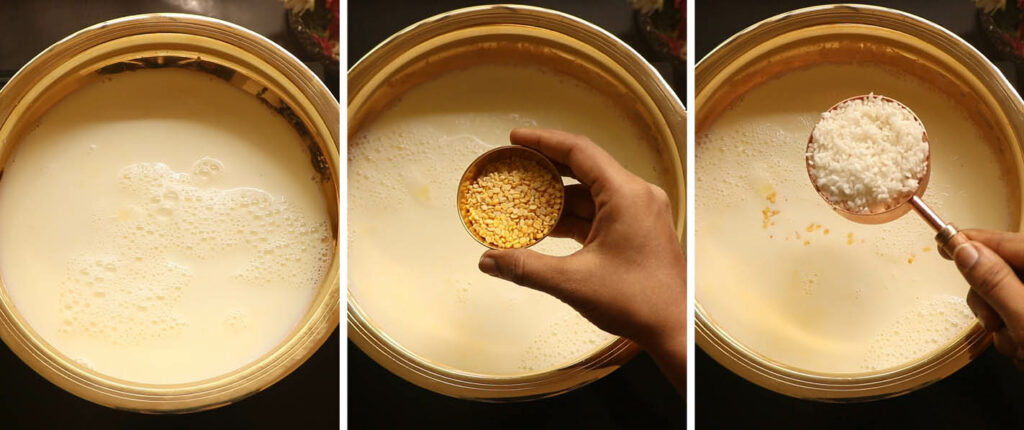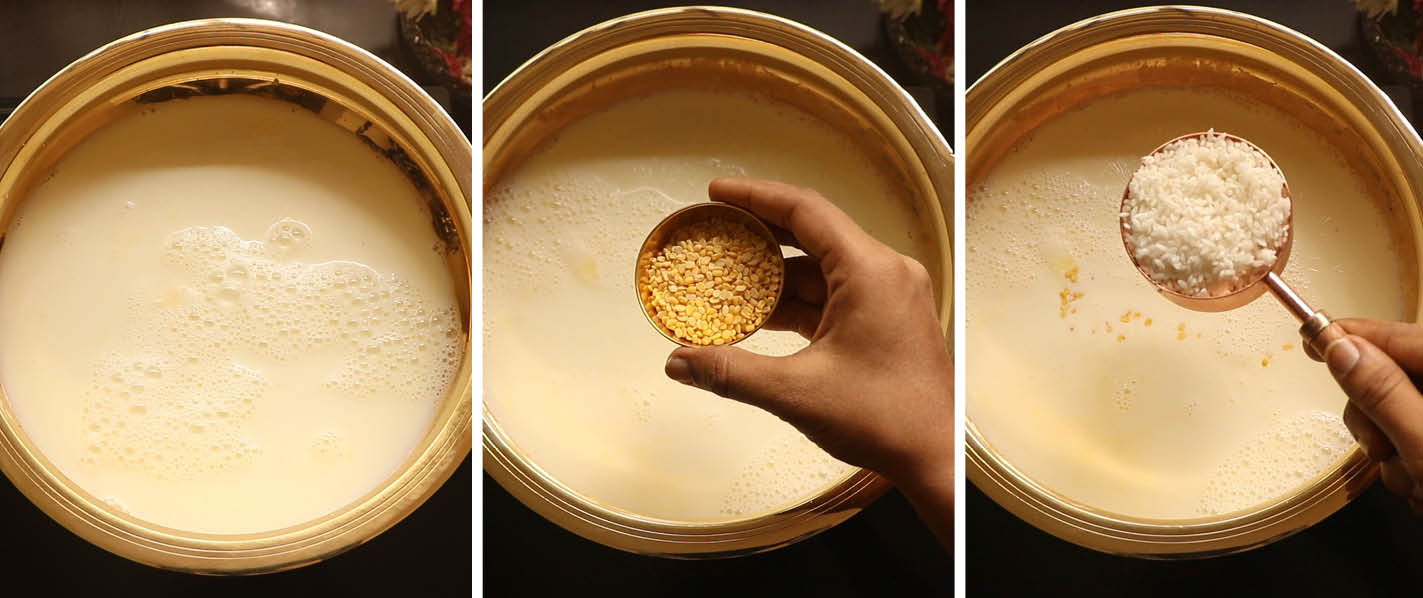 Mix well together and cook in medium heat. keep stirring so that the milk does not get scorched to the sides and bottom. Leave the ladle in the pan itself so that the milk does not overflow.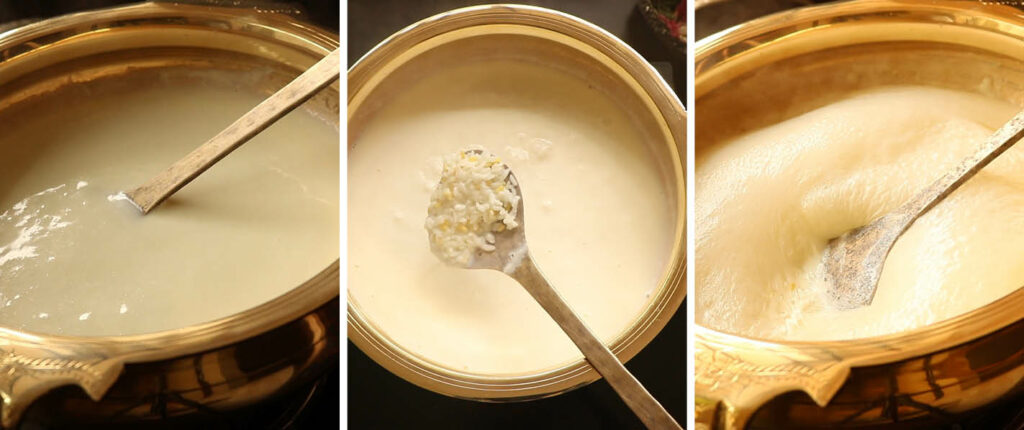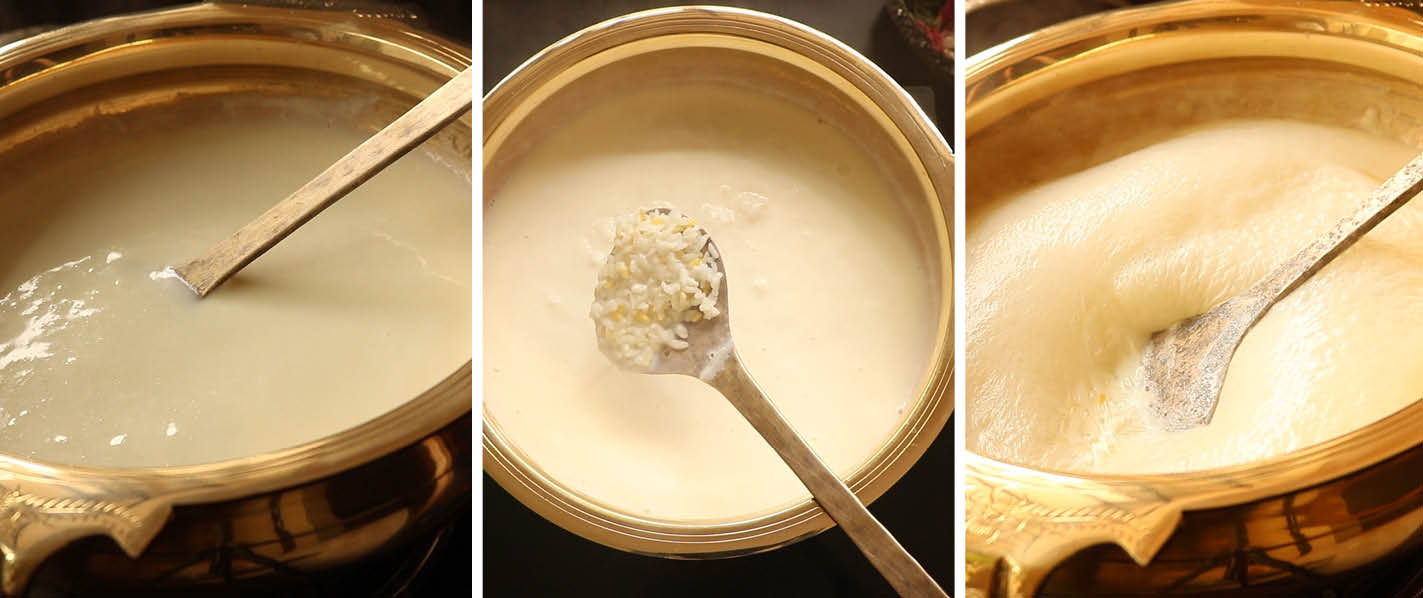 Cook until the rice is completely cooked and gets mashed when pressed.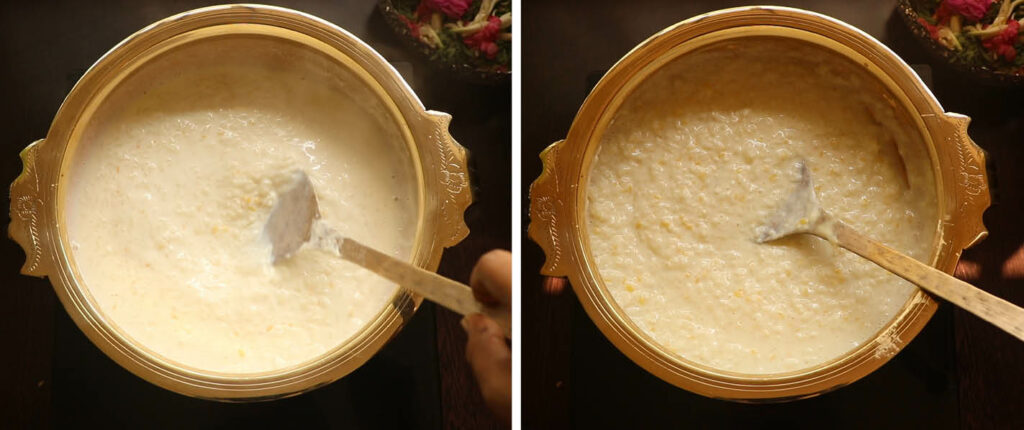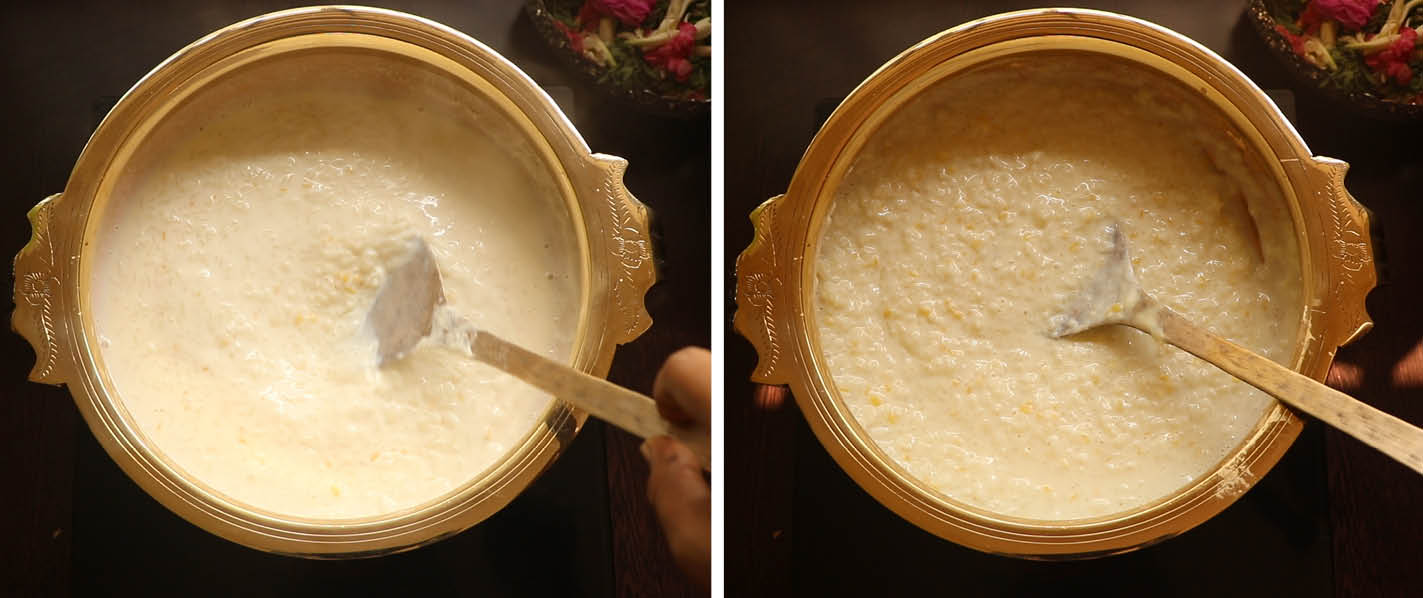 Further add the melted and strained jaggery. Mix well.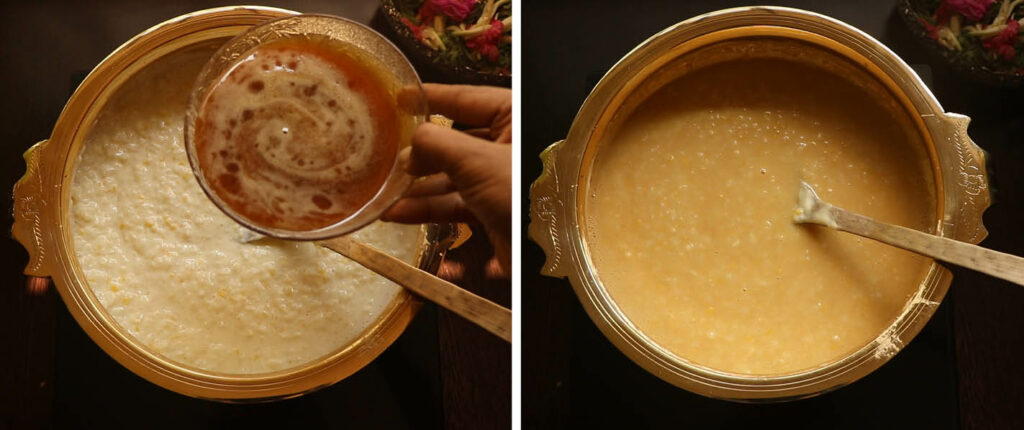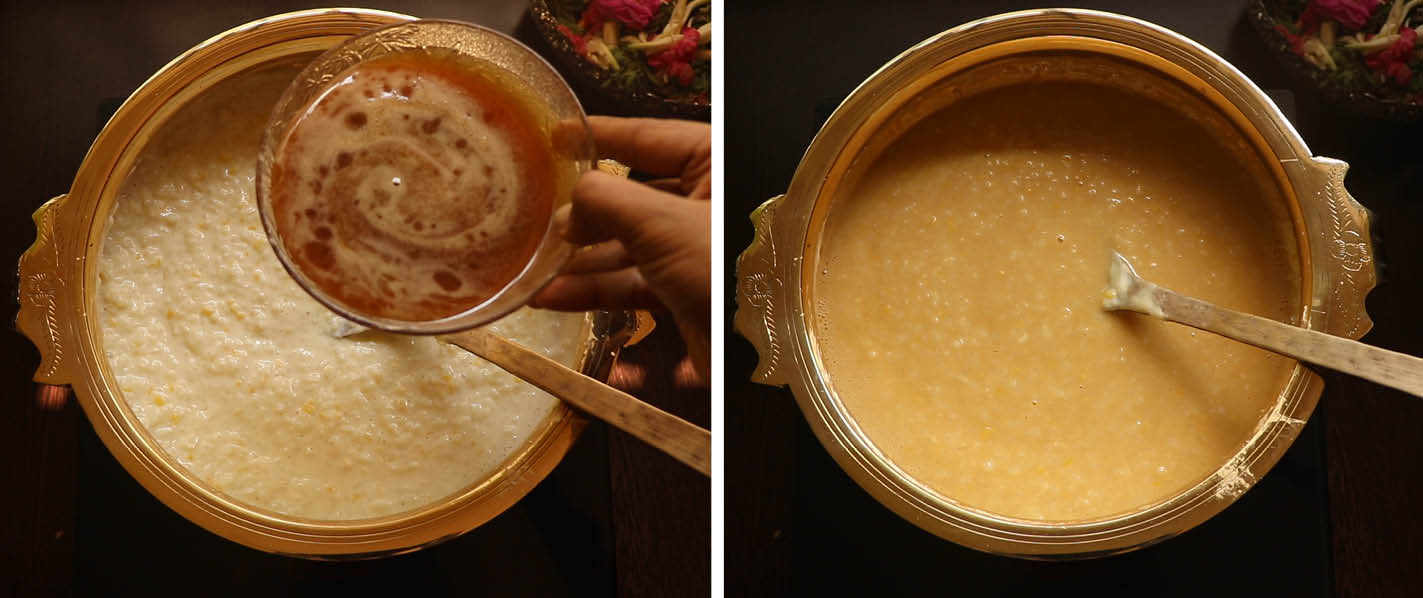 To this, further add cardamom powder, half the amount of ghee and mix well. cook till it becomes thick and bubbling.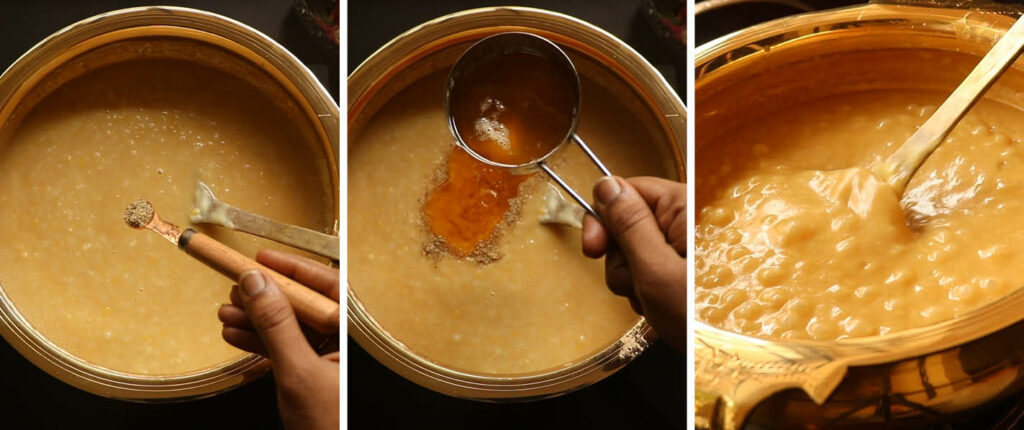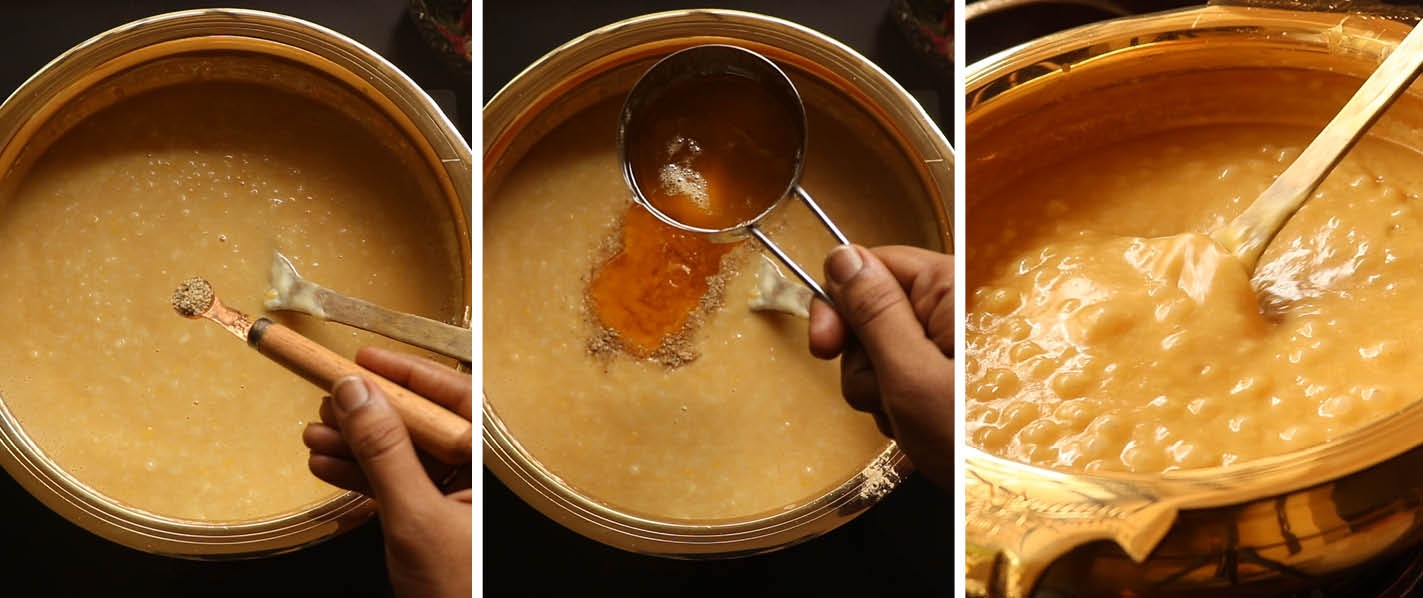 Add saffron and roasted cashews to it.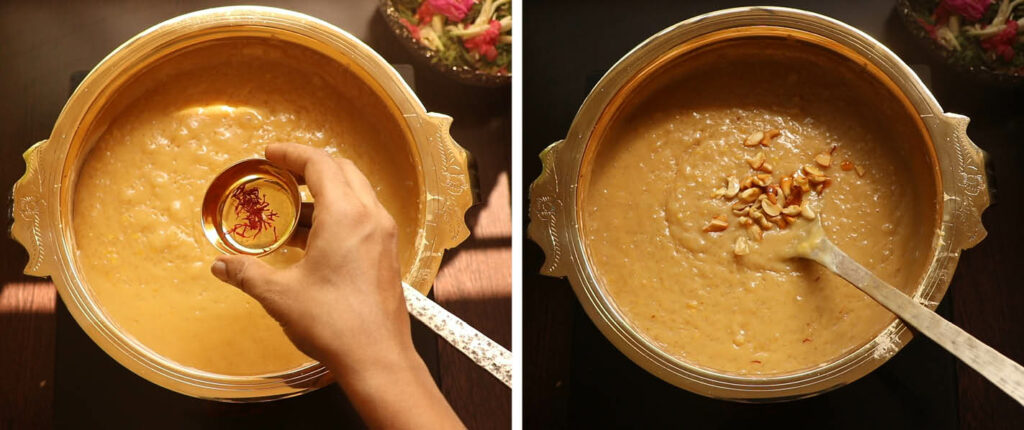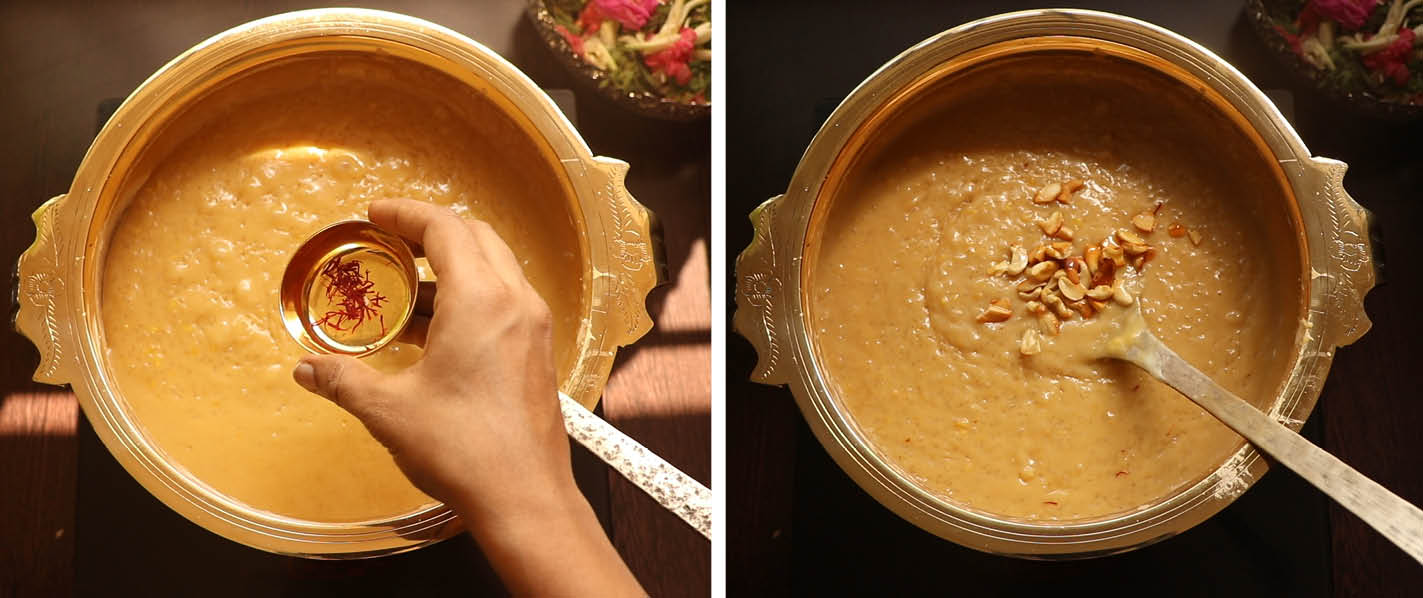 Also, add remaining ghee and mix together. stir until well combined.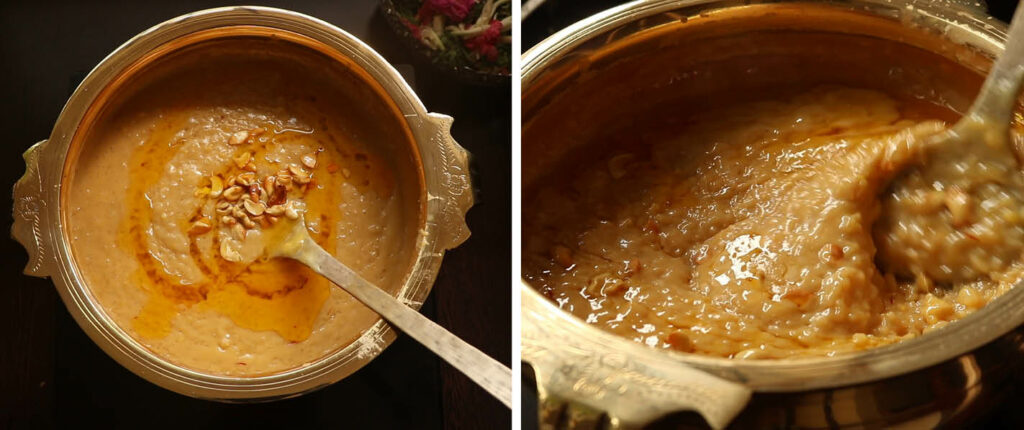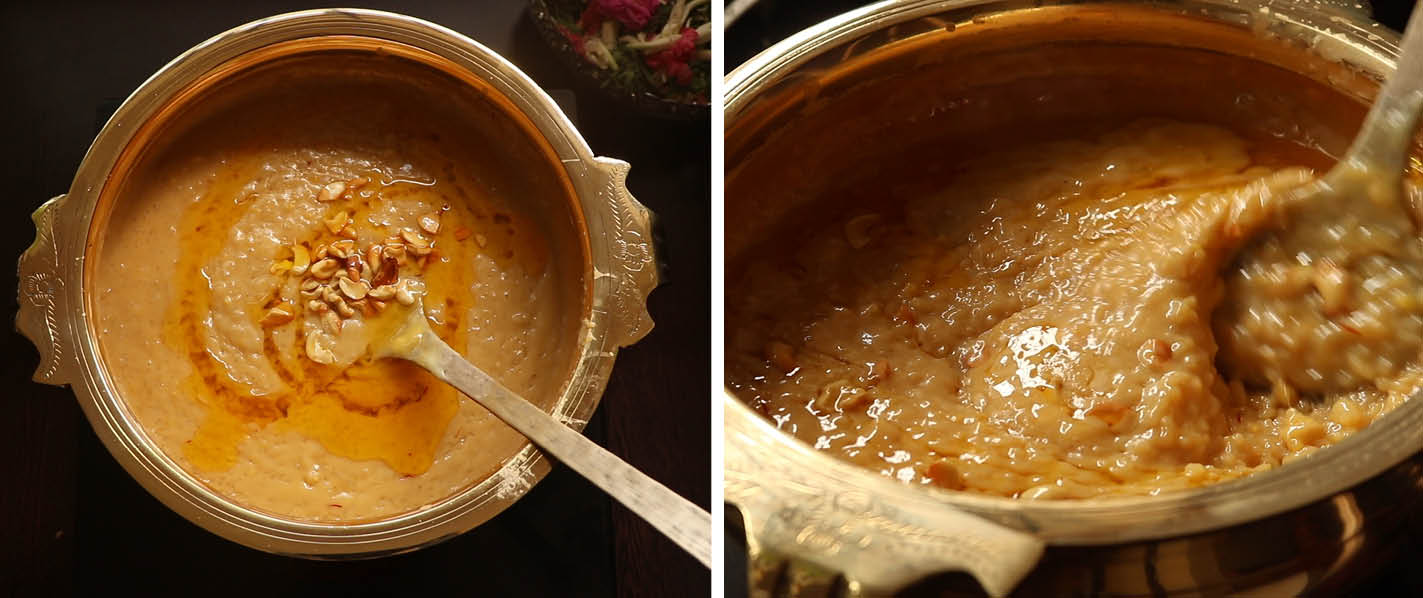 When you leave it in the pan, you can see the ghee layer on the sides and top beautifully set. this is the correct consistency of the akkaravadisal.