Ambur Star Biryani – Mutton biryani
Ambur Star Biryani – Ambur Biryani pictorial and video directions.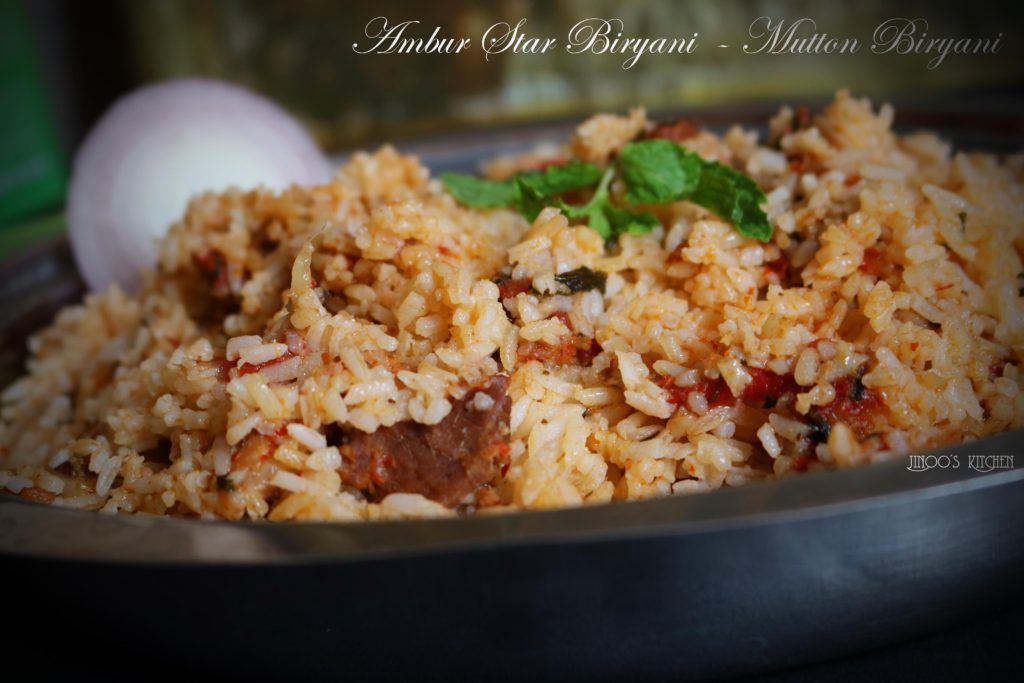 My husband is a fan of Ambur star biryani located on highways to Bangalore and we use to have it every time we pass by. I wanted to try the recipe at home and almost got a + certificate from him for this recipe. So i wanted to happily share it across.
When i searched for this recipe, I got various versions of it including the news 7  video channel program in you tube and derived from all those that i ended up in this recipe which i found almost similar to ambur biryani.
Masala in this recipe was excellent and you could guess that from the video itself but only minus is added more rice to it so could not taste the flavor to perfection. 🙁 So I have reduced the amount of rice to be added in this recipe so that it equals to the curry in biryani.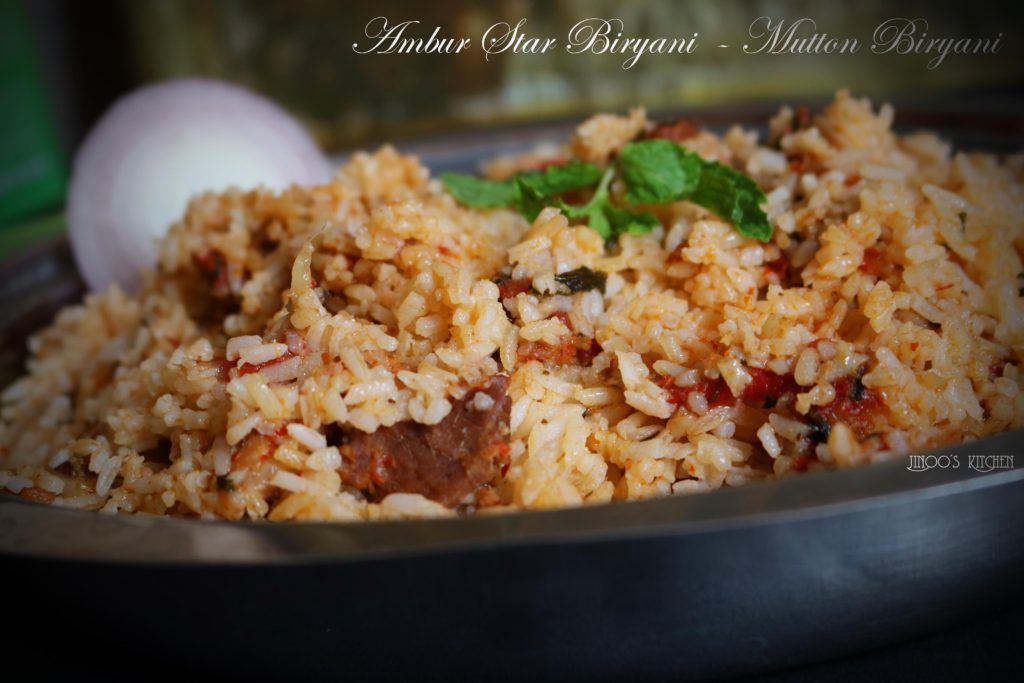 Ambur Star Biryani video recipe:
Ambur Star Biryani recipe:
Ambur star biryani
Ingredients
1/2

kg

mutton

1.5

cup

seeraga samba rice

2

large

onions

sliced

2

large

tomatoes sliced

1/2

cup

curd

1/2

cup

oil

1

handful

coriander leaves

1

handful

mint leaves

3-4

tbsp

red chilli paste

2

inch

stick cinnamon

3

no

cloves

1

no

cardamom

3

tbsp

ginger garlic paste

1

tbsp

lime juice

salt to taste
Instructions
Cook the rice with salt, lemon juice and little oil until 3/4th done.


strain the water and keep it ready


Heat oil in cooker and drop in cinnamon, cloves, cardamom, sliced onions and ginger garlic paste.


Saute until onions turn slightly brown.


add the curd and red chilli paste and saute again for a minute


Put in chopped tomatoes and saute until it gets mushy.


Now add mutton, salt required for the mutton and water.


cook for 4 whistles.


Open and reserve half of the masala for layering


put in half of the cooked rice and layer again with the reserved masala.


top it with remaining rice and dum cook with heavy weight on top and placed on top of a iron pan for 15-20 min

Ambur Star Biryani pictorial directions:
Look out for the ingredients needed,
Ingredients needed for Ambur Star Biryani: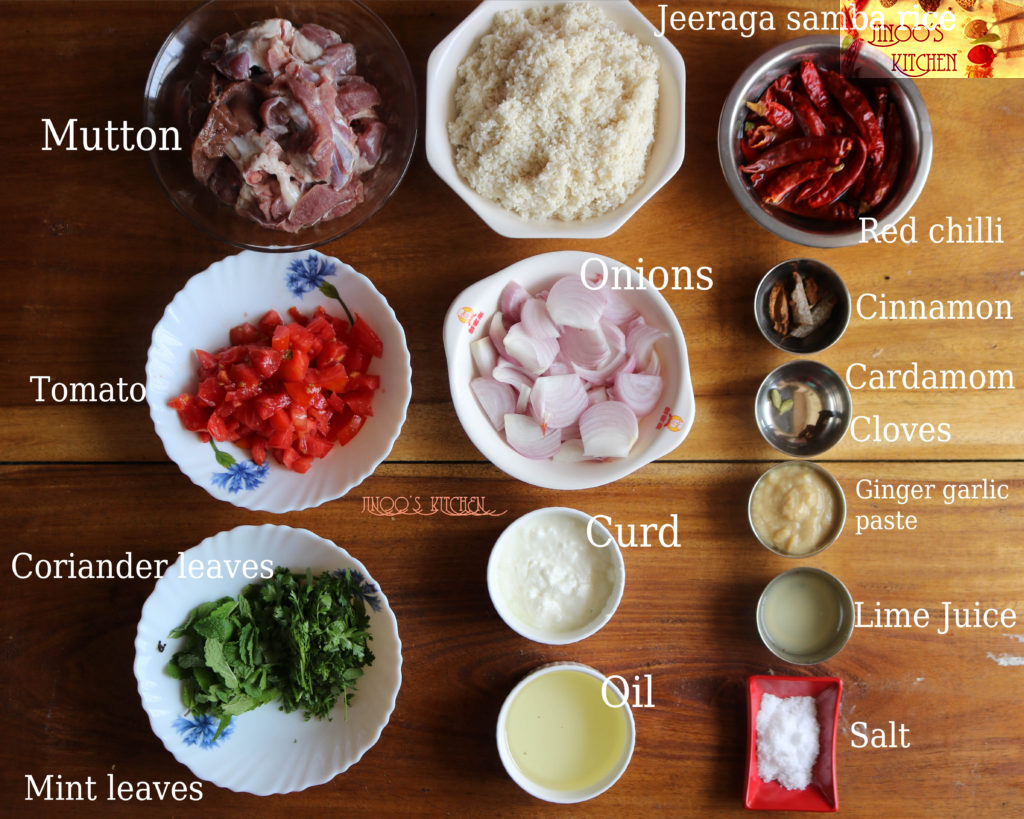 To make the red chilli paste –
Soak the red chillies in warm water for 10 min and grind them with very little water used for soaking to a fine paste.
To cook the Rice:
wash and Soak the basmati rice for 30 min before cooking.
Boil water to rolling boil, add salt, oil, lemon juice to it and add the soaked rice as well. Check the salt by tasting the water, it has to be slightly salty.
Mix and let it cook until it is 3/4th done.
Adding oil to the rice when cooking makes it non sticky, so do not skip it.

When its almost done, Strain the water and keep the rice spread to cool down.
Now our rice is ready!
To Cook the Biryani Masala:
Heat oil in a cooker, drop in cinnamon, cloves, cardamom, Ginger garlic paste and sliced onions all together.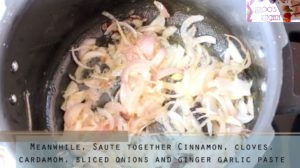 Ginger garlic p dd the curd, chopped coriander and mint leaves. Mix well. Add red chilli paste.
mix well and fry for a minute or two.
Now add in the chopped tomatoes. mix well and let it cook until mushy.
It is very important to always cook the tomatoes until mushy but most of us skip it due to lack of patience. It definitely makes a change to the masala.
Put in the mutton pieces, salt required
add water enough for the mutton to get cooked.
Close and cook for 4-5 whistles
Cooking mutton depends on type and quality of mutton you use. If its very tender ones, 4 whistle is sufficient. If not you need to cook more.
Layering the Biryani:
Open the cooker,
mix once and reserve 1/4th of mutton with masala for the layering.
Put half of the rice on top of the masala in cooker.
Again put the reserved mutton with masala
Layer on top with leftover rice.
 Close the cooker with a wet cloth, place a plate on top and a heavy weight over the plate.
Heat a heavy bottomed pan. place the cooker set up over it and let it cook in medium flame for 15 – 20 minutes.
You can even dum by sealing it with dough so that it is air tight. Either option is fine. I use iron dosa pan for Dum (I have one reserved for dum purpose)
After 20 min, do not open. I know we will be curious to open and check 🙂 Do open it just before you eat.