36 Delicious south Indian Curry recipes for rice
Planning a lunch is an everyday hectic task for every women around the corner.  Every morning we end up standing in the kitchen riddled and thinking of what to cook for the day?
Awkward, yes it is, but truth is Sometimes even in the bathroom, Sometimes before even getting out of bed begins the planning.
What's in the pantry? What's the vegetable in refrigerator ? What's the day today? Will my kiddo like the vegetable? Will my Husband take lunch? Do i have time to cook this curry?
Thousands of questions running through our mind everyday to plan our menu.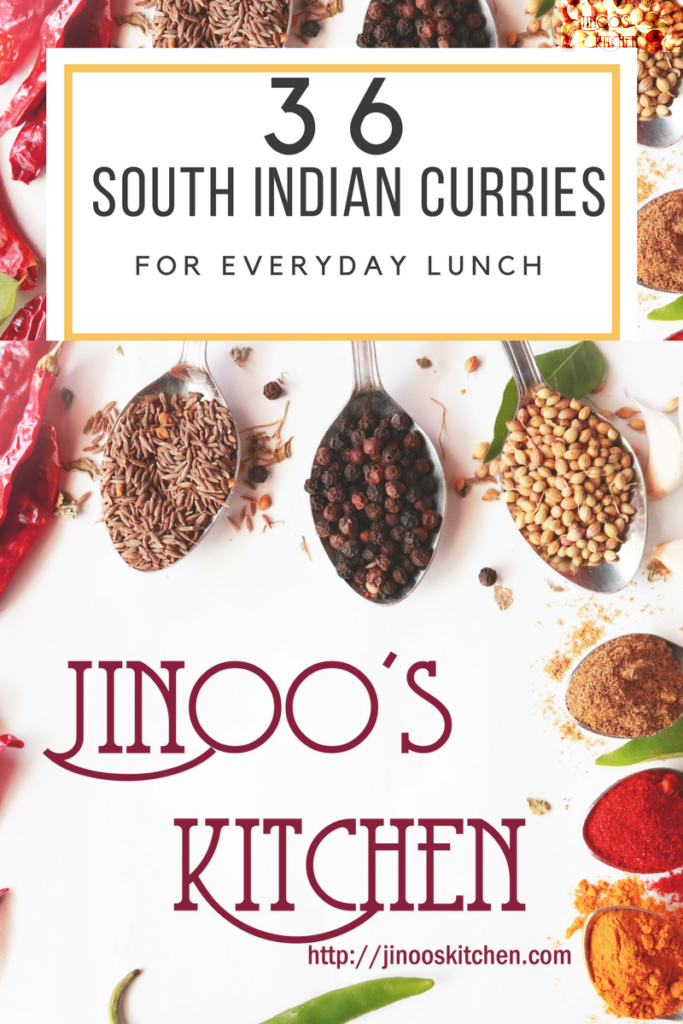 "Meal planner Never works for me"
Getting on to the fancy term, "meal planner" . How many of us have really tried planning for the week and failed to follow? more than 90 %? At least for me, It does not work. I gave up the idea of planning my meal for the week.
We cook based on our #1 mood, Something with level 'difficult' if in happy mood or simple curd rice and potato fry if feeling uncomfortable.
Based on the #2 day, Friday it is compulsory to cook dal 🙂 My Amma has taught me that since the day is considered auspicious, we don't make puli kulambu or any sour curries, we use lot of vegetables and dal on that day. Each of us have some or the other criteria to cook on a particular day.
Based on #3 family members liking, I remember planning for the week and i ended up totally confused when early in the morning my husband asked me whats for lunch? I gave him the list that am going to prepare. He gave a sad look asking" Can you cook chicken for me today?" and there my planner collapsed.
Based on #4Vegetables in pantry, Yes its true greens have to be cooked first, carrots can wait, pumpkins can ditch you anytime. So its better to check on the vegetables the previous day and plan for the next day based on its shelf life.
This "36 Delicious south Indian curry recipes for rice" are my collection of curries and it includes recipes way old 3-4 years back. So i haven't updated the posts, photographs but the recipes are perfect and can be planned anytime. It is a long list plan to update all my old posts with better photographs 🙂 Let's see if i can anytime in future.

36 Delicious south Indian curry recipes for rice:
1. Jackfruit seed and Drumstick curry:
Jackfruit seeds and drumstick curry also known as Chakkakuru Muringakka curry is authentic kerala curry for rice. This curry goes well also with idli/dosa as well. Simple tasty curry and can be planned during summer when Jackfruits are in season.
2. Chakka Mulakushyam ~ Chakka kootan | Raw Jackfruit and coconut curry:
Chakka mulakushyam or Raw Jackfruit and coconut curry is made with raw jackfruit, not a tender one but not riped yet. Jackfruit and coconut curry is one of the unique dishes made in kerala.
3. Tender Jackfruit Coconut curry
Idi chakka Pulungari / Tender Jackfruit Coconut Curry. It has the subtle flavor of jack fruit cooked with semi raw coconut masala.
4. Unnithandu Paripu kootu/Banana stem and dal curry
Vazhai Thandu Kootu ~ Unnithandu paruppu kootu is made with banana stem and dal. Healthy recipe and soothing curry for rice. Can be had as side dish or main dish with rice.
5. Chow Chow Kootu
Chow Chow is one kind of veggie which not everyone will like. This version of kootu will just be awesome with hot rice that too mixed with little ghee.
6. Murungakkai Vatha kuzhambu – Murungakkai Kara kuzhambu
Murungakkai Vatha kuzhambu – Murungakkai Kara kuzhambu is a spicy tangy dish made with garlic, drumstick, shallots and sambar powder.
7. Pachai Karamani Kuzhambu
Pachai Karamani kuzhambu / yard long beans and potato curry is easy and simple recipe. best goes with dosa/idli/rotis and steamed rice as well. Mildly spiced and flavored curry. Pachai Karamani / payaru as we call it in Malayalam is mainly/majorly used only for stir fry/avial recipes.
8. Mango curry
Mango Curry ~ Kerala mambazha curry is an authentic kerala cuisine and so mouth watering delicious dish made with Ripe Mango, coconut and Yogurt. Its Simple and light when had with steam rice and thoran.
9. Varutharacha Sambar
Varutharacha Ulli Sambar is a typical Kerala style Sambar recipe that best goes with everything, Rice, Dosa, Idli. Especially for Sambar Idlis, it tastes divine :). When Idli is had with this Sambar without much hindrance topped with ghee and freshly chopped coriander leaves is a bliss.
10. Vegetable podi Sambar
Sambar is essential and most favorite recipe in south Indian Kitchens. Almost every kitchen has its own style and taste of making it. In my Kitchen, I use to cook Arachuvittathu (grinding all spices and adding it), using podi/powder without coconut , using sambar powder with Coconut & Tiffin sambar. This One is Mixed vegetable Podi Sambar without coconut.
11. Drumstick leaves and coconut curry:
Muringayila Mulagushyam is drumstick leaves cooked with dal and coconut curry. Mulagushyam is one of the everyday dish in kerala cooked with less spices and so comforting food. It is cooked with different vegetables. Drumstick leaves Mulagushyam, rice and potato curry is one of my favorite lunch menu at my mom's home. ?
12. Chinese Potato Pepper curry
Koorka Masal Curry is typical kerala dish with the Chinese potato (Known as koorka in Malayalam). Pepper flavored dish suitable for steamed rice and also for idli/dosas. Koorka is often used only for porial/upperi/stir fry.
13. Chow Chow and Moong dal curry
Chow Chow kootu is easy to prepare, healthy and tasty recipe for steamed rice.
14. Spiced Spinach Puree:
Keerai masiyal is one of the nutrients packed dish familiar in southindia. especially palak keerai masiyal is famous among kongunad kitchens.
15. Mochai Pulungari/Kara Kulambu ~ Dry beans Curry
Mochai Pulungari is a kerala dish with dry beans. Basic version of Pulungari is something we make in our day to day menu. Pulungari with different vegetable combinations. But this one, Mochai Pulungari/Kara Kulambu has some JK's twist ;). I can't actually call it a Kerala cuisines' pulungari or a tamilnadu cuisines' kara kulambu. It is a mix of both. We love this one and it goes well for dosa/idli and rice. We can plan to cook them for both lunch and breakfast . Hassle free menu planning ;). This is also called Butter beans (English) and amarapayar(Malayalam).
16. Cheera Parippu curry / Spinach and dal curry
Cheera paruppu curry is spinach and dal curry easy to cook. It is also named as cheera kadanjathu or keerai kadanjathu or keerai masiyal.
17. Sorakkai Kootu/ Chorakya Mulakushyam/Bottle gourd and dal curry
Chorakya mulakushyam or sorakkai kootu ?For kootu, we use to grind coconut, cumin and rice flour. For Mulakushyam, it is almost the same, grind coconut, cumin and green chilly and add to vegetables and dal. This is one such amazing easy curry recipe for rice
18. Mulai Keerai Poondu Kootu/ Amaranthus and garlic lentils curry
Mulai Keerai Poondu Kootu is cuisine of tamilnadu. One of the most nutritious postpartum recipes. garlic is usually added in all the postpartum recipes. Nursing Moms need very much nutritious food to overcome the blood loss and regain strength and to stimulate enough milk. Garlic helps in avoiding Gastric trouble during that period so that baby feels comfortable after feeds.
19. Banana Flower Curry:
Banana Flower Kootu is a simple, healthy south Indian curry made with Banana flower and moong dal.
20. Thenga Poricha Keera Kootu/ Spinach and coconut curry:
Spinach cooked along with other spices and seasoned with roasted coconut. This is one of the most tasty spinach curries on my list.
21. Podalanga Kadala Parupu Kootu/ Snake gourd and Bengal Gram curry
Easiest and simple curry recipe with snake gourd and chana dal.
22. Kathirikkai Soya Kootu/Brinjal soya bean curry
Goodness of Soya bean and the power of Brinjal in this simple curry recipe for rice.
23. Dry Pattai Kuzhambu/ Dry Peas Curry
Simple, easy to cook and tasty side dish for idli, dosa and goes well with chapathi/poori and rice as well. This Pattani kuzhambu/dry peas Masala curry suits all the south Indian main dishes
24. Buttermilk Curry
Moru Curry or Mor curry is also called as puliserry and is the seasoned yogurt and coconut curry. Its one of the everyday meal at the keralaites kitchen. Steamed rice and Kachiya Mor/Mor kootan as we call it with different name at different places. Its simple and easy to cook and one of the comforting food in the sadhya meal as well. this light flavored curry will help you taste all the sides in sadhya.
25. Mathan Eriserry/Sweet pumpkin curry
Erissery is one of the "Must Have" recipe in sadhya. Onam recipes will definitely include erissery dish and mathan erissery is one of the most common recipes found among the kerala kitchens. Sweet pumpkin is sauteed in flavors of coconut. There are other erissery recipes made with beans, yam(chena) & vanpayar.
26. Murungapoo Mulakushyam ~ Drumstick Flower Coconut Curry
Simple recipe of Drumstick flowers and lentils in coconut gravy.
27. Pudina cherupayar curry ~ Mint green gram curry
This recipe is 1 pot 10 min recipe. All you need is to get the green gram soaked overnight. Zero oil, No frying, healthy cooking.
28. Potato – Ridge gourd Curry
Looking for curry cooking under minutes? Then this curry is very easy and simple one.
29. Kathirikkai Vatha Kulambu
Classic brinjal tamarind curry for rice from the kitchens of tamilnadu
30. Rajma Masala curry for rice
Red kidney bean cooked in onion tomato gravy.
31. Kadala Masal curry | Side dish
Kadala Masal curry is a best suited side dish for puttu, rice and even for chappathis.
32.  Pattani Kuzhambu/ Peas curry
Green Peas cooked in a spicy aromatic green base gravy
33. Poondu milagu kulambu~ Garlic Pepper curry
This recipe is a must have for new moms. Garlic is good source for lactation. Pepper and jeera in it is also good for the new mom for lactation.
34. Kovaykka KudamPuli Curry/Ivy Gourd curry
Kovaykka a.k.a Ivy Gourd or little watermelon has lots of medicinal value in it. Especially for Diabetes. With this veggie is the Puli curry recipe. Now, whats Special with Kudam Puli?
Kudam puli or Malabar Puli is small in size and looks like a small pumpkin. It is a kind of Tamarind.
It gives a Spl flavor to the dish. Note the point that its also promoted at many places for weight loss. So go ahead using this for all puli curry Ladies! )
35. Milagu varutha Puli
This is very simple, Easy and quick recipe. Milaguvarutha puli a.k.a Tharavattu Puli can be taken with rice. On a busy day, when its too late for lunch and you are yet to prepare, this one is best coz its easy, quick and tasty.
36. Dal Fry
Simple dal fry recipe for rice/roti with masoor dal.
Thanks for taking time reading my article to the end.
Would be great if you share the post, spread the love and kindness 🙂