Easy spinach gravy for rice | keerai masiyal recipe south Indian style
Easy spinach gravy for rice | keerai curry/masiyal recipe south indian style with step by step photos and video recipe. Spinach curry made with any of the spinach variety like palak, thandu keerai, arai keerai (amaranthus), mulai keerai or siru keerai. If your not familiar with these tamil names, i would simply suggest, this curry can be made with most of the spinach varieties.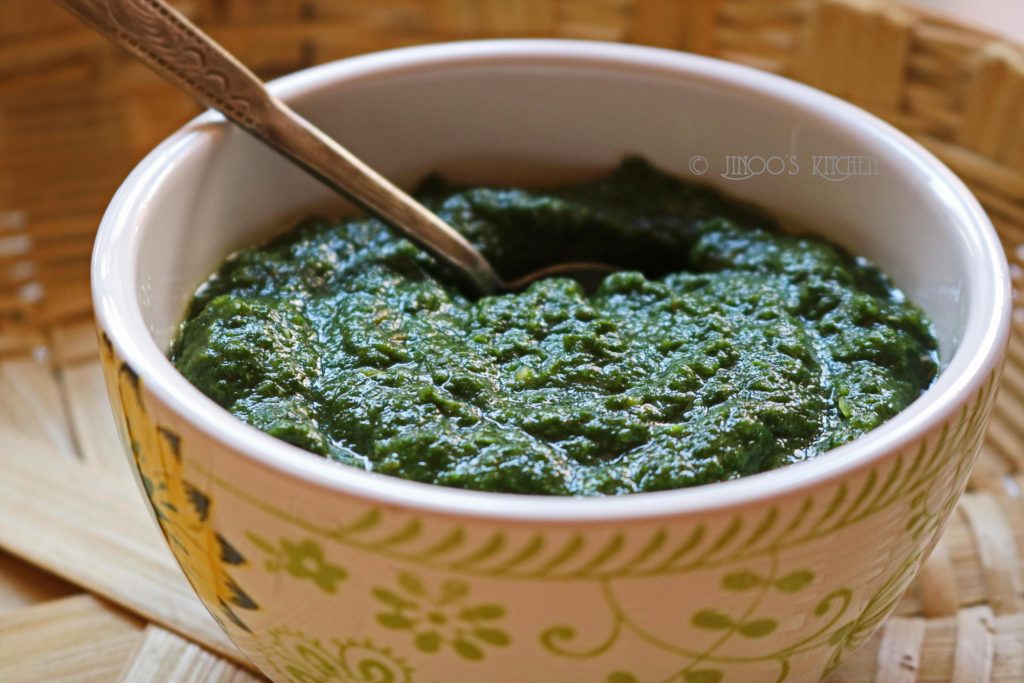 I always make it a practice to cook spinach 1 or 2 times a week. I have been feeding my little one spinach from his 8 months and now he loves spinach in any form. I try different variations with different spinach varieties so that the dishes are not repeated or we dont get bored of it.
This recipe is very similar to palak keerai masiyal made with palak leaves but with slight variation. and also one important note is that am not sure in how many of my recipes, i have mentioned to pressure cook/close and cook spinaches but i recently heard in a tv show and also from my mom that
GREENS SHOULD NOT BE CLOSED & COOKED
Reason is that greens tend to release some chemicals being evaporated which we should let it go, otherwise it may be harmful. this was said in a popular tv show and am not sure of credibility of the above statement still I follow cooking spinach open from then.
some of the everyday spinach recipes which are popular in south India: keerai poondu kootu, palak keerai masiyal, drumstick leaves soup, drumstick leaves dosa, keerai curry/cheera molokushyam kerala style spinach curry with coconut, keerai kozhukkati rice dumplings made with spinach, keerai paruppu curry/cheera paruppu curry.
Pin for later: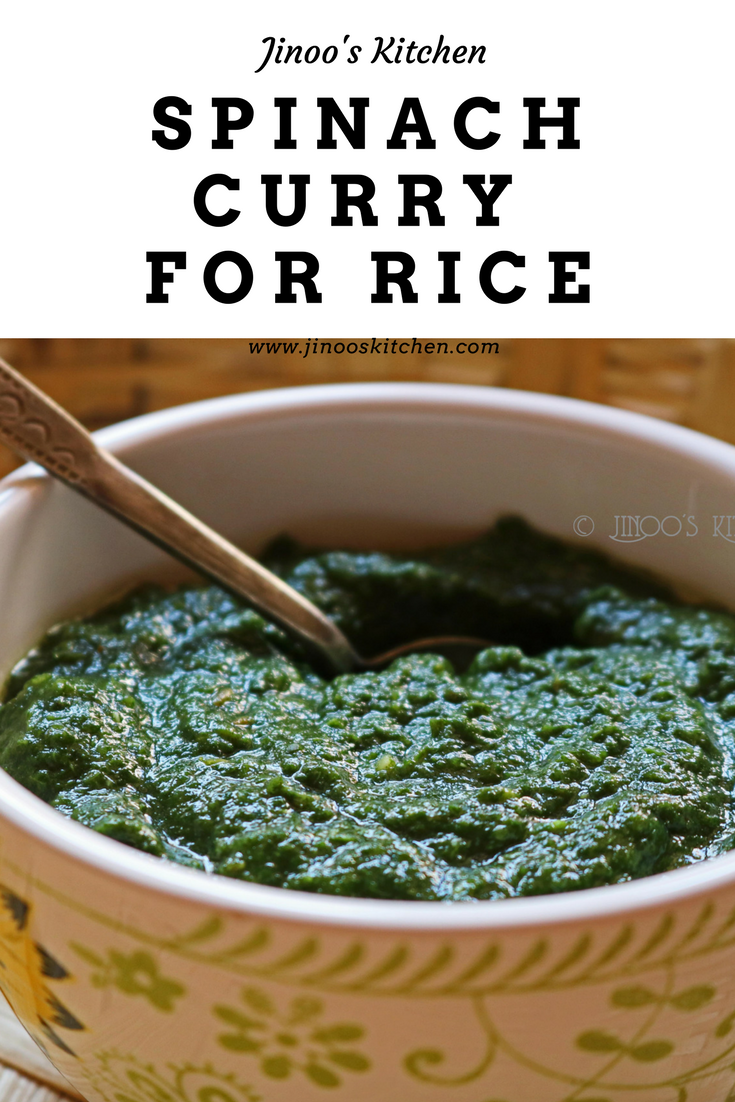 Easy spinach curry | spinach curry recipes for rice video recipe:
Easy spinach gravy for rice
Firstly, clean and separate the leaves of spinach, wash it a couple of times in running water, strain and add it to a pan.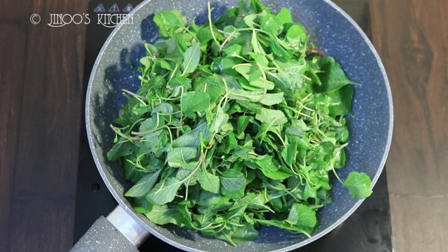 Along with the spinach, add green chillies, shallots, tomatoes and garlic. adjust green chilli according to the spice level you want. very little shallots/small onions approximately 4-5 nos of it and half of small sized tomato. 2-3 cloves garlic is enough. adding more will make the curry taste different.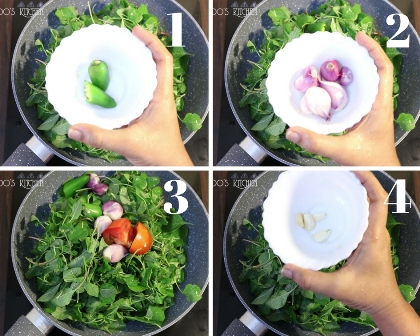 further, add cumin seeds and coriander seeds. adding coriander seeds is optional but we always add a pinch of coriander seeds while cooking any greens and that makes a tiny difference in the curry.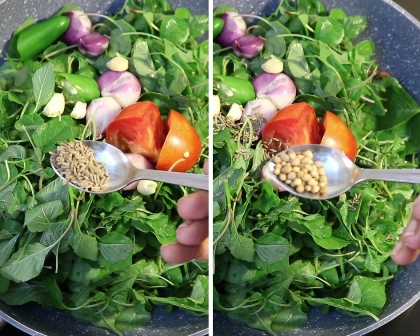 lastly, add salt to taste and turmeric powder to the pan. add very little salt because when the greens are wilted, the salt may dominate. so keep in mind that greens will get shrunk and add salt accordingly.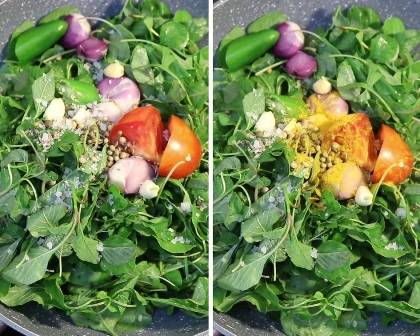 Add water, open and cook(do not close and cook) until the spinach is wilted/shrinks.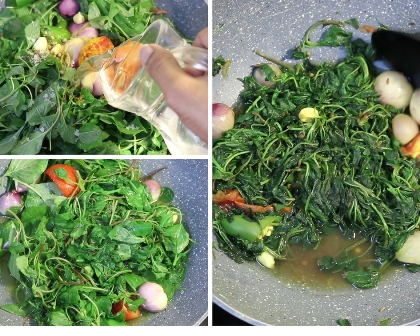 cool and transfer it to a blender, blend it to a coarse paste.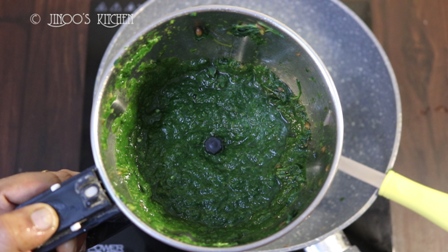 For tempering: heat oil in a pan, crackle mustard seeds, cumin seeds, chopped onions and red chillies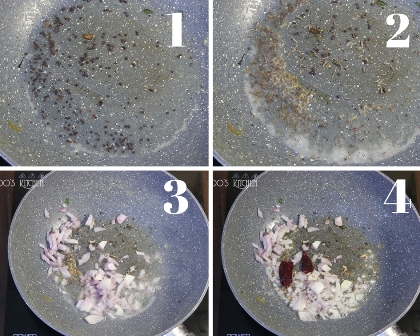 sprinkle little salt and fry till they are brown.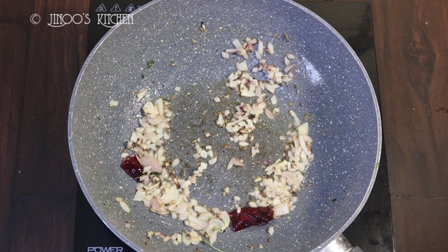 Add the tempering to the blended curry and mix well.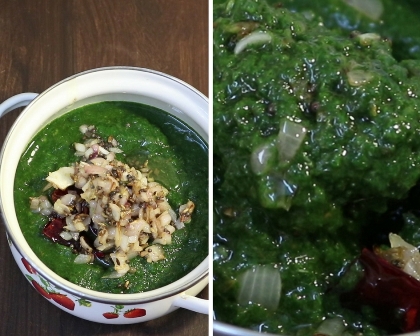 Easy spinach curry | spinach curry recipes for rice | spinach curry south indian
Easy spinach gravy for rice
Ingredients
2

handful

spinach

washed and cleaned/ arai keerai is used here

1-2

no

green chilli

slit

5-6

no

small onions

1/2

small

tomato

4

cloves

garlic

1/2

tsp

cumin seeds

1/4

tsp

coriander seeds

salt to taste

1/4

tsp

turmeric powder
tempering
1

tsp

oil

1/4

tsp

musatrd seeds

1/4

tsp

cumin seeds

2

tsp

onion

finely chopped
Instructions
add all the ingredients along with spinach in a pan and add little water, cook till it is wilted

cool adn transfer to a blender, blend to a fine paste

tempering: heat oil, crackle mustard seeds, cumin seeds and fry onions till brown adding little salt.

add the tempering to the blended spinach puree and mix well.