Mambazha kuzhambu recipe | easy ripe mango curry without coconut | pazha manga kootan without curd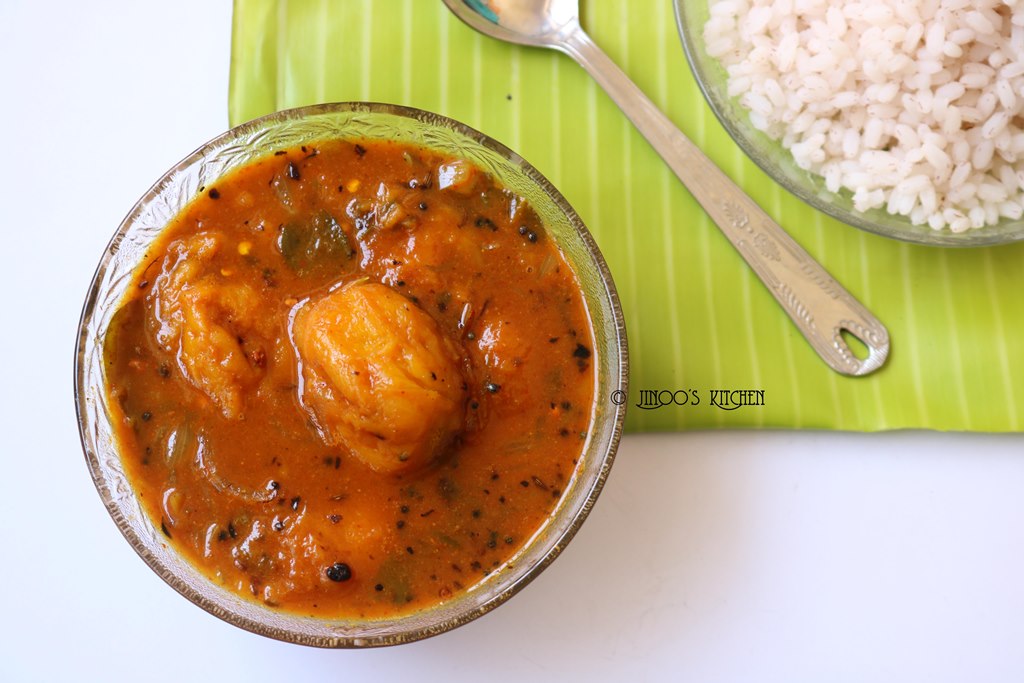 mambazha kulambu – its when i was totally bored of making mango curry kerala style, i tried something spicy, sweet and tangy curry without coconut and without curd. it was one of the best alternative to the mambazha puliserry recipe.
click on the pic below if you are looking for authentic mambazha puliserry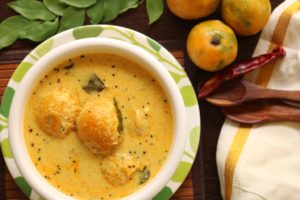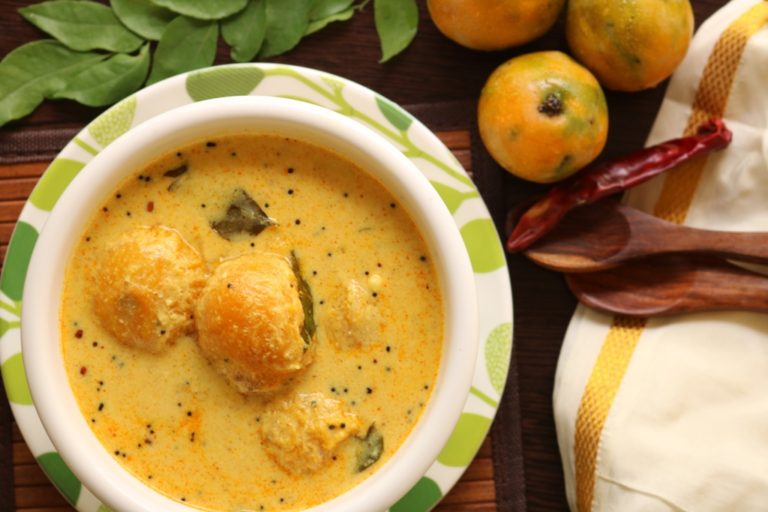 unlike puliserry, this mango tamarind curry was an inspiration from the kara kulambu, pacha manga curry and tried out with the fusion of both and it turned out so good. it was not only good with rice, but also for dosa and idli.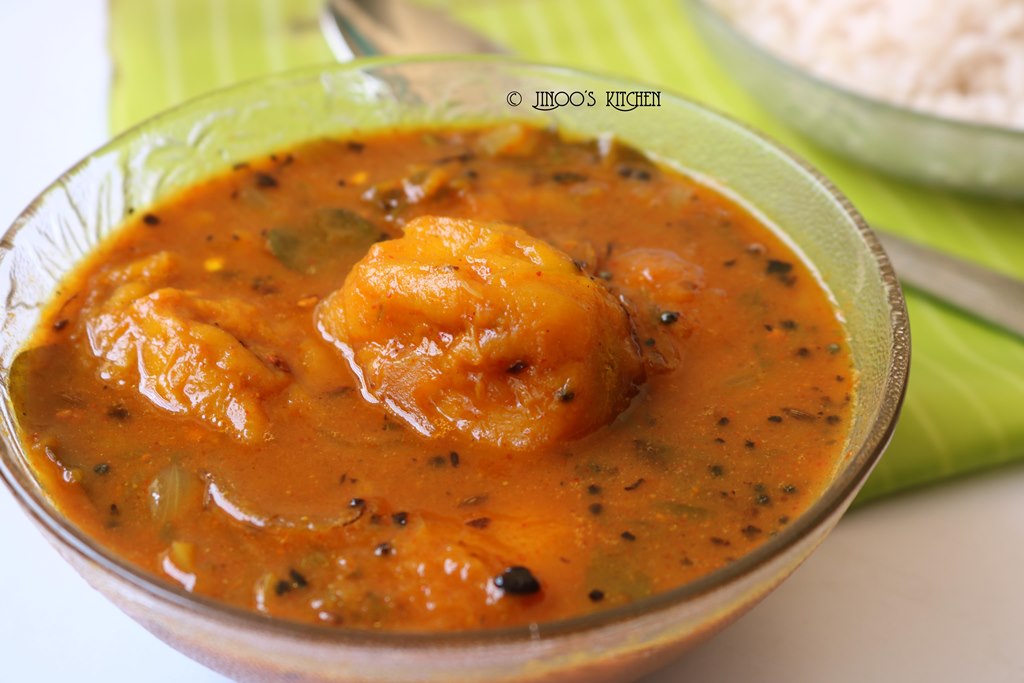 quick video of mambazha kuzhambu recipe:
step by step pics of making Mambazha kuzhambu without coconut and curd
take the vessel that your going to use for cooking. before switching on stove, add onions, green chilli, curry leaves and crush them with your hands. i have used mud pots here, you can use any vessel that is suitable for making curry.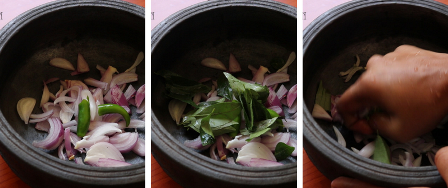 peel the mango skin and add it to the curry. I have used smaller variety mangoes which are fibrous as well as very sweet. you can use any variety, if using larger size mangoes, then cut it into cubes. squeeze it with your hands slightly until juices realease and mixes with onions.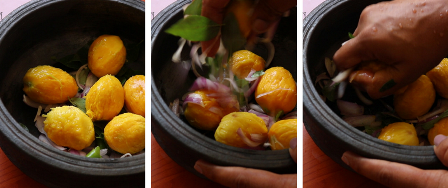 chop the coriander leaves very finely and add them along with turmeric powder and chilli powder. we have added green chillies, so adjust red chilli powder according to the mango sweetness. more sweet, more chilli powder needed.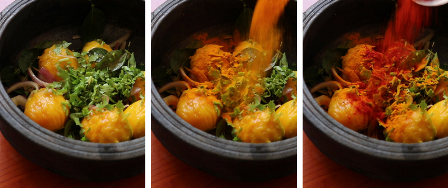 furthermore, add coriander powder and sambar powder and salt to taste.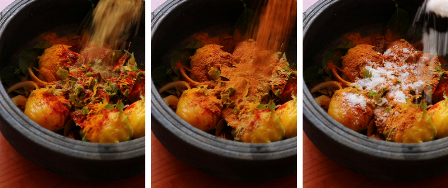 now add the tamarind water. we have to soak 1/4 cup tamarind in 2-2.5 cups water for 15 minutes and then squeeze out tamarind extract and discard the tamarind leftover. mix well and at this stage only we have to put it on stove adding a pinch of asafoetida.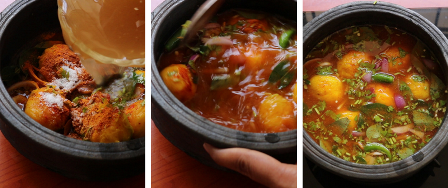 cook for 10-15 minutes on medium heat until the mangoes are soft and is easily mashable. the mango pulp has to leave out and mix with the curry.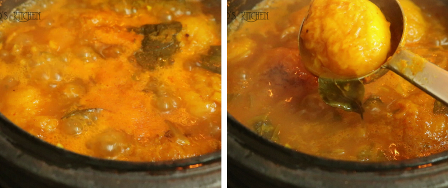 finally add jaggery to taste. adjust jaggery or you can even skip it if the mangoes are too sweet. cook until the curry is thick.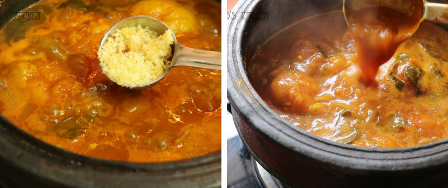 for tempering: heat oil and crackle mustard seeds, fenugreek seeds, cumin seeds, red chilli, urad dal, chana dal and vengaya vadagam. adding onion vadagam is optional if you do not have it skip it. fry for few seconds and put off the stove .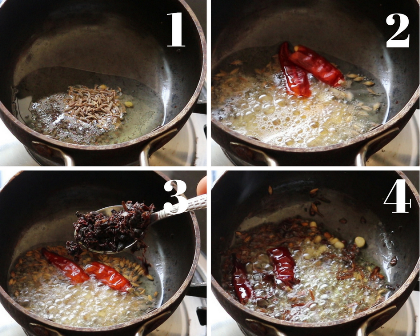 add the tempering to the curry and mix well. serve hot with rice.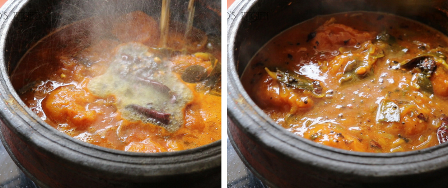 Mambazha kuzhambu recipe
Ingredients
1

large

onion

sliced

1

no

green chilli

broken

2

spring

curry leaves

broken

6

small

mangoes

peeled

3

tbsp

chopped coriander leaves

1

tsp

turmeric powder

1.5

tsp

chilli powder

1

tsp

coriander powder

1

tbsp

sambar powder

salt to taste

1/8

cup

tamarind

soaked in 2.5 cups water

1

pinch

asafoetida

1

tbsp

jaggery
tempering
2

tsp

sesame oil

1/2

tsp

mustard seeds

1/8

tsp

fenugreek seeds

1/2

tsp

cumin seeds

3/4

tsp

chana dal

3/4

tsp

urad dal

1

no

red chilli

broken

1

tsp

vengaya vadagam
Instructions
soak tamarind in 2.5 cups water and take out the extract from it.

mix together onion, green chiilli, curry leaves, mangoes and squeeze it with your hands.

further add chopped coriander leaves, turmeric powder, chilli powder, coriander powder, sambar powder, salt and tamarind water.

mix well add a pinch of hing/asafoetida and cook it for 10-15 minutes.

mash the mangoes slightly and then add jaggery to taste

mix well and cook until the curry thickens.
tempering
heat oil and pop in mustard seeds, fenugreek seeds, cumin seeds, urad dal, chana dal, red chilli broken, onion vadagam and fry for few seconds .

add the tempering to the curry and mix again.