How to cook Mushroom Biryani perfectly | Perfect non-sticky Muslim style biryani
How to cook mushroom biryani perfectly
Tips and tricks for perfect nonsticky mushroom Muslim style biryani. Learn how to make mushroom biryani with step-by-step photos and a video. It is a classic vegetarian biryani with mushrooms which gives the flavor of the meat. This simple biryani is made with onions tomatoes mushrooms and jeerashala rice. Instead of jeera shala rice, we can also use seeragasamba or basmati rice.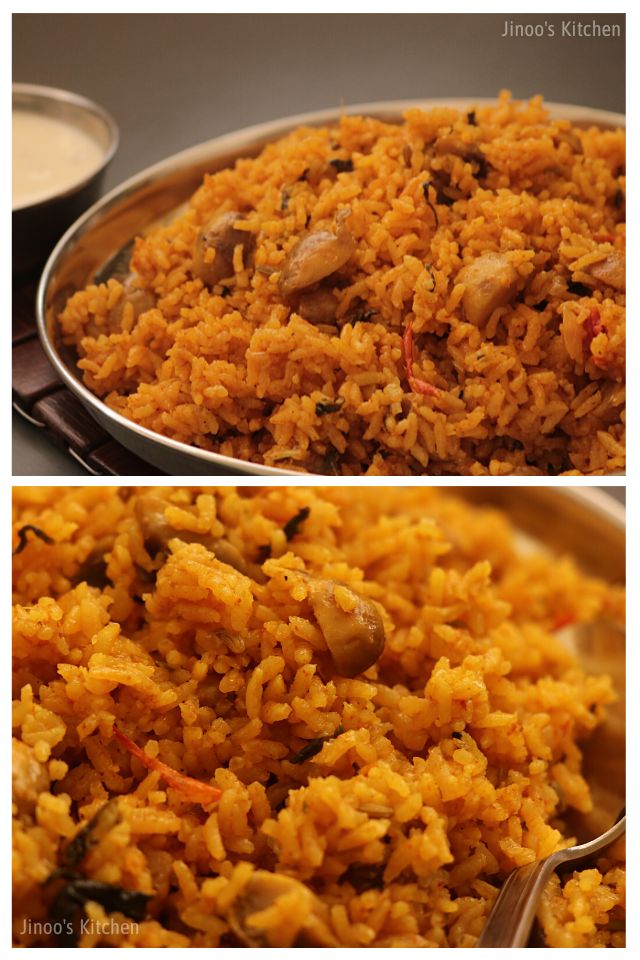 This is a great recipe to pack in your kids' lunch boxes as well. These taste good even the next day when reheated. It is dum-cooked like chicken dum biryani. The rice is cooked along with spices such as cloves cardamom and black pepper that makes it flavorful. It is cooked with Ghee which gives it a distinct aroma. This particular recipe is a South Indian-style biryani.
This mushroom biryani is,
Easy and quick
Vegetarian alternative for du biryani
Perfect for parties and guests
Tasty and delicious
Steps involved in cooking Mushroom Biryani
Cooking of rice:
Unlike the normal dum biryani made with basmati rice, this South Indian style recipe does not require the rice to be cooked separately.
For the mushroom masala:
The flavor of the biryani comes from the perfectly cooked mushroom masala. It takes time to cook the masala until the oil leaves out and all the spices are blended. It is when the mushroom masala is ready and the rice can be added further
Video recipe:
Step By step recipe:
1.      Firstly, take One Cup of rice and wash it thoroughly. Soak it in water for 15 to 20 minutes. Soaking in water not only fastens the cooking process but also makes the rice soft as the moisture is absorbed.
2.      In a thick-bottomed vessel hot pot, heat oil and Ghee. A mixture of oil and ghee is generally used for biryani.
3.      When the oil is heated up, add Bay leaves, cinnamon, cloves, cardamom, black cardamom, star anise, mace strand, fennel seeds, and black stone flower.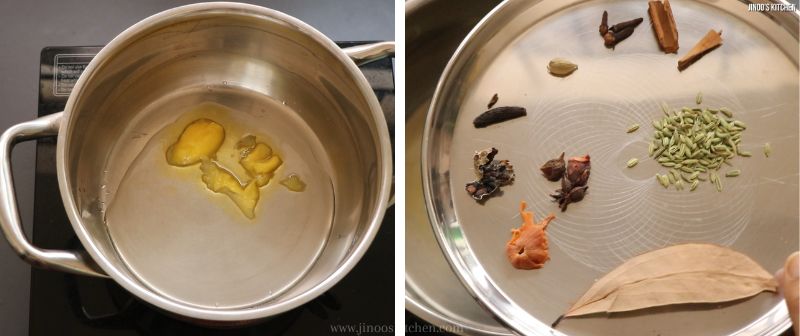 4.      When the spices are heated up, add finely chopped onions.
5.      When the onions turn soft, add the ginger garlic paste and fry it along with the onions.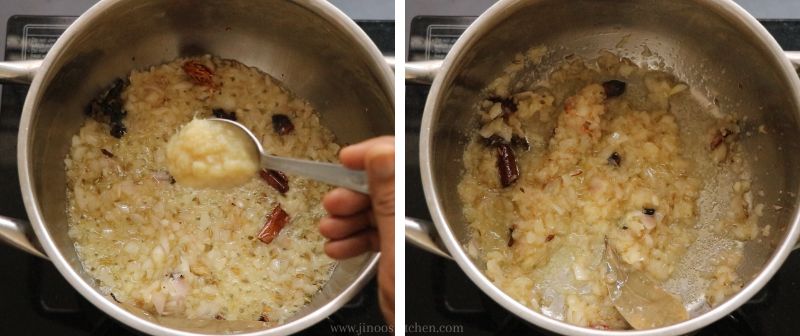 6.      Chopped tomatoes are added and cooked until it turns mushy.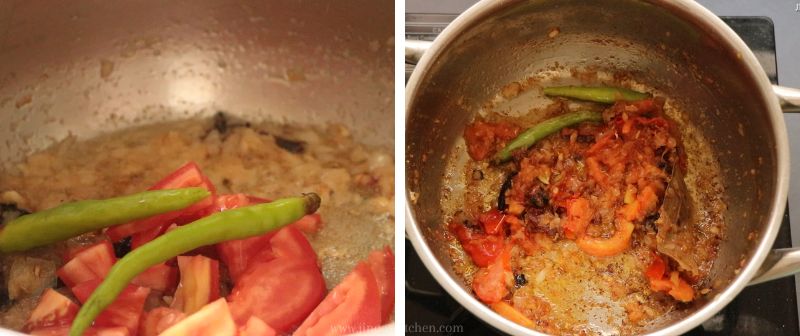 7.      At this stage, sliced mushrooms are added and cooked along with the masala for a minute.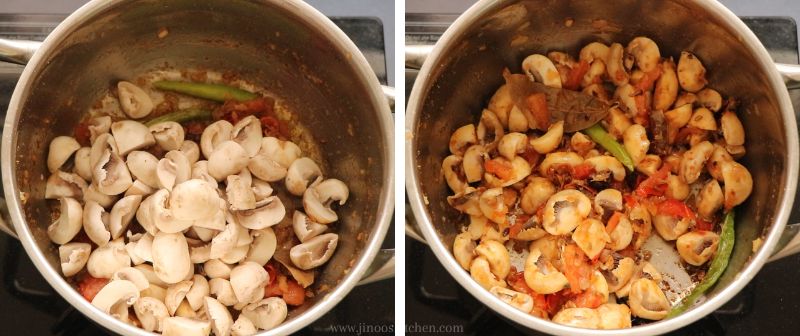 8.      Further add turmeric powder, chili powder, and coriander powder, and mix everything together.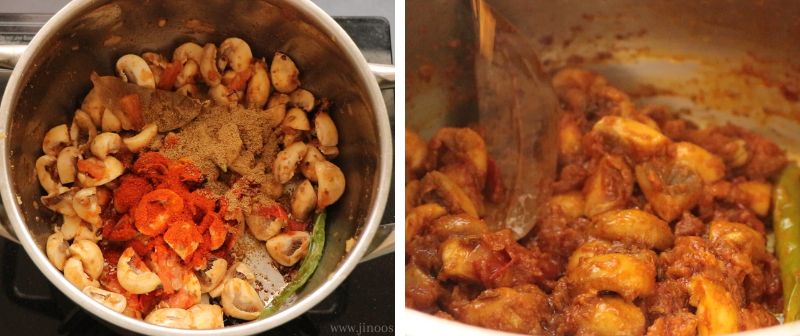 9.      Water from the mushrooms helps cook the masala. keep the flame low and cook until the mushrooms shrink.
10.   When the Mushrooms start shrinking, add chopped coriander leaves and mint leaves along with curd.
11.   Mix everything together and try for a minute on high heat adding salt to taste.
12.   This step takes time, but oil has to come out of the masala before adding rice it is important for the flavor of the biryani. So do not hurry up. Cook on low flame until oil leaves out the masala.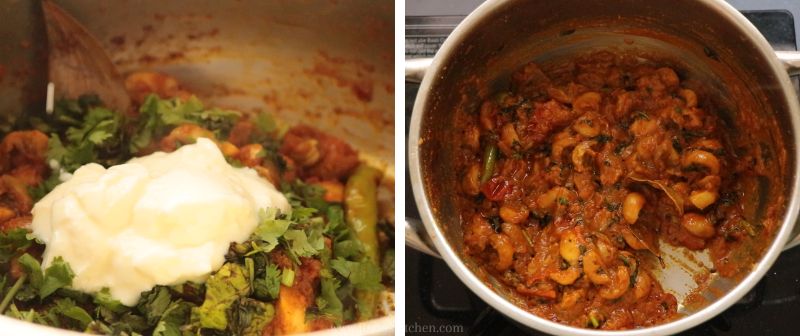 13. When the mushroom masala is ready, drain and add the soaked rice.
14.   Frying the rice in oily masala makes it non-sticky. Fry it for a minute or two until there is very little moisture.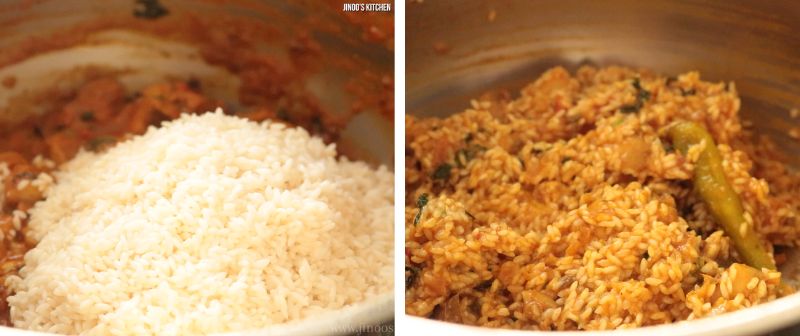 15.   Add water. 1:1.25 is the rice: water ratio. The water ratio depends on the variety of rice used. Some basmati rice needs 1.5 cups of water for One Cup of rice. Here in this recipe, I have used jeerashala rice which requires 1.25 cups of water for One Cup of rice.
16.   Cook the pot open until the water level goes below the rice
17. Lastly add biryani masala and some ghee on top and mix gently.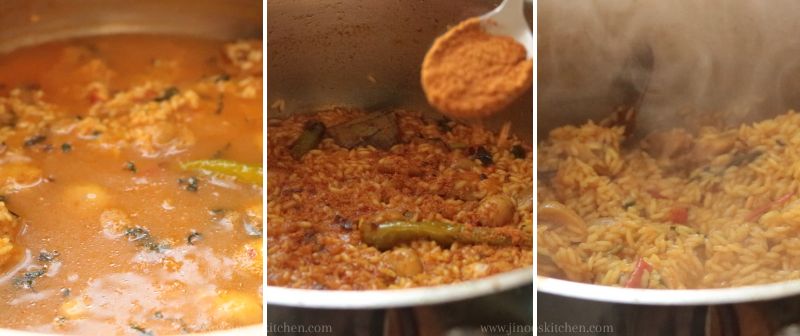 18.   It's time to dum cook the biryani. For that, place a thick iron Tawa and place the biryani pot on top. Close it with a plate and place a vessel of hot water on top of it.
Placing hot water on top helps the top layer of biryani to cook evenly. Also, the flavor is retained.
19.   Cook on the lowest flame for 20 minutes.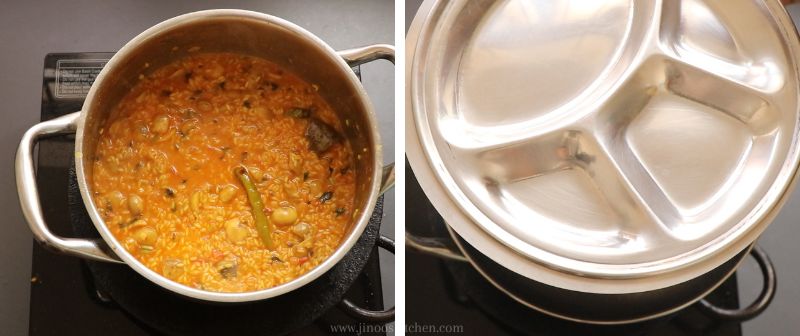 20.   Switch off. Add ghee and mix it gently with a fork and close it again let it rest for 15 more minutes before serving so that the consistency of the rice comes out perfect.
21.   Serve it hot with the raita and curry of your choice.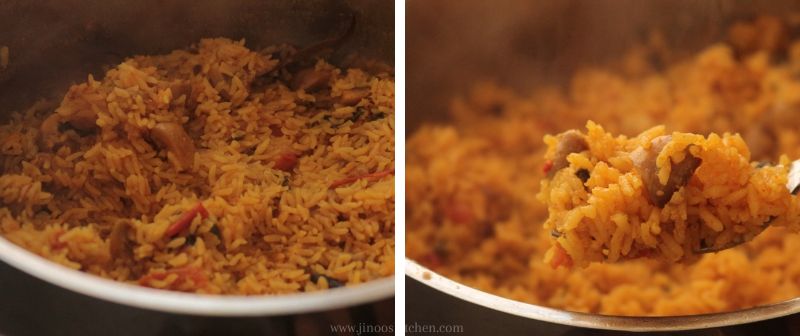 Other Mushroom video recipes:
Expert tips:
Rice used for the mushroom biryani: the kalaan biryani South Indian style is made with jeera shala rice. But it tastes great when also made with basmati rice or seeraga samba rice. If you do not have these rice varieties, you can also make them with any non-sticky short-grain or medium-grained rice.
Spices: use all these spices listed above for the best taste and flavor. Adding it whole is highly suggested.
Herbs: both the mint and coriander leaves is a must in this recipe if you do not have fresh mint leaves replace them with dried mint.
Vegan options: for this South Indian style biryani, use vegan yogurt to replace the dairy yogurt or skip it altogether and add lemon juice at the end before dum cooking. Additionally, add just oil instead of ghee.
FAQ's
Can you cook mushroom biryani in a pressure cooker?
Follow the same instructions until adding water. For cooking in a pressure cooker, we would need 1.5 cups of water for 1 cup of rice. Pressure cook on a low flame for one whistle or for 15 minutes whichever comes first.
Recipe Card
How to cook Mushroom Biryani perfectly
Ingredients
1

cup

Jeerakashala rice

or jeeraga samba rice

1

tbsp

oil

1

tsp

ghee

1

no

bay leaves

1

inch

cinnamon stick

3

no

cloves

1

no

cardamom

1

no

black cardamom

1

no

star anise

1

piece

mace strand

1

piece

black stone flower

1/2

tsp

fennel seeds

1

large

onion

finely chopped

1

tsp

ginger garlic paste

1

no

tomato

chopped

2

no

green chillies

150-200

gms

mushrooms

sliced

1/8

tsp

turmeric powder

1/2

tsp

chilli powder

1.5

tsp

coriander powder

1

handful

coriander and mint leaves

chopped

2

tbsp

curd

salt to taste

1.25

cups

water

1/2

tsp

biryani masala
Instructions
Wash and soak the rice in water for 15 minutes.

In a thick bottomed pot, add oil and ghee.

When it is hot, add all the whole spices and saute for a few seconds

Add onions and cook until soft.

When the onions turn soft, add ginger garlic paste and cook until raw smell leaves

add chopped tomatoes and green chillies and cook further until tomaotes are mushy.

to this add sliced mushrooms and mix well.

further add turmeric powder, chilli powder , coriander powder and cook until the mushrooms are soft and shrinks.

WHile it shrinks, add chopped coriander and mint leaves along with curd.

Mix everything together and cook further more. Oil has to leave out the masala

When the mushroom masala is done, add the drained rice and fry for a minute

Add water and boil till the water level goes below the rice.

Lastly add garam masala and mxi gently.

For dum cooking, place a iron tawa and the biryani pot on top of it.

close it with a place and place a pot of hot water on top .

cook in lowest flame for 20 minutes

Switch off, open and mix gently with fork adding a little ghee.

close again and let it sit for 15 minutes before serving.
Video
Check out the latest recipes: