Mushroom Biryani recipe – simple and delicious biryani recipe for all those who wanted a veg substitute of non veg biryani. I would say for sure that this mushroom biryani recipe is a tough competitor for nonveg biryanis. So flavorful, medium spiced and tasty.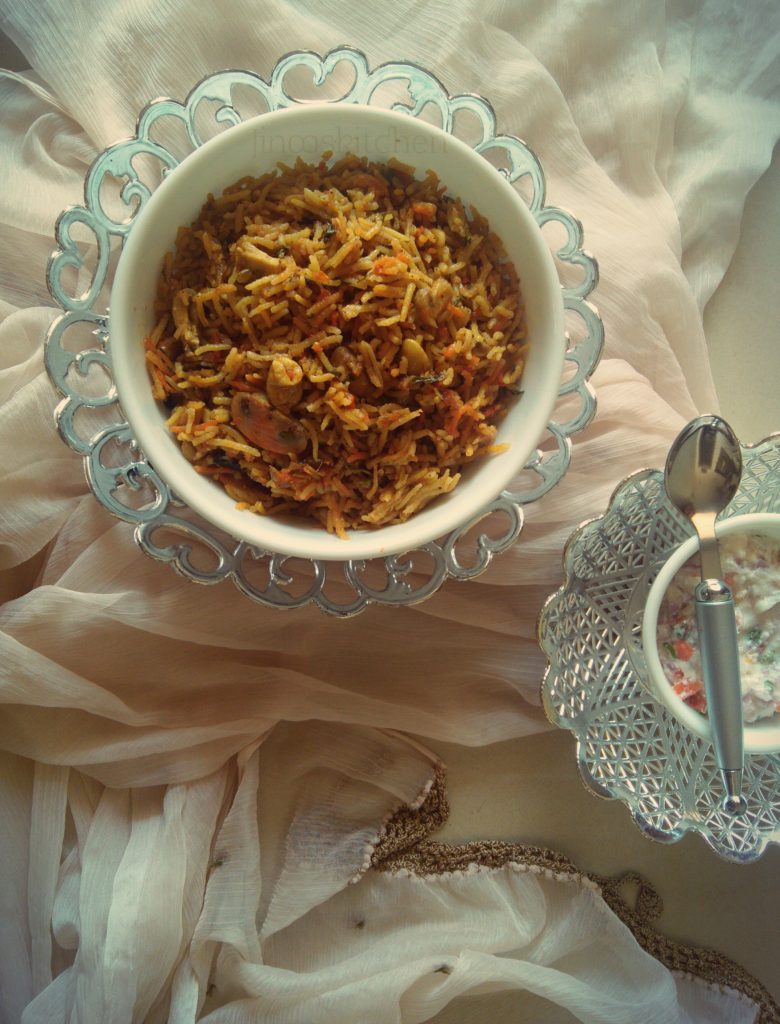 Mushroom Biryani recipe video recipe:
Mushroom Biryani pictorial directions:
Heat oil and fry sliced onions along with sugar and salt until it gets brown. Keep it aside

Heat oil+ghee, put in bay leaf, star anise, cinnamon, cloves, cardamom, black cardamom and fennel seeds.
When it gets heated up and aroma arises out, add onion paste
Next goes in green chilli, ginger and garlic paste. Mix well and let it fry until it leaves out fresh smell and starts changing colour.
Add tomato puree, mix well and let it fry until well blended and raw smell goes off.
Add finely chopped coriander leaves and finely chopped mint leaves.
Add broken cashews, turmeric powder, chilli powder and mix well. Let it cook until its gets shrunken and combined. Oil starts leaving.
Put in sliced mushrooms. Mix well.
Add curd, Garam masala and mix well again.
pour in required water and salt. close and cook until it comes to a rolling boil.
Add washed rice and mix well.
Squeeze lemon juice into it.
Put in fried onions and mix well. Close and cook until rice is done.
Add red color or saffron milk finally and gently fluff it.
If little watery, leave it open for a minute until it gets dried out.
water to be added is 1:1.5 ratio.  for 1 cup rice, its 1.5 cups water. But depending upon the quality of the basmati rice it may vary.
Mushroom Biryani recipe:
Mushroom Biryani
Ingredients
2

tbsp

oil

2

cups

onions sliced

1/4

tsp

sugar

1/4

tsp

salt

1

bay leaf

1

star arinse

1/2

inch

cinnamon stick

2

small cloves

2

green cardamom

1

medium black cardamom

1

tbsp

fennel seeds

1/2

cup

onion paste

1/2

cup

ginger+green chilli+garlic paste

1/2

cup

tomato paste

1/4

cup

chopped coriander and chopped mint leaves

2

tbsp

broken cashews

1/8

tsp

turmeric powder

1

tbsp

chilli powder

1

packet mushroom sliced

4

tbsp

curd

1

tbsp

garam masala

1/2

tbsp

lemon juice
Instructions
Heat oil and fry sliced onions along with sugar and salt until it gets brown. Keep it aside

Heat oil+ghee, put in bay leaf, star arinse, cinnamon, cloves, cardamom, black cardamom and fennel seeds.

When it gets heated up and aroma arises out, add onion paste.

Next goes in green chilli paste. Mix well and let it fry until it leaves out fresh smell and starts changing color.

Add tomato puree, mix well and let it fry until well blended and raw smell goes off.

Add finely chopped coriander leaves and finely chopped mint leaves.

Add broken cashews, turmeric powder, chilli powder and mix well. Let it cook until its gets shrunken and combined. Oil starts leaving.

Put in sliced mushrooms. Mix well.

Add curd, Garam masala and mix well again.

pour in required water and salt (rice:water = 1:1.5). close and cook until it comes to a rolling boil.

Add washed rice and mix well.

Squeeze lemon juice into it.

Put in fried onions and mix well. Close and cook until rice is done.

Add red color or saffron milk in between (optional)