Noodles Cake ~ Instant Maggi noodles cake
Noodles Cake is a great and creative way to cook noodles just like that. This savory maggi noodles is halfway pan cooked and then baked. Packed with flavored spices and the nutrients of methi/fenugreek leaves.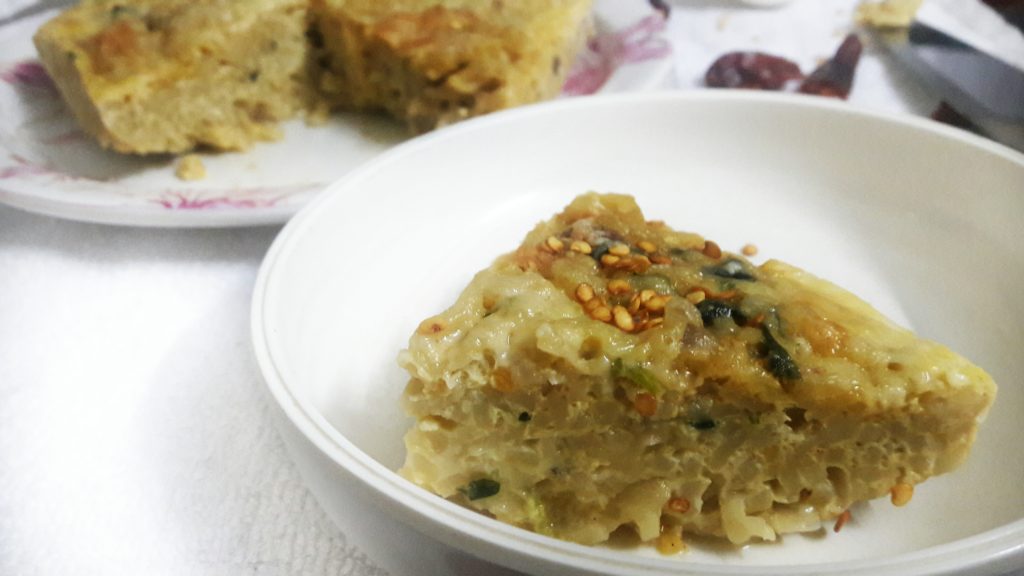 I have used maggi noodles in this recipe. If incase you wish to use any hakka noodles or homemade noodles, cook it until almost done with all the masalas.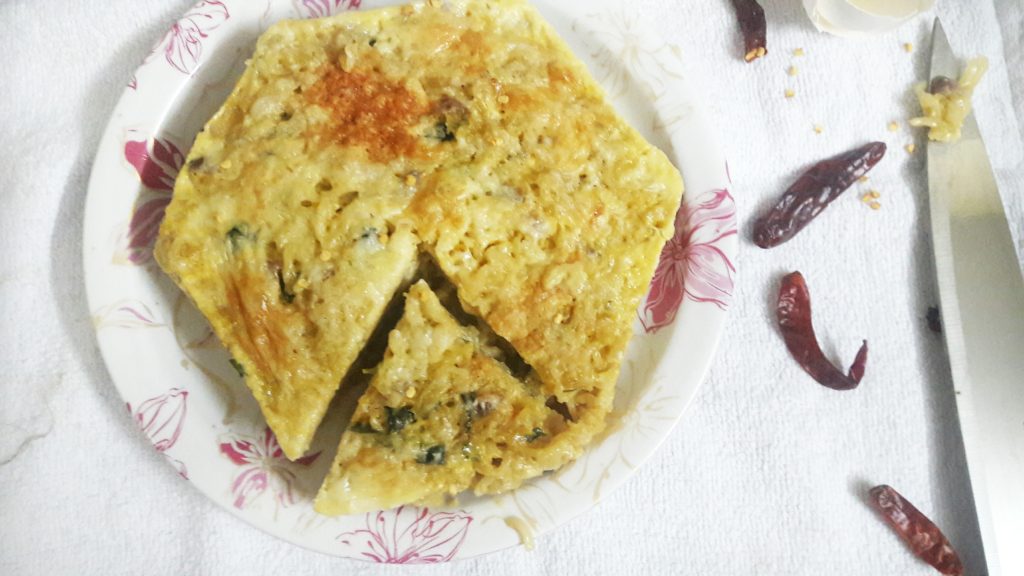 For topping, red chilli flakes,oregano seeds or some load of extra cheese would go good. Drip in tomato sauce on top and have it hot!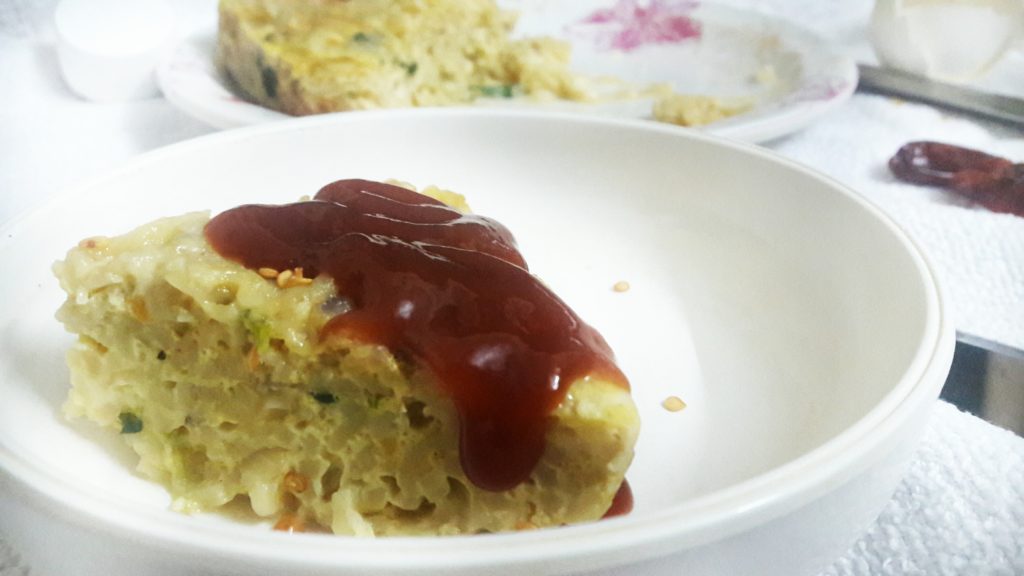 Directions for Maggi Noodles Cake:
Heat oil, fry chopped shallots and chopped methi leaves with a pinch of salt until shallots turn brown.
Pour in two glasses of water and let it come to rolling boil
Add the maggi noodles and its masala. Together add chilli powder and pepper powder(optional)
Let it cook until 3/4th of water is evaporated.
Meanwhile, break 2 eggs and beat well with salt and 2 drops of milk to thin consistency
Grease a cake pan with butter and keep it ready.
When noodles is 3/4th cooked. Switch off the gas. Let it cool for a min. When it is luke warm, add the beaten eggs into it and mix well.
Pour this mixture into the cake mould.
Grate the cheese on top of cake.
Bake the cake for 6 to 7 minutes or until light brown layer forms at top.
When you put in a knife or toothpick, it should come out clean which means eggs and noodles are cooked completely.
Transfer the cake to a plate and top it with red chilli flakes and tomato sauce.
Noodles Cake
Ingredients
4-5

Medium sized

Shallots

Finely chopped

1

Tbsp

Choppped methi leaves

2

Pkt

Maggi chotu noodles

1/4

Tsp

Chilly powder

2

Large

Eggs

1/2

Tsp

Milk

Butter

To grease pan

1-2

Tbsp

Cheese

1/4

Tsp

Red chilli flakes

1/4

Tsp

Oregano flakes
Instructions
Heat oil, fry shallots and methi leaves with salt until shallots are brown.

Pour 2 glass water and bring to rolling boil, put in maggi into it with the maggi masala.

Cook until 3/4th of water is evaporated. Beat 2 egss with salt and a drop of milk and add to the cooked noodles when it is luke warm.

Mix well and pour it into the greased cake pan. Grate cheese on top of it.

Bake for 6-7 minutes in oven until light brown crust is formed.

Take out. Transfer gently to a plate and top it with red chilli flakes and drizzle tomato sauce over it.