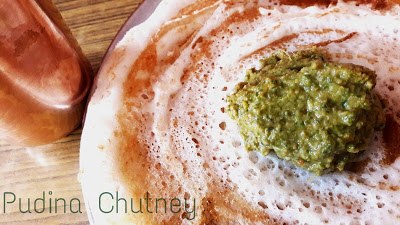 Ingredients:
Urud dhal 1/2 tsp
Bengal gram 1/2 tsp
Shallots 6-7 roughly chopped
Red chilli 2 nos
Garlic 2 pods
Tomato 1/2 roughly chopped
Curry leaves 2 spring
Mint leaves a handful
Method :
1. Heat oil, saute urud dhal and bengal gram until it starts changing colour
2. Add shallots,red chilli and garlic. Saute well.
3. Add tomatoes and saute until its mushy.
4. Finally add curry leaves , mint leaves and salt.
5. Cool it down and grind it.
6. Seasoning: heat oil, pop in mustard seeds and red chilli. Add to the chutney.