Roasted masala chicken fry is an inspiration from my own recipe malli milagu chicken. Best goes with steamed rice and rasam on those days with cold and cough. Also suits for chapati/ghee rice.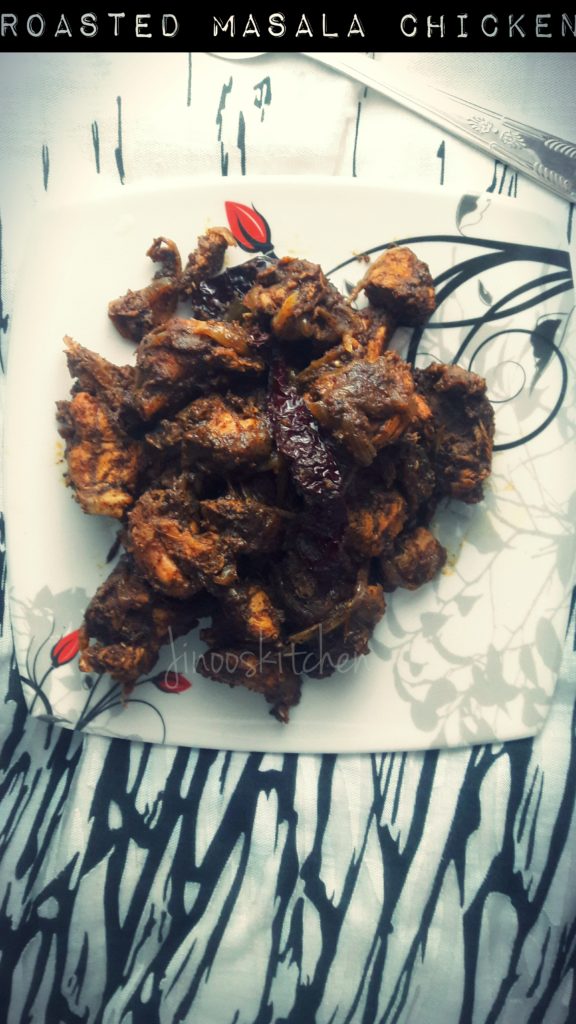 It is a spicy chicken fry – marinated with roasted powders. 4 Main ingredients in this fry are garlic, ginger, chilli powder and coriander powder. chilli powder and coriander powder are roasted till dark brown and used for marination. The color of the powder is almost darkest brown/ black that it makes chicken fry to be called dark chicken or black chicken.
Pictorial directions for roasted masala chicken fry:
Clean and cut chicken pieces to smaller size or as desired. Dry Roast coriander powder to dark brown in simmer and keep it aside to cool. Again, dry roast chilli powder to dark brown and keep it aside in a plate to cool. Caution: While roasting chilli powder, keep the kitchen ventilated. it creates very strong aroma and causes cough. Hence roast it quick.
Marinate chicken pieces with ginger garlic paste, roasted coriander powder, roasted chilli powder, turmeric powder, salt
Add curd. mix well and refrigerate for 15-30 min.
Heat oil, saute sliced onions, ginger garlic paste and red chilli until onions turn brown.
Add the marinated chicken and sprinkle water. close and cook in medium flame until chicken is done. Once chicken is cooked. Let it open and dry.
Roasted Masala Chicken fry recipe:
Thanks for taking time to read my recipes! ?It would be great pleasure if you could drop a comment about your views. Tel us if you have tried recipes from Jinoo's Kitchen. Let us know how the dish turned out for you! Like, Share and spread a word if you like the recipes!