Spicy Soya chunks fry recipe | Meal maker fry recipe
Spicy Soya chunks fry recipe | Meal maker fry recipe with step by step photos and quick video. A very popular protein rich recipe that can be prepared very quickly and can be had as a side dish along with rice and curry. It can also be served as a side dish for roti/chapathi.
soya bean chunks fry recipe is a very simple yet nutritious recipe that is also loved by kids. it is a very good alternative to non veg and gives an amazing taste with very little spices.
here is the quick video on how to cook Spicy Soya chunks fry recipe,
 I have used
home made garam masala
 in this recipe which was exotic and flavour packed. You can either use garam masala or just replace it with
coriander powder
to make it simple. adjust spice level according to your taste. I have added green chillies, pepper powder and chilli powder as well and its spicy. Make a note that soya chunks are soaked in salt water. so when adding salt in curry, add it only for the masalas.
also, check out soya chunks biryani which is simple and nutrients packed rice recipe.
Lets move on to step wise description of meal maker fry recipe:
firstly, lets soak the soya chunks in warm water. take a large bowl, add the soya chunks to it. pour in warm water to soak the chunks.
add enough salt and mix well.
let it rest for 15-20 minutes until it gets soft and bigger. until almost all the water is absorbed.
drain all the water and cut them into half.
now, heat a pan and add oil to the pan. crackle cumin seeds.
add curry leaves and green chilli slit
further to this, add finely chopped onions and ginger garlic paste
fry until the onions are brown.
once the onions are slightly brown, add finely chopped tomatoes and fry until tomatoes are mushy
to the fried tomatoes, add turmeric powder, chilli powder
next, add the garam masala and pepper powder
fry for half a minute and add salt to taste
at this stage, squeeze out the soya chunks to remove any excess water and add it to the curry
add the soya chunks to curry and mix well. fry for 2 minutes in medium heat until the masala is mixed up well and it is slightly roasted.
serve hot as a starter or with chapathi or rice and curry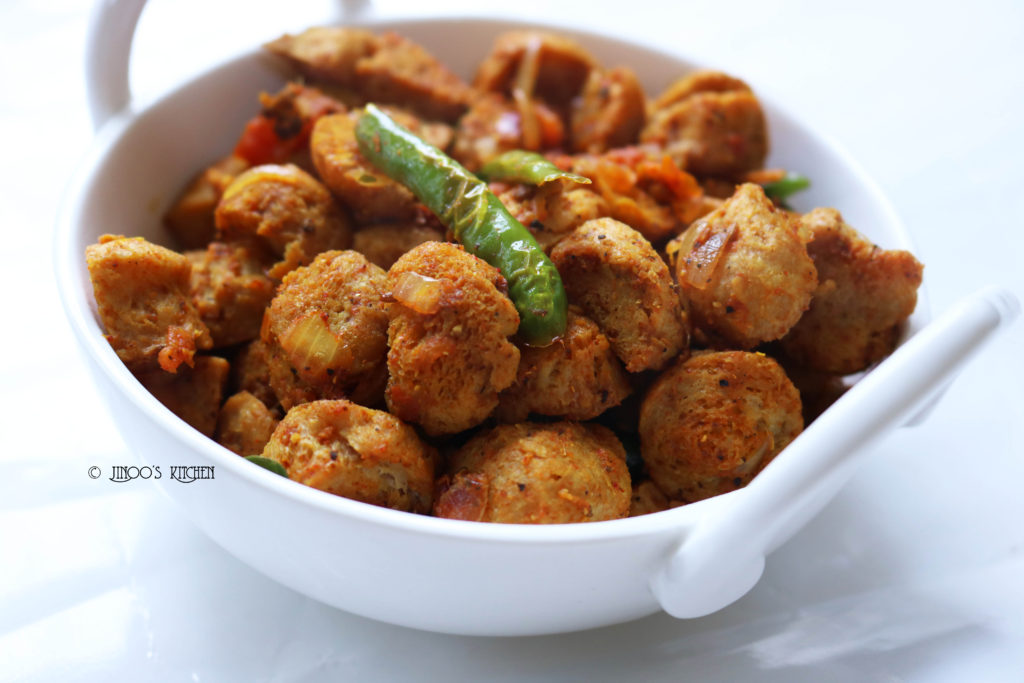 Meal maker fry recipe:
meal maker fry recipe
Ingredients
2

cups

soya chunks

1

tbsp

oil

1/4

tsp

cumin seeds

1

spring

curry leaves

1

long

green chilli

slit

1

medium

onion

finely chopped

1

tsp

ginger garlic paste

1

large

tomato

finely chopped

1/4

tsp

turmeric powder

1/2

tsp

chilli powder

1/2

tsp

garam masala

1//4

tsp

pepper powder

salt to taste
Instructions
firstly, soak the soya chunks with salt and warm/hot water.

let it rest for 15-20 minutes until it gets soft and bigger.

drain all the water and cut them into half.

now, heat oil in a pan and crackle cumin seeds,

curry leaves ,green chilli slit,

finely chopped onions and ginger garlic paste.

fry until the onions are brown.

once the onions are slightly brown, add finely chopped tomatoes and fry until tomatoes are mushy

add turmeric powder, chilli powder,

garam masala and pepper powder

fry for half a minute and add salt to taste

at this stage, squeeze out the soya chunks to remove any excess water and add it to the curry

add the soya chunks to curry and mix well. fry for 2 minutes in medium heat until the masala is mixed up well and it is slightly roasted.

serve hot as a starter or with chapathi or rice and curry