Potato Masala Fry | Spicy Urulaikizhangu masala fry for rice
Spicy Potato Masala Fry | Urulaikizhangu masala fry for rice with step by step pics and video recipe. this is one of the simplest and common side dishes prepared for rice and roti. Unlike simple potato fry, this has a pack of spicy masala with it that makes it suitable for even rotis.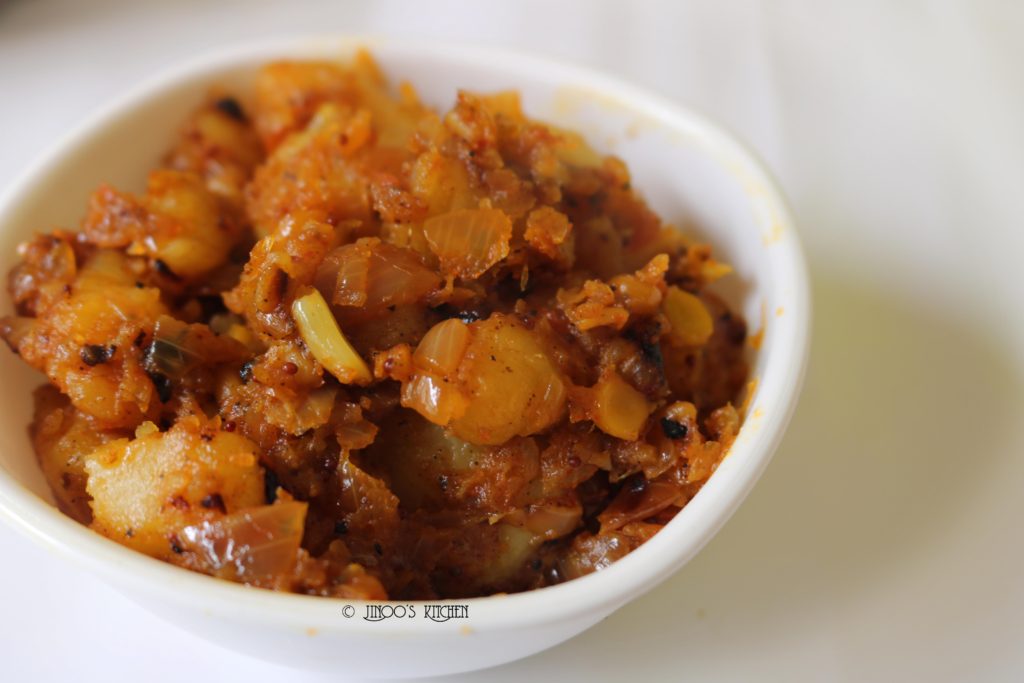 If you are from tamilnadu, you might have heard about the Madurai kizhangu pottalam, My husband travels a lot for his work and keeps telling me about the food items he tastes everywhere. Few years back, when he use to travel to Madurai, he tells about this pottalam and variety rice which are packed in banana leaf.
I use to tell him to take a snap of it and if possible to bring it so that i can taste and try to replicate it. But luckily, he dint have to do it for me, I got the recipe from one of my friend in Madurai. here it is, just that i dint pack in banana leaf. If you can get it, then prepare and pack it in banana leaf to get the flavour of it.
Before I get to the recipe, here are some of the potato curry recipes which you might be interested in, baby potato roast, drumstick potato stir fry, this simple and one of the best attractive starter recipe is creamy potatoes barbeque nation style, normal potato fry with curry leaves flavour: potato curry leaves fry, lasaniya batata which is Garlic potato curry, potato dryfruits cutlet, potato stew recipes, and many more..
Lets see how to make potato varuval in this quick video recipe
Step by step description of Potato Masala Fry
I have used earthen pot to make this dish. You can use any thick bottomed or non stick pan for this dish. heat oil in the pan and crackle mustard seeds.
add urad dal and chana dal to this and mi until it gets slightly reddish
when it changes colour, add garlic and fry for half a minute;
further, add finely chopped onions and fry until it gets pale. lot of onions are added in this dish. Onions i added are almost 3/4th the quantity of potatoes.
when the onions turn pale, add the finely chopped tomatoes, salt for frying.
add turmeric powder and mix well.
add little water, Close and cook until the tomatoes are well cooked and it gets together like a oily masala.
Furthermore, add the boiled and cubed potatoes and chilli powder to the onion tomato mixture.
together add salt and garam masala to the dish. adding garam masala is optional. you can also add coriander powder. some add sambar powder here. its up to your taste.
Mix well and keep frying in simmer for almost 20-30 minutes until the potatoes are roasted and the flavour of masala beautifully gets in to the potatoes. while frying make sure you dont mash the potatoes too much. it shrinks and gets to a thick fried consistency. If it scorches at bottom, add little oil. 
serve hot with rice or roti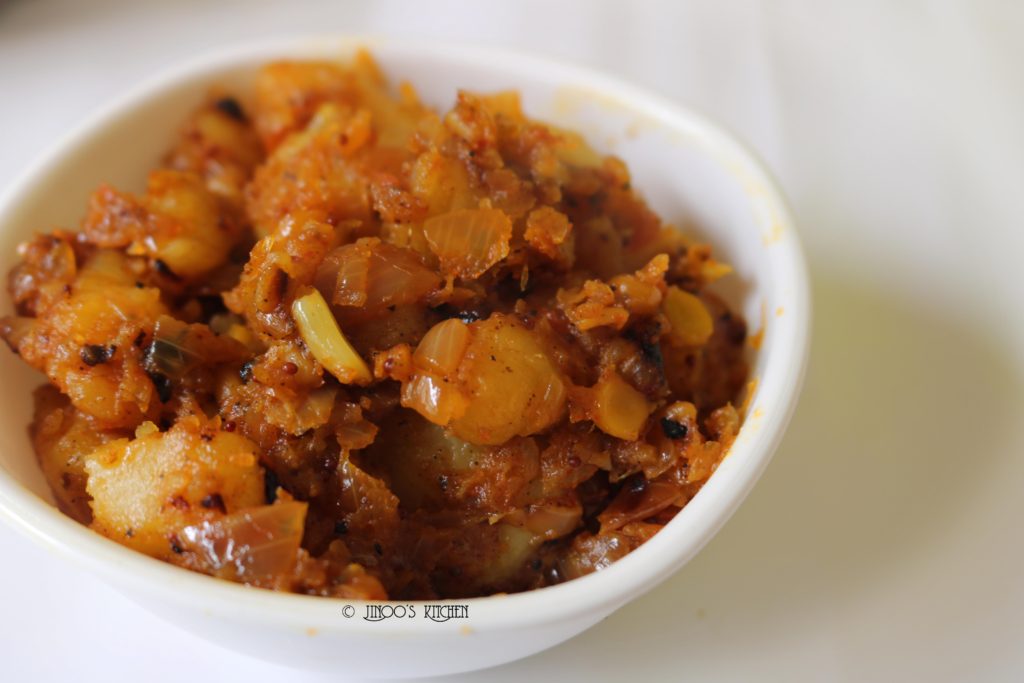 Madurai kizhangu pottalam | Kizhangu varuval recipe: 
potato masala fry
Ingredients
2-3

tbsp

oil

1/2

tsp

mustard seeds

1/2

tsp

urad dal split

1

tsp

chana dal

10-12

cloves

garlic

1

large

onion

finely chopped

1

small

tomato

finely chopped

1/4

tsp

turmeric powder

3

medium

potatoes

cooked and cubed

1

tsp

chilli powder

or more based on your spice level

salt to taste

1/2

tsp

garam masala
Instructions
heat oil in the pan and crackle mustard seeds,

urad dal and chana dal,

garlic and fry for half a minute;

further, add finely chopped onions and fry until it gets pale.

when the onions turn pale, add the finely chopped tomatoes, salt for frying,

turmeric powder and mix well.

sprinkle little water, Close and cook until the tomatoes are well cooked and it gets together like a oily masala.

Furthermore, add the boiled and cubed potatoes and chilli powder to the onion tomato mixture.

together add salt and garam masala to the dish.

Mix well and keep frying in simmer for almost 20-30 minutes until the potatoes are roasted

serve hot with rice or roti