Healthy & Delicious Vegetable Oats Upma Recipe | Perfect Breakfast for Weight Loss
Breakfast is considered to be the most important meal of the day and with good reason. A nutritious and filling breakfast can provide the necessary energy and nutrients to keep you going through the day. And what could be better than starting your day with a healthy, delicious, and easy-to-make Vegetable Oats Upma?
Oats upma is a popular Indian breakfast dish that is made with oats, vegetables, and a blend of spices. This recipe is perfect for weight loss, as it is low in calories, high in fiber and protein, and will keep you full for a longer period of time.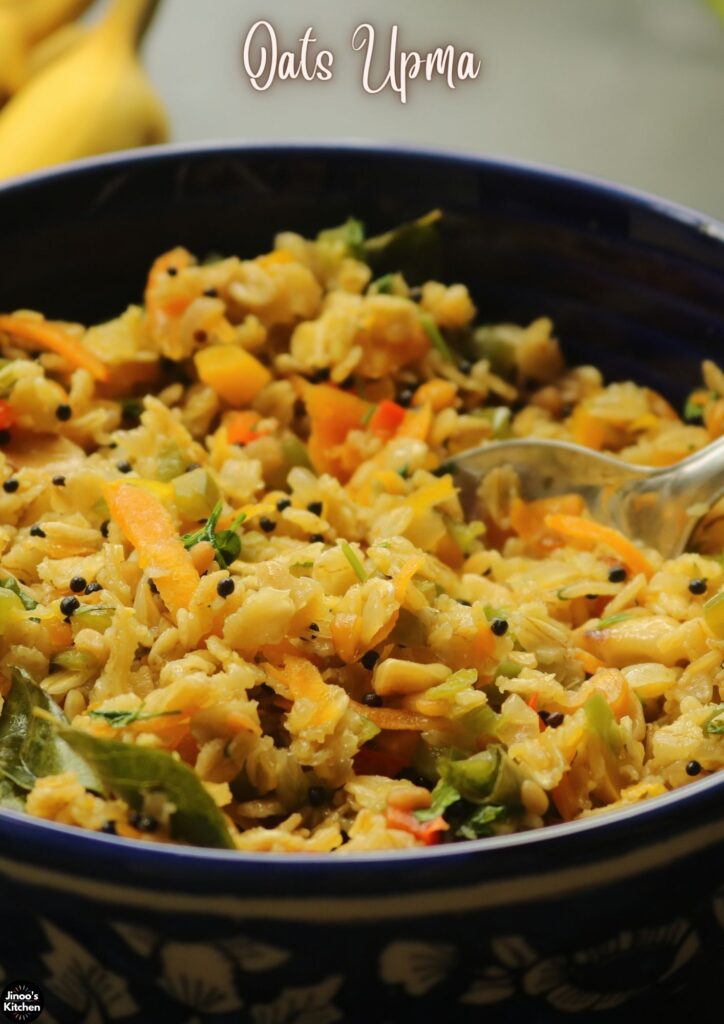 Here is the video recipe for this Healthy & Delicious Vegetable Oats Upma:
Ingredients:
1/2 cup of traditional rolled oats
1 onion, finely chopped
1/4 cup of mixed bell peppers finely chopped
1 carrot, grated
1 green chili, chopped
1 inch ginger chopped
1 sprig of curry leaves
1 teaspoon mustard seeds
1 teaspoon chana dal
1 tsp urad dal split
1 teaspoon oil
Salt to taste
Coriander leaves for garnishing
Instructions:
Dry roast the oats in a pan until they turn slightly brown and aromatic. Remove from the pan and keep aside.
Heat oil in the same pan and add mustard seeds, urad dal, and chana dal. When they start to splutter, add chopped onion. Saute until the onion turns translucent.
Add ginger, green chili, and mixed vegetables. Stir well and cook for 3-4 minutes.
Add salt to taste and water – 3/4 cup.
Let it come to a boil. Then add roasted oats.
Mix well and close cook for another 2-3 minutes on medium heat.
Garnish with coriander leaves and serve hot.
This Vegetable Oats Upma recipe is not only delicious but also provides several health benefits. Oats are a great source of fiber and protein, which helps in keeping you full for a longer period of time. The vegetables in the dish provide essential vitamins and minerals, and the spices add flavor and boost metabolism.
Additionally, this recipe is very easy to customize to your liking. You can add or remove vegetables depending on your taste preferences, and adjust the spice levels to make it more or less spicy.
In conclusion, if you're looking for a nutritious and tasty breakfast that is easy to make, this Vegetable Oats Upma is definitely worth trying. It's perfect for weight loss, and can also be a great option for a quick lunch or dinner. So, give it a try and let us know how it turned out for you!