Moong dal ladoo | Pasi paruppu urundai
Moong dal ladoo with step by step instructions and video recipe. Known as pasi paruppu urundai in tamilnadu is healthy and easy ladoo recipe made with yellow/moong lentils, ghee and sugar.
This recipe can be prepared in 10 minutes time. I have used powdered sugar in this recipe as it is easy to grind it along with moong dal. Else some of the crystals will not get powdered and gives a crunchy taste in this ladoo. This ladoo is supposed to be smooth and soft. So its suggested to grind the sugar first and grind it again along with moong dal.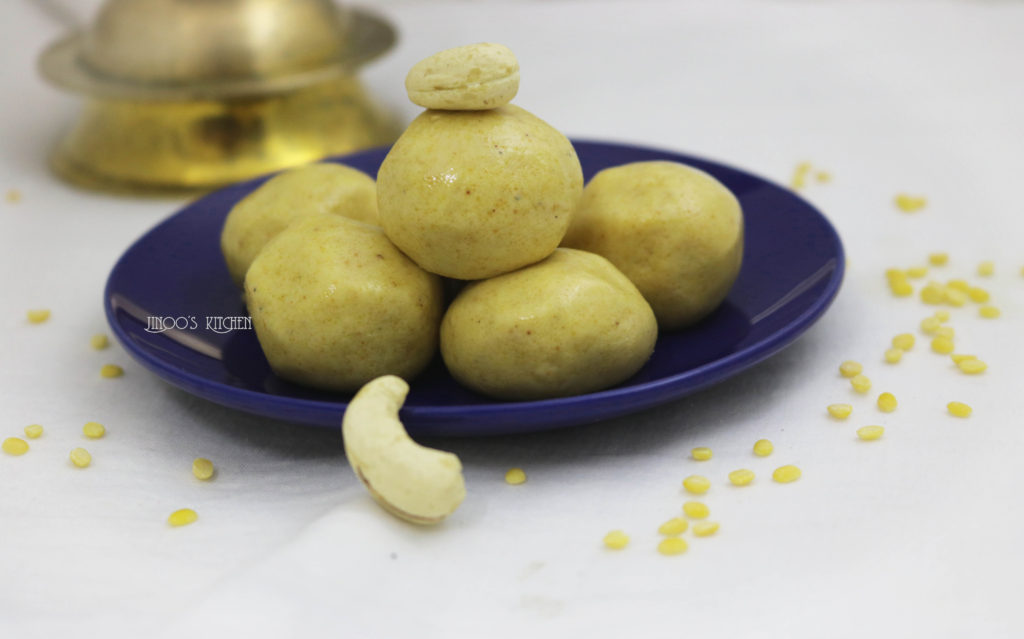 Moong dal ladoo video recipe:
Moong dal ladoo recipe:
Moong dal ladoo
Ingredients
1/2

cup

moong dal

1/2

cup

powdred sugar

1/2

tsp

cardamom powder

1/8

cup

ghee
Instructions
Dry roast Moong dal until it turns slightly brown. Dry roast in simmer.

Take it in a mixing bowl and add powdered sugar to it.

Furhtermore, add cardamom powder a pinch

Grind this mixture to a fine powder.

Add hot ghee to this mixture. it is approximately 1/8 cup to 1/2 cup moong dal.


Make firm balls out of it.
Moong dal ladoo – pictorial directions:
Dry roast Moong dal until it turns slightly brown. Dry roast in simmer. If it gets browned too fast, it may get burnt and changes the taste of ladoo

Take it in a mixing bowl and add powdered sugar to it.
Furthermore, add cardamom powder a pinch
Grind this mixture to a fine powder.
Add hot ghee to this mixture. it is approximately 1/8 cup to 1/2 cup moong dal. But if you are unsure of the ghee quantity, then add little at a time along sides and make ladoo out of it.
Mix it well. If its hot use spoon/ladle to mix it.
Make balls out of it when warm enough to touch