Sweet Somas recipe – Karanji recipe
Sweet Somas recipe or Karchikai or Karanji recipe is a traditional Indian sweet made during festive days. It is also one of the neivedyam served on Vinayagar chathurthi and made on diwali.
Find here the Somas recipe with step by step instructions and complete video recipe. Only that it involves certain technique to follow to fill the sweet in dough. otherwise, its simple and easy.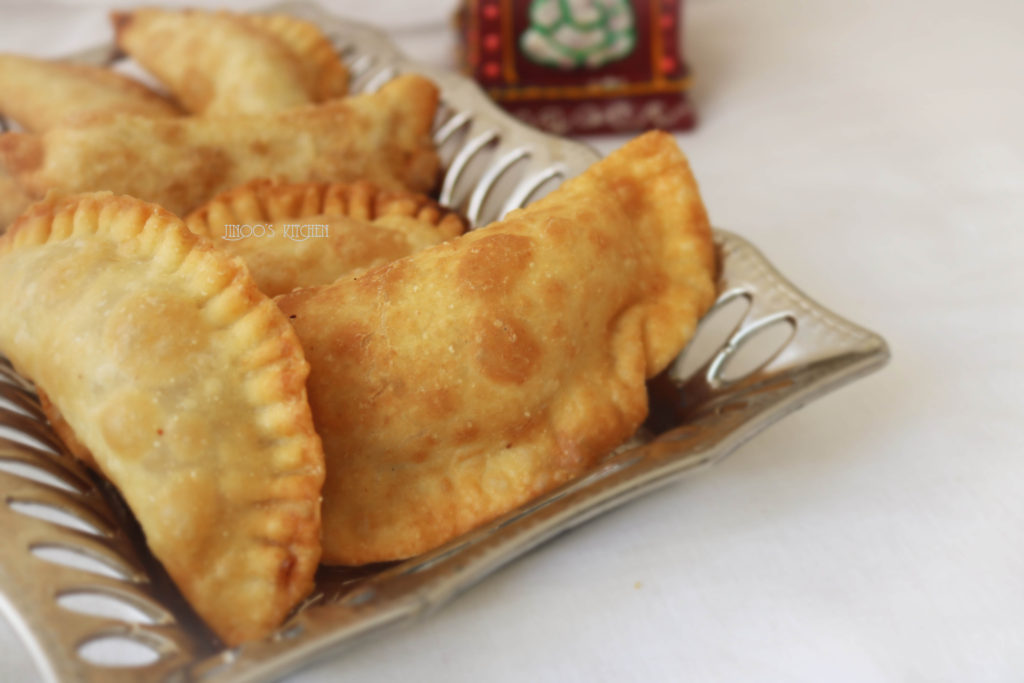 Sweet Somas recipe – Video recipe:
Check out my youtube channel for more interesting video recipes
Sweet Somas recipe:
sweet somas recipe
Ingredients
1/2

cup

peanuts

1/2

cup

fried gram

1

pinch

cardamom powder

1

cup

sugar

1

cup

coconut

2

cups

maida

1

pinch

baking soda

1/8

tsp

salt

1/4

cup

rava

2

tbsp

ghee
Instructions
In a mixing bowl, add peanuts, fried gram (pottukadalai) and Sugar. Mix everything and coarsely grind them. A pinch of cardamom powder is added to sweet mixture and keep it aside

Heat 1 tbsp ghee in a pan, Roast grated coconut in it until its reddish brown in colour. transfer the fried coconut mixture onto the coarsely ground sweet mixture

Now again in a mixing bowl, add maida, Rava/sooji, salt, ghee and baking soda. Add little water and make it a firm dough

Cover and rest it for 30 minutes.

Now in a small bowl, mix together maida and water to a thick paste. this paste is used to seal the sides of somas.

Take a small portion of the dough, make a ball and flatten it to thin layer. Make even circles with a lid. Place the filling onto one side.

Seal the edges with maida paste. now, cover the somas from the other end without filling and press the sides gently. press it with fork

heat oil and drop the prepared somas in hot oil. turn sides and cook it until crispy and brown
Sweet Somas recipe – Pictorial Description:
In a mixing bowl, add peanuts, fried gram (pottukadalai) and Sugar

Mix everything and
coarsely grind them
A pinch of cardamom powder is added to sweet mixture and keep it aside
Heat ghee in a pan,
Roast grated coconut in it until its reddish brown in colour.
transfer the fried coconut mixture onto the coarsely ground sweet mixture
Now again in a mixing bowl, add maida, Rava/sooji, salt, ghee and baking soda. Rava is added to get a crispy Somas


Add little water and make it a firm dough
Cover and rest it for 30 minutes.

Now in a small bowl, mix together maida and water to a thick paste
this paste is used to seal the sides of somas
Take a small portion of the dough, make a ball and flatten it to thin layer
Make even circles with a lid
Place the filling onto one side
Seal the edges with maida paste
now, cover the somas from the other end without filling and press the sides gently
press it with fork
heat oil and drop the prepared somas in hot oil
turn sides and cook it until crispy and brown