The Great Kabab factory, Coimbatore – A Review
The Great Kabab factory, Coimbatore | Restaurant review @ Jinooskitchen
Read some facts about them before I head start to the questionnaire section below,
The Great Kabab Factory is an Indian specialty restaurant offering a unique dining experience. Using recipes combining the ancient with the contemporary, TGKF brings delectable kebabs from all over the world to one table.

With the wide variety of Vegeterian as well as non vegeterian menus, one can experience mouth-watering kababs prepared in seven different styles, roasted on the tandoor or on a singhri, shallow-fried in a tawa or a mahi tawa, deep-fried in a kadhai, steamed in pots or even grilled on a stone.
Here are some questions I had on mind when entering the restaurant and the answers for that were easily derived.
I Am a vegetarian (If at all, Am not actually), What is that interesting vegetarian menu you have for me?
They have equal focus on vegetarian as well non-vegetarian menus. The opponents were strong enough! Galouti Kabab had Subz galouti as its opponent. Well, For Achari jhinga?? Here comes Malai Broccoli. So, Vegetarians head ahead for a wide variety of kababs for you too.
How good and whats so special is your Signature dish?
It might not even have taken a few seconds after i had a first Bite, I got to this conclusion, I've found the best of the galauti kabab on the planet. Its worth activating your taste buds for this one dish which is extremely soft and flavor packed. More than the flavor, texture and smell, I Just fell in love with the uniqueness it represents. The hard toiled work of making this delicious kabab which is their Signature dish. Kababs are made with several hours of letting the meat into machines to bring out the finest and softest mince and the marination it undergoes with some special techniques that is brought by the expertise chefs across the northern part of India, Makes it a best one of all.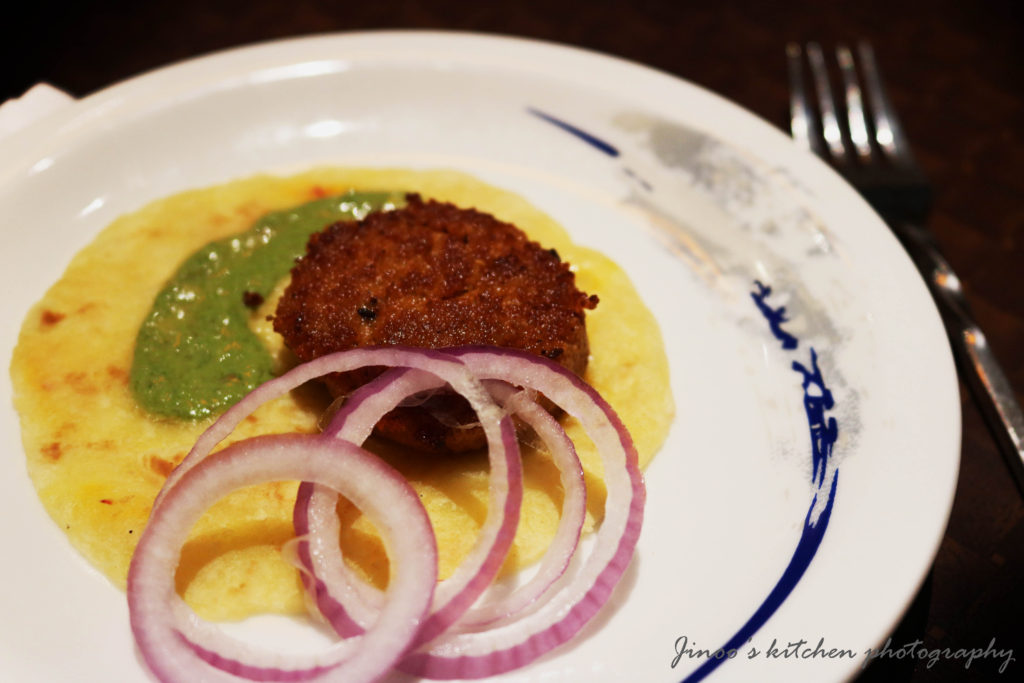 How many unique kabab dishes do you prepare?
TGKF owns a recipe bank of over 450 kababs which include many closely guarded family recipes passed down through the ages.
How about the Ambience? Is it family friendly? Kids friendly?
I have not been to any other TGKF, but from the information I got, It is the same ambience, style and uniqueness they follow globally. The chandeliers, each and every vessel used has its style of ethnic as well as modern look altogether giving a distinct feel good atmosphere. Apt for Leisurely dine out with family. It is not a place for hurry burry eating. It is for spending quality time with friends, family leisurely and dining in an cozy ambience.

Hows the kitchen?
An open kitchen allows the guests to watch the expert chefs cook the delicious kababs for you. For a curious foodie like me, it was so much entertaining to watch the chefs cook while eating.

Quantity of the servings?
A different menu is set for each day and guests are served unlimited servings of each dish, either vegetarian or non-vegetarian.
Hospitality and Staffs?
Having said something about them, I would love to share my experience there in the restaurant. Hats off to the hospitality and kindness of each and every individual staff. Well trained, kids friendly, kind and overall was a pleasure being being there.
Food menus on the list?
A complete meal range staring from welcome drink, starters (4-5 veg/nonveg kababs, salads) and papdi chaat for the nomnom in between, followed by the main course dum biryani, daal factory which includes around 4-5 Indian bread varieties and curries. Last but not least desserts to make you glue to the seat. You would need someone to pick you to the car after having all this. Of course, as i said this menu keeps changing everyday.
Dint I tell about the Taste of the dishes?
They are very mildly spiced dishes, you should surely try their paneer, those cottony soft paneer melts in our mouth. I have never had such softy paneer ever. When I asked them about it, They said,
We did not find the finest quality paneer anywhere locally, so we procure these special paneer from a New Delhi .
Worth it I would say, I would definitely go back often for those paneer and galouti kabab which is such an addictive. As all the dishes are mildly spiced and If you expect a spicy dishes like me, Let them know beforehand and they would prepare it for you spicy.
The Great Kabab factory, Coimbatore – Sneekpeek Pics
Finally, Where is it located? Timings?
Anybody would be knowing Radisson Blu hotel in Coimbatore, avinashi road, and The Great kabab factory is located on the first floor of the Radisson premises.
They operate on 7 pm -11:30 pm on all days. Check on for reservations.
Thanks to the Umak Hospitality and "The great kabab factory" for inviting me for the special dinner.