Delicious Chayote Squash (Chow Chow) Curry Recipe for Rice or Roti
If you're looking for a new and exciting way to incorporate more vegetables into your diet, look no further than Chayote squash, also known as Chow Chow. This mild and versatile green vegetable is the star of the show in a delectable curry recipe that's perfect for both rice and roti/chapathi lovers.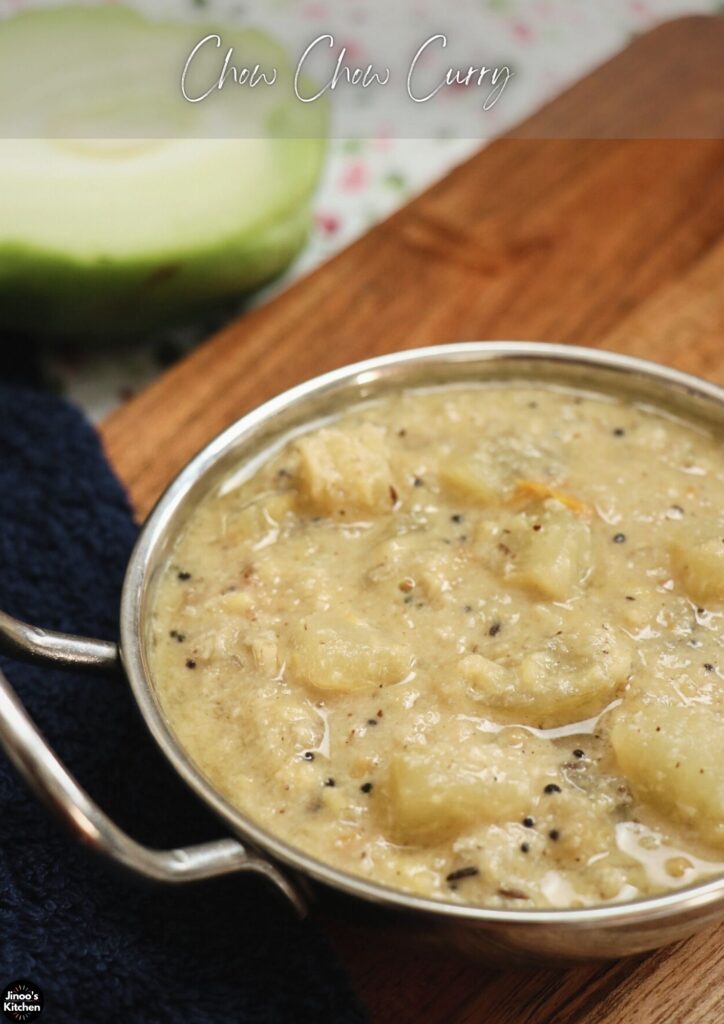 Chayote Squash: The Unsung Hero
Chayote squash is a lesser-known vegetable in many parts of the world, but it's a hidden gem in the culinary world. With its mild flavor and crisp texture, it's a great addition to your vegetable repertoire. It can be used in salads, stir-fries, or as a delightful side dish, making it a versatile choice for various recipes.
Video recipe
A Mild and Nutritious Curry
The Chayote squash curry we're about to explore is not only delicious but also packed with essential nutrients. Here's how to make it:
Ingredients:
Chayote squash (Chow Chow) – 1/2, chopped
Moong dal – 1/4 cup
Mustard seeds – 1/2 tsp
Cumin seeds – 1/4 tsp
Red chili – 1
Green chili – 1
Curry leaves – 1 sprig
Garlic – 2 cloves, chopped
Onions – 1/2, chopped
Tomatoes -1/2, chopped
Coconut – 1/4 cup
Cashews – 6-8 nos
Oil -1 tsp
Salt – 1 tsp
Water – 1-1.5 cups
Instructions:
Heat a pressure cooker and add oil.
Sizzle mustard seeds, cumin seeds, red chili, green chili, curry leaves, chopped garlic, and onions until they turn slightly brown.
Toss in chopped tomatoes and sauté for a couple of minutes.
Add the chopped Chayote squash (Chow Chow), salt, washed moong dal, and water. Close the pressure cooker and cook for 2-3 whistles.
While that's cooking, prepare a fine paste of coconut and cashews.
Once the pressure settles, open the cooker, mash the Chayote squash and dal mixture.
Heat it up again, add the coconut-cashew paste, and give it a quick boil. Be careful not to overcook.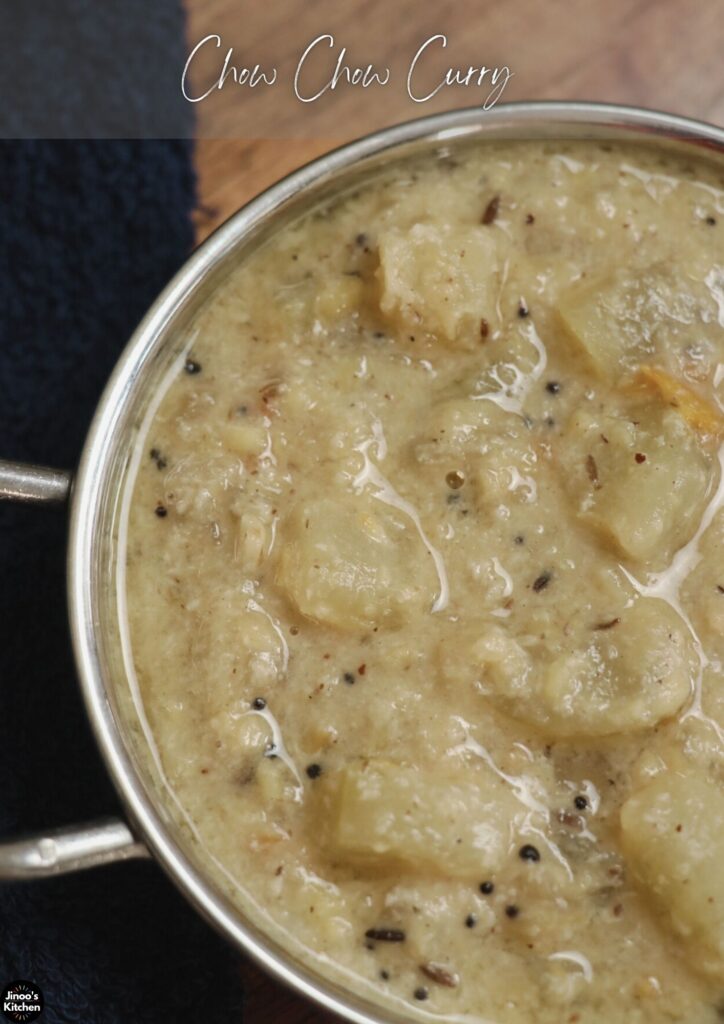 Versatility and a South Indian Twist
What's great about this Chayote squash curry is its versatility. You can enjoy it with steamed rice or as a side dish with roti or chapathi. The mild flavor of the Chayote squash allows it to absorb the rich and creamy coconut-cashew paste beautifully.
If you're a fan of South Indian cuisine, you might find this curry to be similar to "pindi kooram." This style of preparation brings a unique twist to a classic dish, making it a must-try for food enthusiasts.
Conclusion
Chayote squash, or Chow Chow, is a vegetable worth exploring. Its mild flavor and adaptability make it a valuable addition to your kitchen. Whether you're following the video recipe or experimenting with your own variations, you're in for a tasty and nutritious treat. So, why wait? Try this Chayote squash curry recipe and savor the flavors of South India in the comfort of your home.