Mixed Vegetable Sabudana Upma Recipe | Sabudana/Sago Khichdi with Vegetables | Javvarisi upma
Why Sabudana Upma?
Sabudana, also known as sago, is a versatile ingredient and a staple in many Indian households. It's derived from tapioca and packed with carbohydrates, making it a fantastic energy source, especially during fasting days. When combined with colorful veggies and aromatic spices, it transforms into a delicious and satisfying breakfast dish.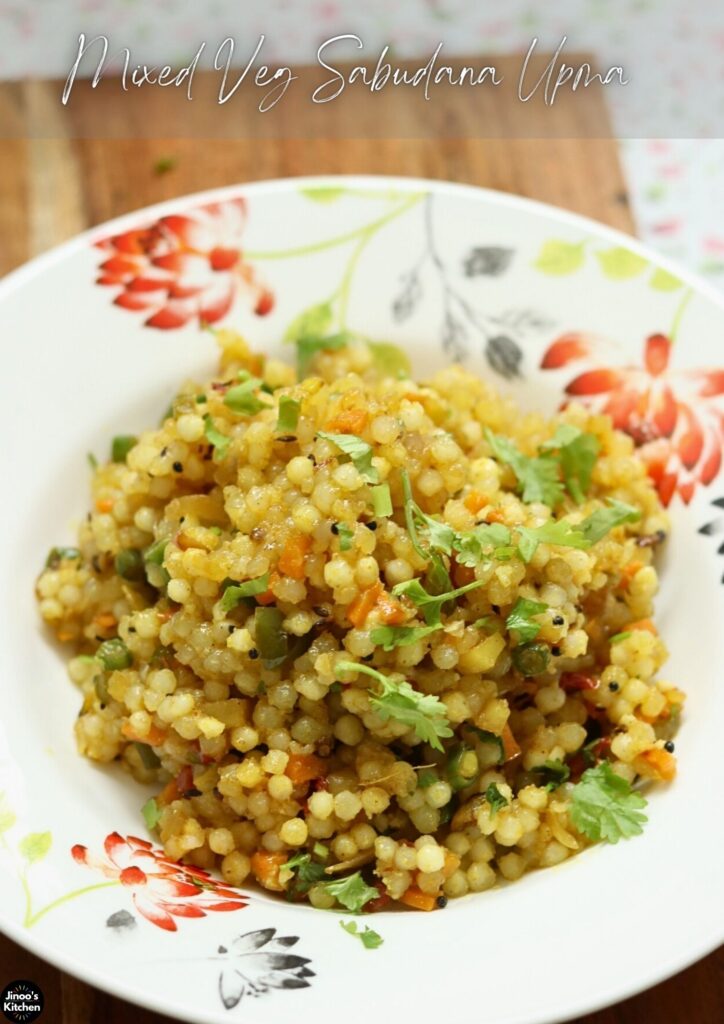 There are two other recipes that i personally love and make it more often than this one. check it out
Video recipe:
Ingredients You'll Need:
1 cup Sabudana (Tapioca Pearls)
Water (enough to soak the Sabudana)
1 tsp Oil
1/2 teaspoon Mustard seeds
1/2 teaspoon Cumin seeds
1 Green chillies
1 Red chilli
2 cloves Garlic, chopped
1/2 inch Ginger, finely chopped
1/2 Onion, chopped
1 tablespoon Capsicum, chopped
1/2 Tomato, chopped
A pinch of Salt (for frying the vegetables)
1/4 cup Carrots + beans + potato, finely chopped
1/8 teaspoon Turmeric powder
1/4 teaspoon Chilli powder
1/8 teaspoon Garam masala
salt – 1/4 tsp
Juice of half a Lemon
Chopped Coriander leaves (for garnish)
Let's Get Cooking:
Soak the Sabudana: Start by taking a cup of sabudana and soaking it in just enough water overnight. You'll know it's ready when the sabudana is mashable, and you've drained any excess water.
Temper the Spices: Heat some oil in a pan and add mustard seeds. Let them crackle, and then add cumin seeds, green chilli, red chilli, chopped garlic, and finely chopped ginger. Mix and fry until fragrant.
Veggie Magic: Now, add chopped onions, capsicum, and fry for a minute. Follow this with chopped tomatoes and a pinch of salt, which helps the vegetables cook faster.
Veggie Galore: Throw in finely chopped carrots, beans, and potatoes, along with turmeric powder, chilli powder, and garam masala. Mix everything and fry for a minute.
Cooking the Veggies: Pour in some water, cover the pan, and cook until the veggies are tender. Make sure the potatoes are cooked through.
Sabudana Love: Add the soaked sabudana and a bit more salt. Mix well and cook for 1-2 minutes without the lid. Gently stir after a couple of minutes.
Finishing Touch: Squeeze the juice of half a lemon and garnish with chopped coriander leaves. Mix once more, and your Mixed Vegetable Sabudana Upma is ready to be served hot!
This dish is not just delicious but also a great source of energy. It's perfect for breakfast or a light, healthy snack. The sabudana's unique texture combined with the vibrant mix of vegetables and spices makes for a memorable culinary experience.