Aromatic Ghee Rice: The Perfect Recipe for Flavorful Comfort Food.
This Ghee Rice recipe is my very own rendition, enriched with my personal touch. Its been followed and a hit at my home every time i make it. What's truly magical about this recipe is its versatility – it's a perfect match for both vegetarian and non-vegetarian side dishes, making it a beloved and timeless classic in our household.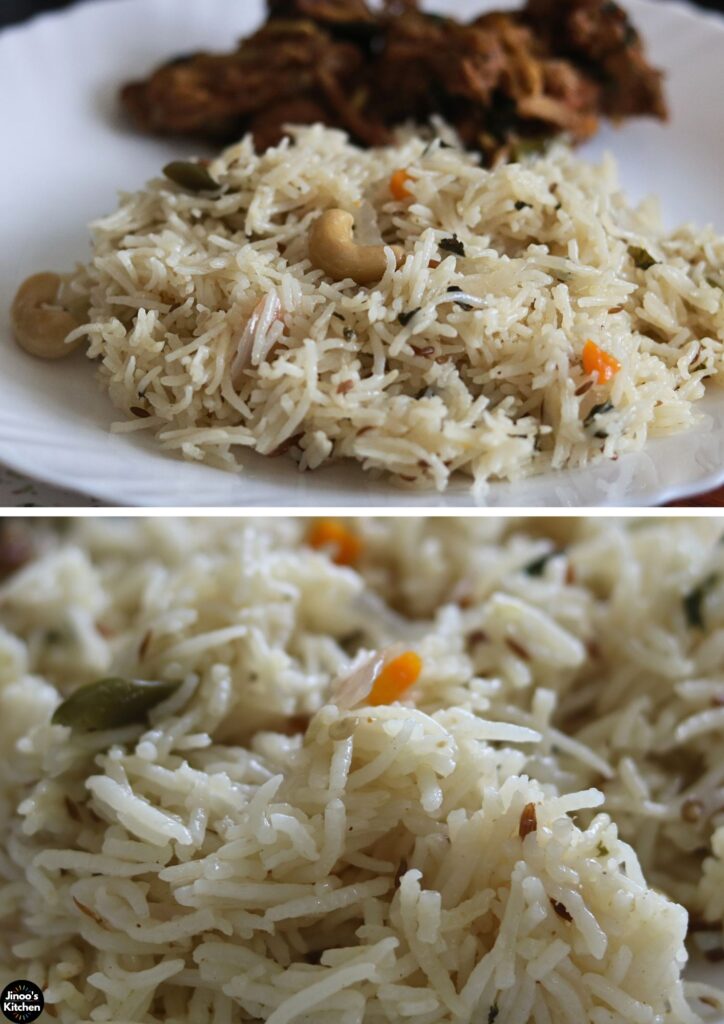 Video recipe:
Ingredients:
1 cup of Basmati rice
2 tablespoons of ghee (clarified butter)
1 teaspoon of cumin seeds
A handful of cashews and dry grapes (raisins)
1 onion, thinly sliced
2-3 green chilies, slit
A handful of chopped mint leaves
Optional: 1 carrot diced
Salt to taste
A pinch of garam masala
1 cup of water
Instructions:
Rinse and Soak the Rice: Start by washing 1 cup of Basmati rice under cold water until it runs clear. This helps remove any excess starch. After rinsing, soak the rice in water for at least 15 minutes.
Sauté with Love: In a cooker, melt 2 tablespoons of ghee. Now, here's where my twist comes in. Instead of using whole spices, I add a pinch of garam masala towards the end for an explosion of flavors. Next, add a teaspoon of cumin seeds, and toss in those cashews and dry grapes (raisins). Sauté them until the raisins plump up.
Drop in the thinly sliced onions, the slit green chilies, and a handful of chopped mint leaves. If you're feeling fancy, add some diced carrots – it'll not only add color but a lovely crunch.
Combine with Rice: Now, add the drained Basmati rice to the pot. Season it with salt and sauté for a few seconds to let go of any excess moisture.
Sprinkle More Magic: Don't forget to sprinkle a pinch of garam masala. It's my secret to elevating the flavors.
Pressure Cook: Pour in 1 cup of water, mix everything well, and seal the cooker lid. Cook on high heat until you hear 2 whistles. Keep in mind, the exact timing may vary depending on your cooker and rice quality.
Fluff and Savor: Once the cooker's pressure settles, open it up and fluff the rice with a fork. Your aromatic, colorful Ghee Rice is ready to be served!
Curries/Side dish to go with:
Non veg: Simple chicken fry or chicken chinthamani
Veg: 4 different Pepper veg starters