Drumstick Leaves Soup | Murungai Keerai Soup | முருங்கைக்கீரை சூப் (Healthy immune-boosting soup)
Drumstick Leaves Soup | Murungai Keerai Soup | முருங்கைக்கீரை சூப் (Healthy immune-boosting soup)
Drumstick leaves soup or murungai keerai soup is one of the best sources of Vitamin C and is said to have 7 times more vitamin c than oranges and 15 times more potassium than bananas. It also has other nutrients and packed with anti-oxidants. It is the best source to boost immunity which is the need of the hour.
So this immunity booster drink is easy to make, simple, and super healthy. with the addition of garlic, cumin, and peppercorns, it is advisable by many doctors to have drumstick leaves soup at least 2-3 times a week to boost up our immunity.
cleaning drumstick leaves is one of the vital steps in this recipe. choose tender leaves so that we need not grind them. clean it in running water 4-5 times. wash thoroughly before use and discard any yellow leaves or infected leaves.
stems are usually discarded. if using very tender leaves, then it can be used as-is. I have made 2 types here, one is stopping the dish before grinding it. Another one is by grinding half of the soup and adding it back to make it thick. Choose the variation based on your likings for a thin or thick soup.
Recipe ingredients:
1 tsp oil
1/2 tsp cumin seeds
1 tsp peppercorns
1/4 cup small onions
6 nos garlic cloves
2 nos tomatoes chopped
1 tbsp moong dal
1/4 tsp turmeric powder
2 cups water
2 handful drumstick leaves (preferably fresh)
salt to taste
pepper powder to add before serving
If you enjoyed watching this video, Do not forget to subscribe and like.
I would be happy to reply to all your comments. So pls. do leave a comment with your feedback.
Also, Be the first to receive the notifications. Click the bell icon and turn on the youtube updates.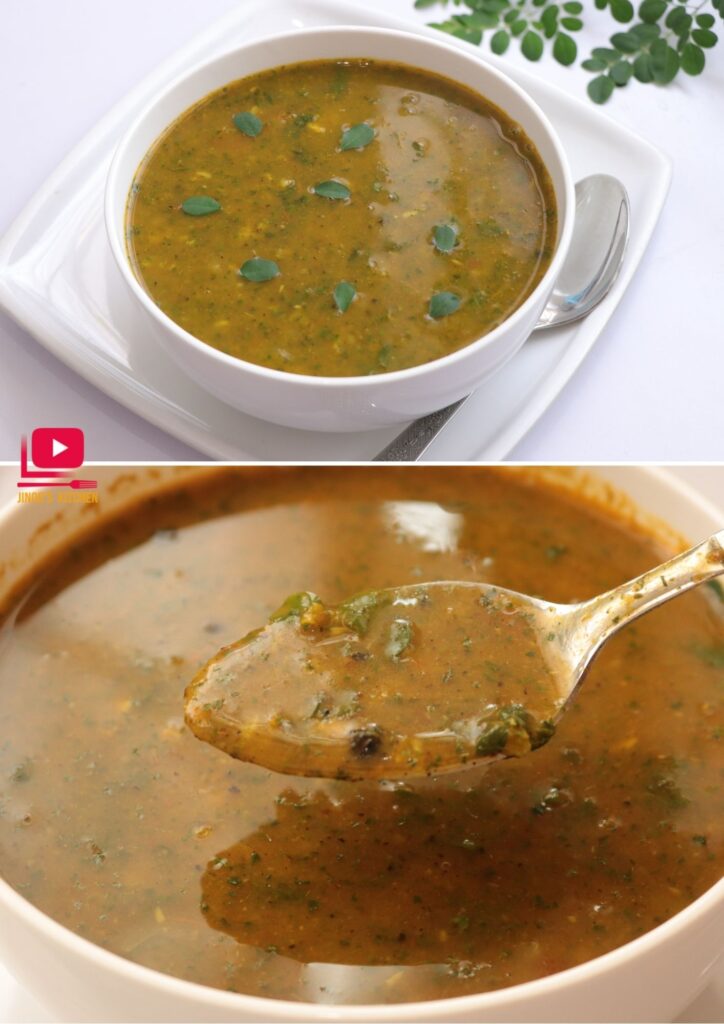 ---
Happy Cooking with Jinooskitchen
[PRODUCTS USED] » https://www.amazon.in/shop/jinooskitchen
» Email: [email protected]
» Website: https: //www.jinooskitchen.com
» Instagram: https://www.instagram.com/jinooskitchen/
» Facebook: https://www.facebook.com/Jinooskitchen/
» Twitter: https://twitter.com/JinoosKitchen
» Pinterest: https://in.pinterest.com/jinooskitchen/
---