Ela ada ~ Vazhayila ada – Ila ada – Steamed rice parcels with sweet fillings
Ela ada | Vazhayila ada | Ila ada with detailed step by step pics and video recipe. Ilayada is a traditional Kerala sweet/snack which is made with rice flour/raw rice and coconut-jaggery filling. Steamed rice packets with sweet filling.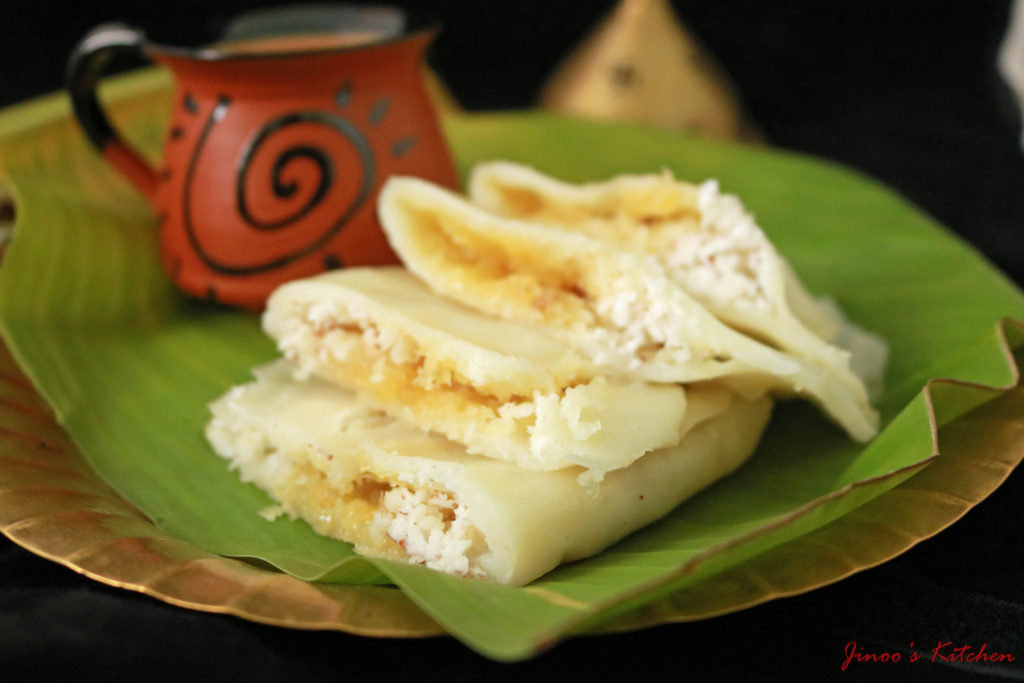 We always prepare it  whenever there is leftover banana leaves at home after a sadhya. Ela ada is favourite snack for everyone at our home that we make it very often. There are many variations to it and method of cooking differs slightly across different regions of Kerala. Il post all these variations soon for you. Do try it and let me know how it is !
Variations to it:
It can also be made with brown rice or wheat flour instead of rice flour. Some even use health mix powder/sathumaavu to make ela ada.
filling variations: cardamom powder can be added to the mix
Jaggery can be melted and coconut can be added to melted jaggery or grated jaggery and grated coconut can be filled in as such.
Few recipes use ripe nendran banana. Mash them and add it along with jaggery and coconut.
Some of my relatives make it just with coconut and cane sugar or just white sugar instead of jaggery.
Raw rice can be soaked and ground to thick paste and used instead of rice powder. Taste definitely varies. I prefer grinding it fresh.
quick video of how to make Elayada with rice powder /ari podi:
Ela ada pictorial directions with raw rice:
Soak Raw rice for 3-4 hours.
Grind it with salt and sugar with very little water to a thick paste.

Let it sit for 30 min to get hardened. It will come to a sticky paste like consistency.
Meanwhile, grate the jaggery and coconut. Cut banana leaves into rectangles and apply ghee all over..
Apply oil over your hands and scoop a ball out of the sticky paste.
Place it on the banana leaves and flatten it gently to form a thin layer over the leaf

Put in grated coconut and jaggery over it on one side. Fold the leaf from the other side.

Steam cook for 15-20 min until its well cooked and leaves out banana leaf easily. You will get a fresh aroma of banana leaf getting cooked. Its when the dish is done.
ela ada recipe:
Ela ada
Ingredients
1

no

Banana leaf

1

cup

Rice powder

1

cup

Jaggery

1

cup

grated coconut
Instructions
Preparations
Melt the jaggery into a thick consistency, mix grated coconut into it and keep it ready

Cut banana leaf into small pieces and burn it in stove so that it does not tear off when folded. Slightly burn them. Apply ghee over leaf and keep it ready.
Filling the stuff
Mix rice flour and pinch of salt with little water and make a dough.

Apply ghee over banana leaf, keep the small sized dough balls over it

Spread this dough over the prepared banana leaf ..spread over as thin layer and keep a spoonful of coconut jaggery mixture on one side of leaf and close it.

Steam for 10 min in medium flame and serve hot!