Filter coffee recipe | traditional south Indian Filter coffee | Filter Kaapi
Filter coffee recipe | traditional south Indian Filter coffee | Filter Kaapi recipe with step by instructions. and a quick video recipe on how to make perfect filter coffee. this is also known as kaapi/ Kapi or degree coffee.
How do you make a good coffee filter at home?
there are few factors determining a good and perfect Filter coffee, they are
Coffee chicory powder that is filter coffee powder that is used
Coffee has to be prepared quick to retain the heat of milk and decoction.
thick and strong decoction makes a good coffee, of course, you can adjust the quantity of decoction but a thin decoction makes a boring coffee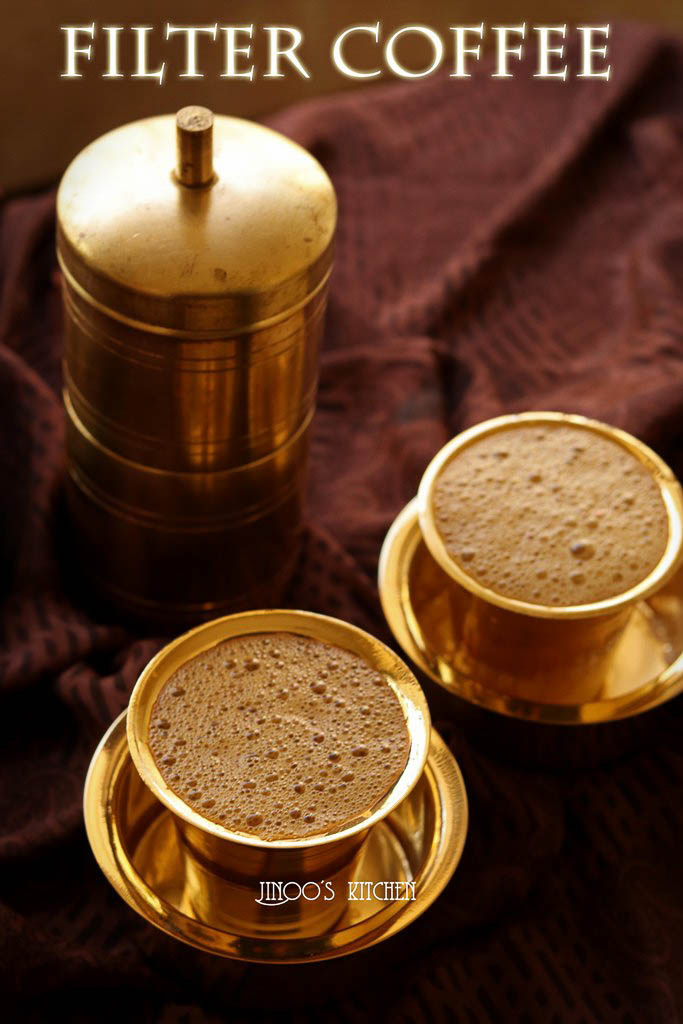 Coffee and Tea are the two most addictive things which no south Indian can live without. Filter coffee mornings make the day worthwhile. and a masala chai evening helps boost us to run a bit longer and active.
it takes a few days to refine and get the trick of making the right consistency of filter coffee. of course, practice makes it perfect. I have an addict to filter coffee recently and the addict here means to know the niche of the technique and to hit it right. yes, we took some 4-5 weeks trials every morning to get it right. In choosing the right brand powder, making it right!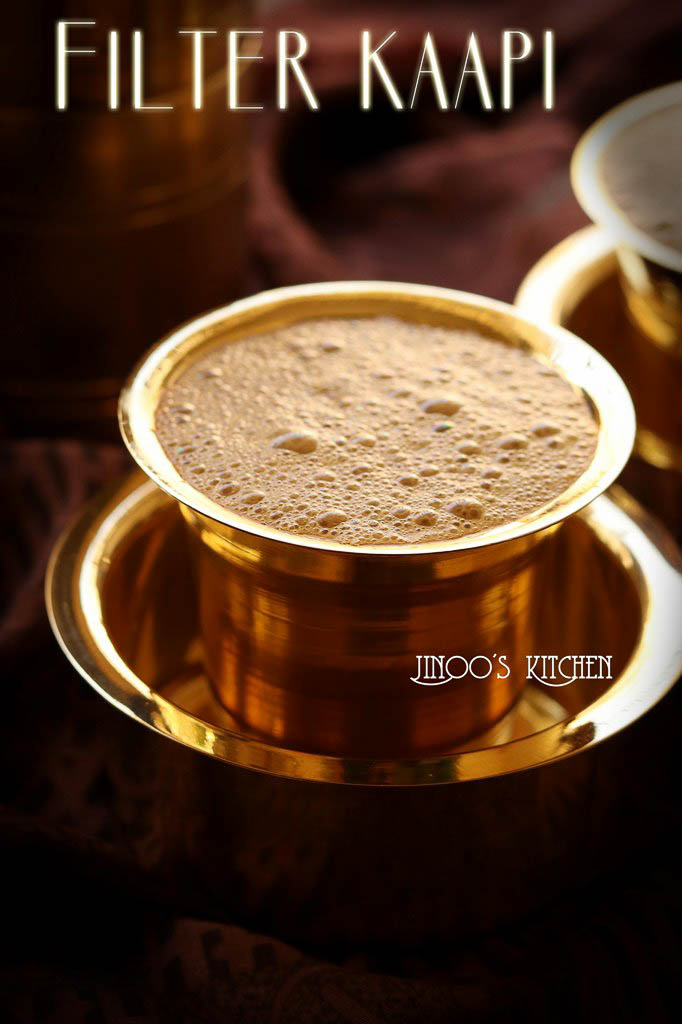 ---
traditional south Indian filter coffee video
Filter coffee recipe
Ingredients
2

cups

milk

3/4

cup

water

2

tsp

coffee powder

2

tsp

sugar
Instructions
add the coffee powder to the upper compartment of the filter and place the tamper over it.

boil water and add the water slowly over the press. close it with the lid

after 10 minutes, the decotion gets collected completely in lower compartment. meanwhile, boil milk.

add 1 tsp sugar to each tumblers and pour 1/4 cup decotion over it.

add the boiled milk and give it a stir or transfer between tumblers.
Video
Notes
1. based on coffee granules, filtering time varies
2. adjust sugar based on your preference.
3. you can add few drops of decotion on top before serving for an added taste.
step by step making of the filter coffee recipe
the first and foremost step is to know about the traditional filter coffee making machine. this is also known as a coffee filter.
it has one lower compartment where the decoction is collected
upper compartment with holes to filter press or tamper with holes to press the coffee powder
lid to close the coffee maker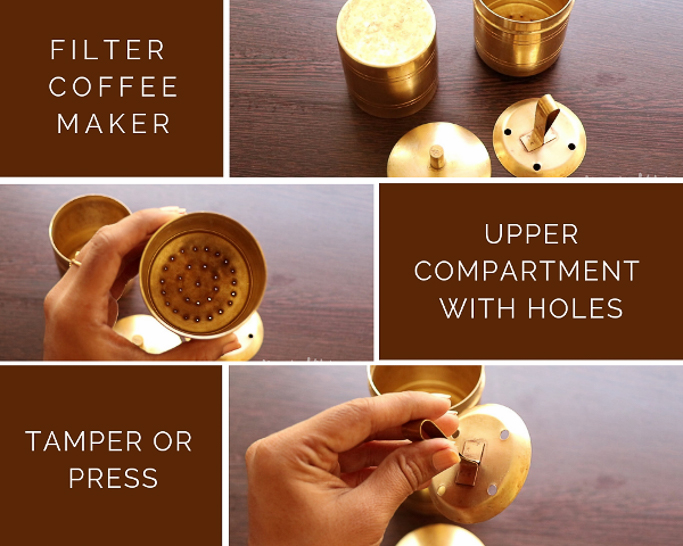 put in the filter coffee powder into the upper compartment and place the press over it and level it.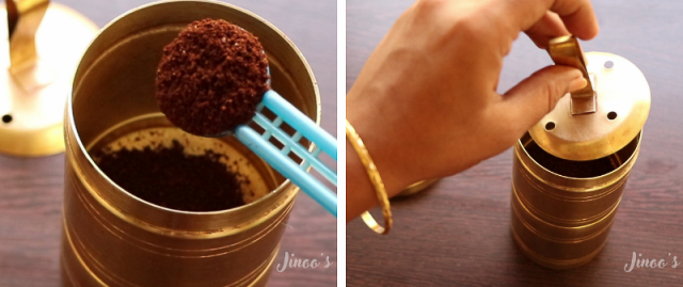 boil 1/2 cup water until it comes to a rolling boil and pour it over the press SLOWLY. close and lid and let it do its process of filtering. it takes about 10 minutes to get filtered completely. depends on the granule size of coffee used.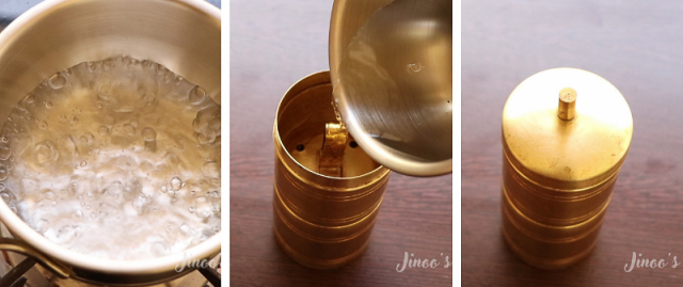 after 10 minutes, open and you could see that all the water is filtered from the upper compartment. open the lower part and find the decoction collected.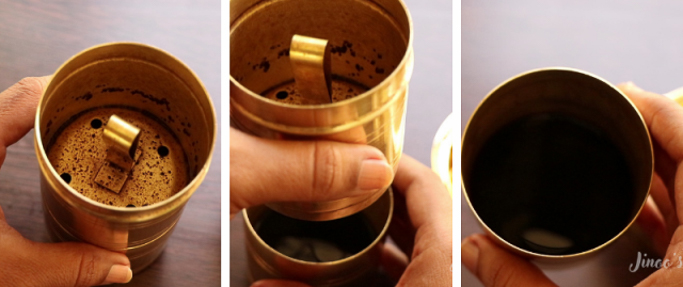 meanwhile, boil 2 cups milk. add sugar to the cups and measure 1/4 cup decoction into each tumbler.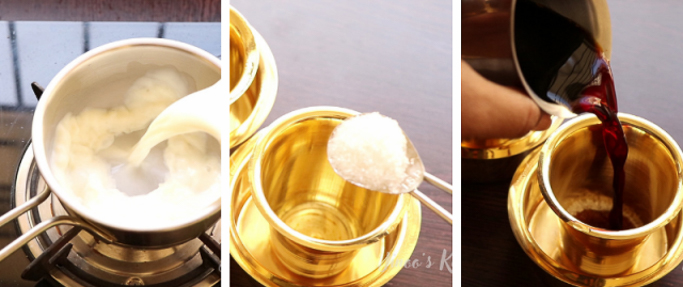 when the milk is boiled, pour the milk into the tumbler.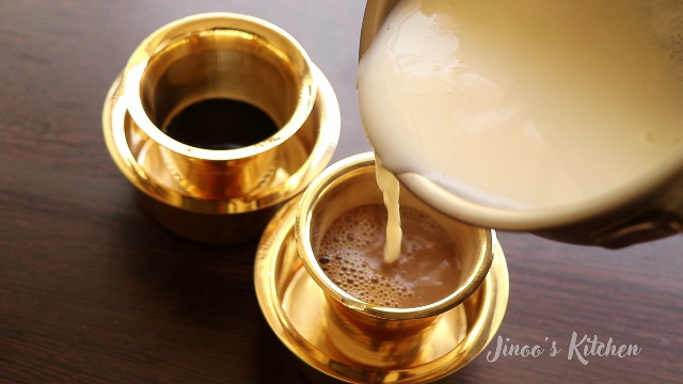 transfer the coffee once or twice between tumbler and the cup to get sugar decoction and milk get mixed evenly and also to bring it to a drinkable heat.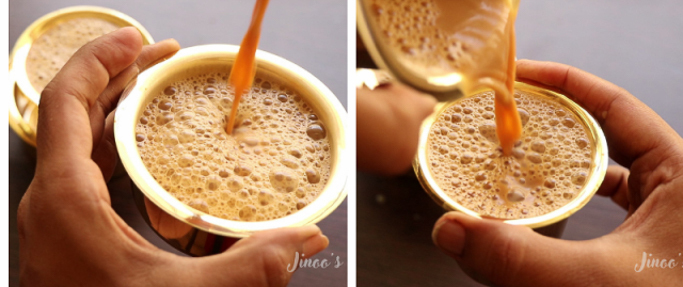 your authentic filter coffee /kaapi is ready to be served! Enjoy it!