Pavakka Theeyal – Bitter Gourd Theeyal
Pavakka Theeyal or Bitter gourd Theeyal is a traditional recipe of Kerala. Tamarind curry made with different vegetables.
In Malayalam, Pavakkai/bitter gourd is to be pronounced as "pavaika" and some people call it as "Kayapaika" Which I never use to pronounce right in my childhood days! 🙂 Better to call it with the one easy to pronounce 😛 I felt it was like a tongue twister for me!
What's Theeyal?
Theeyal is an intermediate recipe of Sambar and Tamarind curry. It is neither a sambar not a puli kootan (tamarind curry). It is for varutharacha sambar (ground masala sambar) we use coconut, coriander and fenugreek – roast and grind them but with very little of tamarind water. But in this recipe we use both sambar ingredients and tamarind water almost at equal measure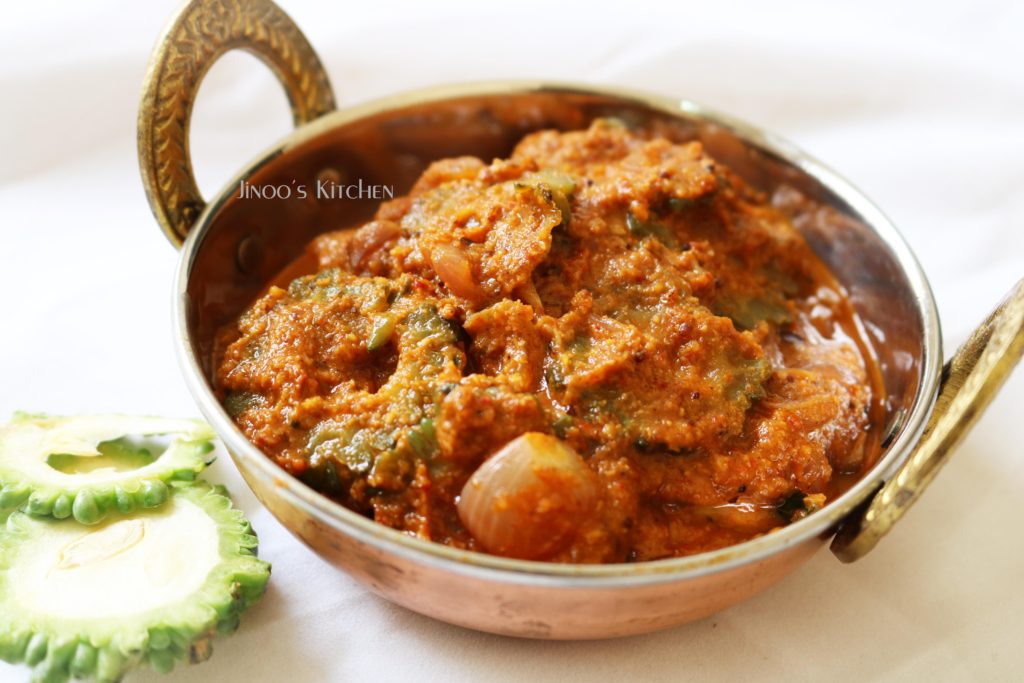 This time I have used Bitter gourd and believe me there is absolutely no bitter taste if you follow this recipe as such. Since we roast the bitter gourd and coconut paste takes over the bitter taste and it is completely amazing.
Best suited for Rice and even for Dosas it is very good combination. It is Kareli aur aloo ki sabzi which we make very often as side dish for rice.
Pavakka Theeyal video recipe:
Pavakka Theeyal pictorial description:
Heat sesame oil in a pan and roast coconut grated for a minute.
Add coriander seeds, cumin seeds, red chillies and fenugreek seeds.
Saute it until coconut is dark red. Make sure to roast in simmer so that you don't burn the coconut.
Transfer it to a blender and grind it to a fine paste
Again heat 2 tbsp oil in same pan, splutter mustard seeds
Add a spring curry leaves, 1/2 cup chopped shallots and 4-5 garlic cloves
Add sliced bitter gourd and saute it until it is slightly roasted.
Add tamarind water and let it come to a boil.
Salt to taste
Add ground masala
Mix well, Close and cook in simmer until the oil leaves the side and vegetable is cooked completely.
Finally add a tsp jaggery, mix well and put off
Pavakka Theeyal recipe:
Pavakkai Theeyal
Ingredients
To roast and grind
3

tbsp

sesame oil

1

cup

grated coconut

2

tbsp

coriander seeds

1/2

tsp

cumin seeds

1/8

tsp

fenugreek seeds

8-10

no

red chillies
For curry
2

tbsp

oil

3/4

tsp

mustard seeds

1

spring

curry leaves

1/2

cup

shallots

chopped

5-6

cloves

garlic

1

cup

sliced bitter gourd

1/2

cup

tamarind water

salt to taste

1

tsp

jaggery
Instructions
Heat sesame oil in a pan and roast coconut grated for a minute.

Add coriander seeds, cumin seeds, red chillies and fenugreek seeds. Saute it until coconut is dark red. Make sure to roast in simmer so that you don't burn the coconut.

Transfer it to a blender and grind it to a fine paste

Again heat 2 tbsp oil in same pan, splutter mustard seeds

Add a spring curry leaves, 1/2 cup chopped shallots ,4-5 garlic cloves, sliced bitter gourd and saute it until it is slightly roasted.

Add tamarind water and let it come to a boil.

Add salt to taste and ground masala to it and mix well.

Close and cook in simmer until the oil leaves the side and vegetable is cooked completely. Finally add a tsp jaggery, mix well and put off