Poha recipe | How to make Kanda Poha | Easy Indian Breakfast Recipe
Poha recipe | How to make Kanda Poha | Easy Indian Breakfast Recipe
Mumbai style kande pohe
kanda poha is a traditional and authentic recipe of Maharashtra made with beaten rice/flattened rice i.e., poha. It is a very simple breakfast recipe that can be prepared in minutes. does not require any pre preparations. It is vegan and gluten-free. easy to prepare and tastes too good.
The addition of fried potatoes is optional and you can skip them to keep your carbs intake low.
Few other poha recipes :
aval nanachathu/sweet poha: https://youtu.be/RFr1CxATTn4
Schezwan poha: https://youtu.be/8FwrncS1ejY
Aval vilayichathu/sweet poha roast: https://youtu.be/QUd_JNpev8Q
Vegetable poha: https://youtu.be/DfyiXvO9UPE
Watch the Video recipe on how to make kanda poha
Recipe ingredients of Kanda poha:
2 cups poha
salt to taste
sugar – 1/2 tsp
oil- few drops
3 tbsp peanuts
1 large potato finely chopped
salt and chilli powder to sprinkle on potatoes
1/2 tsp mustard seeds
1/2 tsp cumin seeds
pinch asafoetida
1 no green chilli chopped
1 large onion chopped
1 sprig curry leaves
1/2 tsp turmeric powder
salt to taste
lemon juice – 1/2 tsp
chopped coriander leaves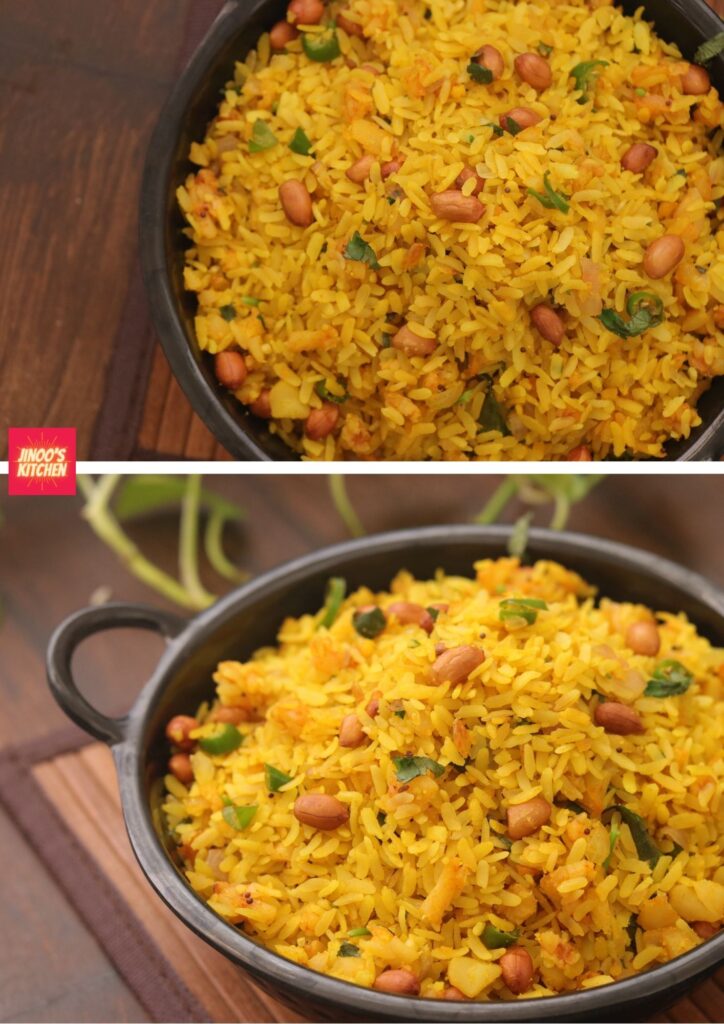 poha #kandapoha #indianbreakfast #quickbreakfast
If you enjoyed watching this video, Do not forget to subscribe and like.
I would be happy to reply to all your comments. So pls. do leave a comment with your feedback.
Also, Be the first to receive the notifications. Click the bell icon and turn on the youtube updates.
---
Happy Cooking with Jinooskitchen
[PRODUCTS USED] » https://www.amazon.in/shop/jinooskitchen
» Email: [email protected]
» Website: https: //www.jinooskitchen.com
» Instagram: https://www.instagram.com/jinooskitchen/
» Facebook: https://www.facebook.com/Jinooskitchen/
» Twitter: https://twitter.com/JinoosKitchen
» Pinterest: https://in.pinterest.com/jinooskitchen/
---