Sardine Mango Curry – fish mango curry
This recipe is from Malayalam Tv show. Tried and tested! 🙂
Mathi (sardine) is good for Heart, Bone strength and rich in protein, Suggested for all.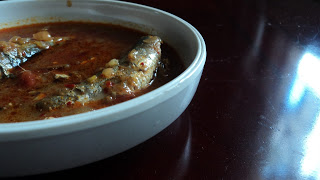 Me the Cook!

Ingredients needed:
Sardine (Mathi) cleaned :1/2 kg
Shallots chopped : 1 cup
red chilli grounded: 2 tsp
Ginger chopped : 1 tsp
Garlic chopped: 1 tsp
Green chilli slit : 3 nos
turmeric powder
salt
coconut oil
tomatoes 2 nos chopped
curry leaves
mustard seeds
Mango (unripe) (Pacha manga) cut into cubes: 7-8 cubes
Fish Tamrind (kodampuli): as per taste
Step 1: Wash and clean the sardines
Step 2: Get the Shallots cleaned and chopped finely
Step 3: Get the Garlic and Ginger chopped finely
Step 4: Crush the red chillies
Step 5: Clean and cut unripe mango into slices
Step 6: Heat the oil in Kadai (Mud pot preferably) and splutter fenugreek (vendhayam) seeds. Once it splutters add, shallots, ginger & garlic prepared in step 3
Step 7: once shallots turn pink, add chopped tomatoes and green chilli
Step 8: Add salt( including salt required for fish), turmeric powder and Saute well until it becomes mushy as shown in pic
Step 9: Add Mango cubes to it and mix well
Step 10: Add water so that mango gets cooked. Cook the entire dish only in medium flame. Close the pot and cook. Once Mango is half cooked, go to step 11
Step 11: Add the fish tamarind to the dish. Keep in mind that ur using mango and tomatoes. So add the tamarind only as required.
Step 12: Let it boil until tamarind mixes well and the oil oozes out as shown in the pic
Step 13: As the final step add the fish, curry leaves and little coconut oil if required and cook for 10-15 min until fish is cooked.
Close it and cook.
And the Curry is ready!! 🙂