Sweet diamond biscuits ~ Kala Kala
Sweet diamond biscuits a.k.a kala kala are made with all purpose flour/maida. One of the all time favorite biscuits. Though made with maida, the crispy  and mild sweetness makes it on top of favorite sweets lists.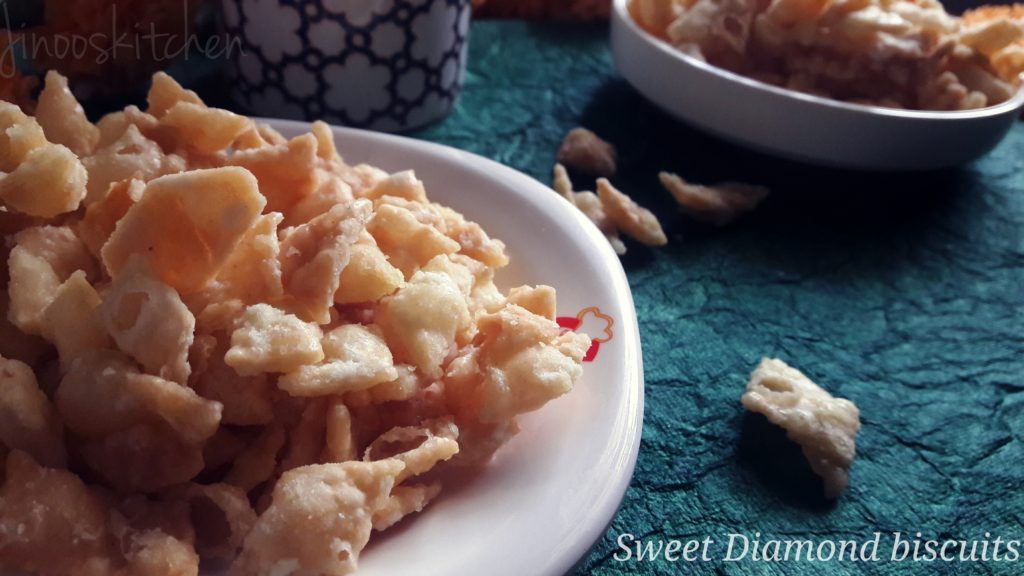 Pictorial directions for making diamond biscuits:
Take maida, pinch of salt, pinch of baking powder, butter and mix well. Add water little by little and make it to a smooth dough.
Take a lemon sized ball out of dough. Spread it round and make horizontal and vertical stripes with zigzag cutter or knife. Take the diamonds to a plate.

Heat oil and put in those diamonds. Fry until golden brown. Filter to a  paper towel.

Melt sugar to 1 string consistency with cardamom powder.
Add sugar syrup little by little to the bowl containing diamonds and toss well until sugar syrup is coated well.
Sweet diamond biscuit recipe:
Sweet diamond biscuits a.k.a Kala kala
Ingredients
1/2

Kg

All purpose flour

1

Tbsp

Butter

1/8

Tsp

Salt

1/8

Tsp

Baking powder

1/4

Kg

Sugar

1

Tsp

Powdered cardamom
Instructions
Mix together flour, butter, salt and baking powder. Add water and make it to a smooth dough.

Melt sugar and mix in cardamom powder. Bring it to a one string consistency.

Flatten a lemon sized dough to a round and cut diamonds using zigzag cutter/knife.

Fry the pieces in hot oil until brown. Transfer to a paper towel.

Add the sugar syrup to the diamonds and mix/toss well. Let it cool and store it in air tight container.
Thanks for taking time to read my recipes! ?It would be great pleasure if you could drop a comment about your views. Tel us if you have tried recipes from Jinoo's Kitchen. Let us know how the dish turned out for you! Like, Share and spread a word if you like the recipes!