Boondi Ladoo Recipe | Boondi Laddu | Boondi ka Ladoo video recipe
Boondi Ladoo Recipe | Boondi Laddu | Boondi ka Ladoo video recipe is delicious indian sweet recipe made during special occasions like diwali. Homemade sweets has its own special taste and feel of diwali celebrations begin with these sweets preparations at home.
Check out the Milk sweet recipes like Chocolate peda recipe | Peda recipe with Khoya, ladoo recipes like Peanut Sesame Ladoo – Ellu Urundai recipe, pasiparuppu urundai, rava ladoo, sathumaavu ladoo and some classic traditional recipes like murukku, kalakala, maida thattai, mysore pak, Poruvilangai urundai, and many more sweet recipe videos at our Youtube channel.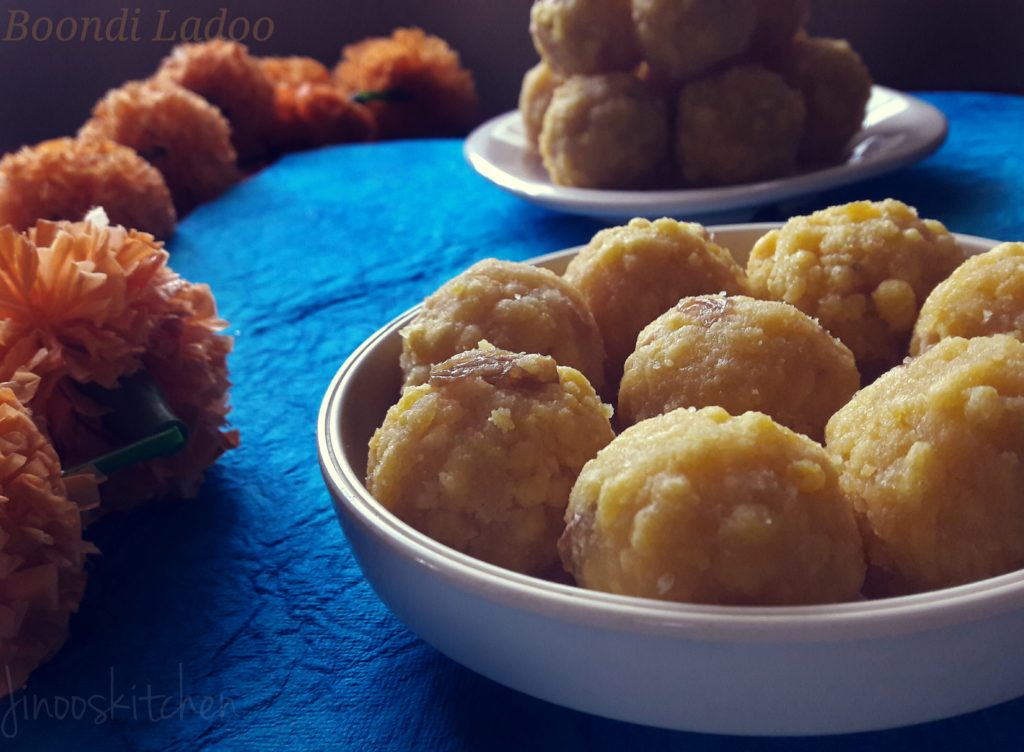 During my childhood days, my grandmother use to make 100s of ladoo and store in biscuit tin. The iron tin with small mouth which is not available these days. Diwali sweets and savory snacks will be made and stored in many airtight biscuit tins which she reserved especially to store sweets and snacks.
These days we have become busy and equally lazy to prepare sweets and snacks at home. So we buy gift packs from shops. But homemade sweets gift box is all-time valuable diwali gift one can present.
In few recipes, cloves powder, edible camphor and kalkand is added. But those are optional and the basic and simple recipe is given here.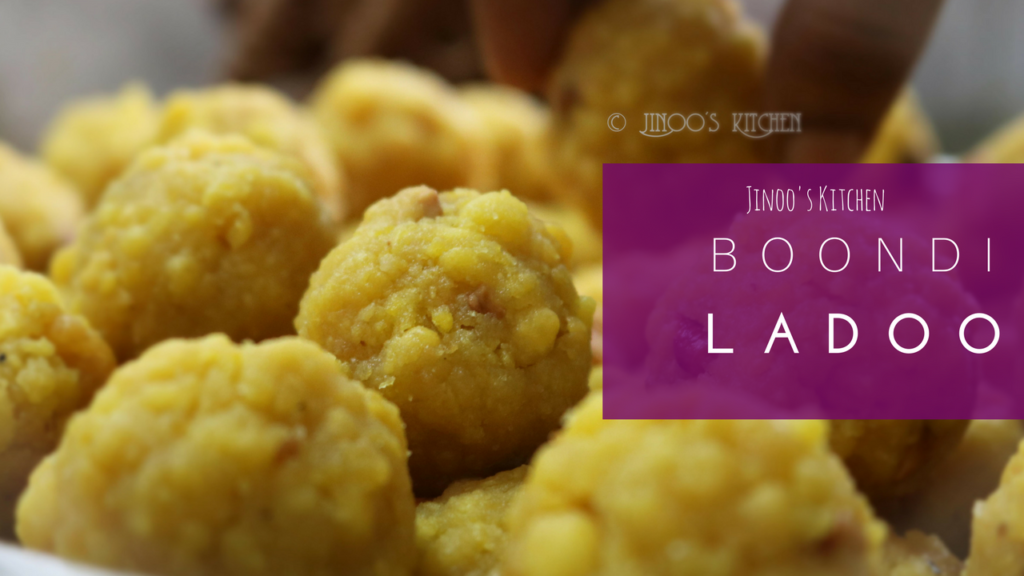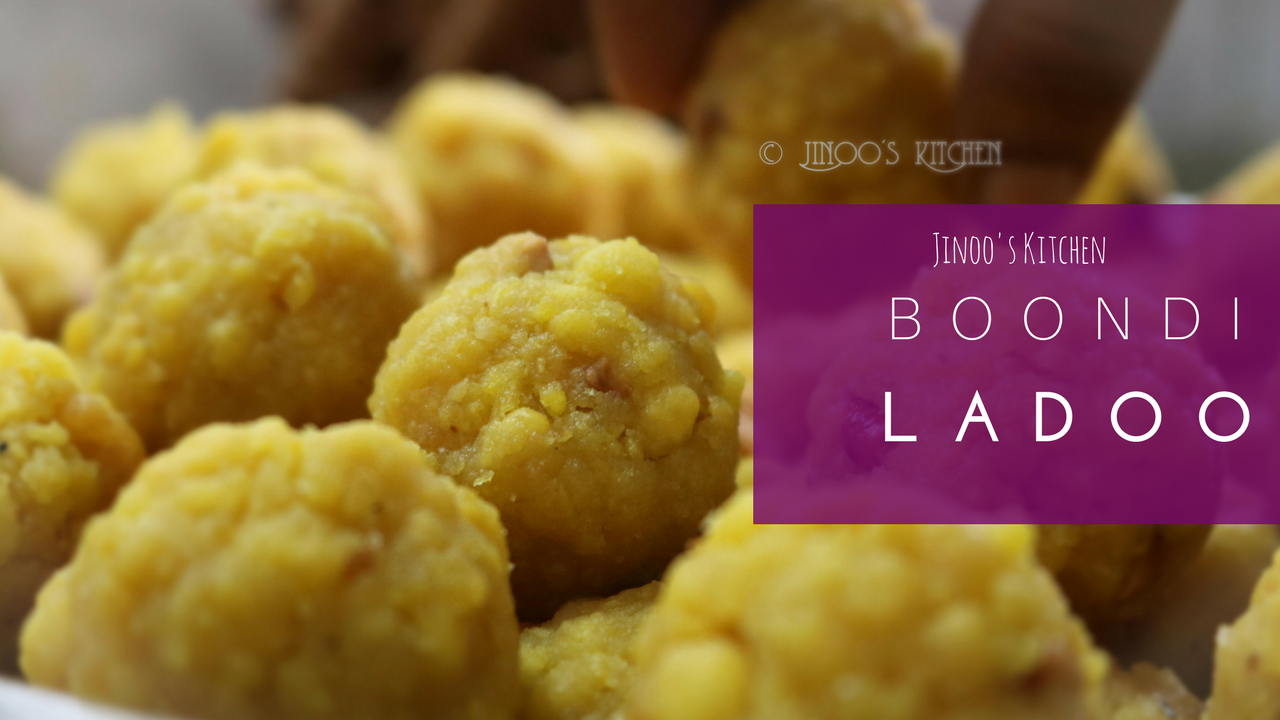 Boondi Ladoo Recipe – Video :
Pictorial Directions for boondi ladoo:
Take gram flour in a bowl. I ve used 1/2 kg which makes 60 ladoos. Mix in baking powder 1/2 tsp and yellow food color. Add water little by little and mix to a thin consistency. Not too thin and not too thick like. Keep it ready.

Gram flour

Baking soda and food colour added

Made to batter

Heat oil and take a perforated ladle. Nowadays We get boondhi ladle itself in shops. When oil is hot, check it by dropping a pinch of batter into oil, the batter should come bubbling to the top immediately. Pour a ladle full of batter into the perforated ladle and spread it.

Let the batter cook. It comes to top and after a min, take it out with another perforated ladle to filter out oil and put it in a bowl with tissue paper. Now, if the batter is thin the boondis will not be perfect round. In that case, add little more gram flour and mix well. If the batter is thick, it will not fall from the ladle easily. Hence, add little water to the batter if necessary.

Slightly mash the boondhis with your hands. Do not mash it too much. Heat ghee and roast cashews. When its brown, add raisins. Saute and add it to the mashed boondhis.
Meanwhile heat sugar with little water. Calculating Sugar quantity is little tricky. Some people make boondhis amd put into sugar syrup. We mix sugar syrup into boondhis. By following second method, we can make sure we mix only necessary quantity of syrup. Melt sugar with cardamom powder and little bit of yellow colour and let it boil to one string consistency. It is when u touch a drop of sugar syrup between your fingers and pull apart, you get the single string.

Pour the sugar syrup little by little while mixing. Take a handful of boondhis and make tight ball out of it. Make all ladoos and arrange them in a plate to let it cool for an hour. After an hour store in air tight container.
Recipe for Boondhi Ladoo:
Boondi ladoo
Ingredients
1/2

Kg

Gram flour

1/4

Tsp

Baking soda

1/8

Tsp

Yellow food color

3

cup

Sugar

1/4

Tsp

Cardamom powder

2

Tsp

Ghee

1/4

Cup

Broken Cashew and raisins

2

no

cloves
Instructions
Mix gram flour, baking soda and food color. Add water and make it to thin batter.

Heat oil, pour ladleful of batter into perforated ladle and spread it.

Let the boondis cook and strain it to a paper towel. Mash it slightly.

Heat ghee, fry cashews, cloves and raisins and add to the boondis. mix well.

Melt sugar. Add cardamom powder and yellow food color and make it syrup of one string consistency. Add the syrup little by little to prepared boondis. Mix well.

Take a handful boondis, make balls and let it cool before storing.
Thanks for taking time to read my recipes! ?It would be great pleasure if you could drop a comment about your views. Tel us if you have tried recipes from Jinoo's Kitchen. Let us know how the dish turned out for you! Like, Share and spread a word if you like the recipes!