Adai Kozhukattai recipe- mixed cereal Modak Recipe-How to Make Adai Kozhukattai
~
Protein and Iron rich recipe
When I had the Adai Batter at home, I just thought of this idea to use it as we are fond of Kozhukattai.
Adai ingredients is completely of your choice. In this one I ve added Moong dhal, channa dhal (white and black), green gram dhal, double beans, mocha, channa dhal, urud dhal and rice. Spices which I ve added are pepper and red chilli. You can make the Adai batter in your style and make the kozhukattai.
So here, am skipping the recipe of making adai batter.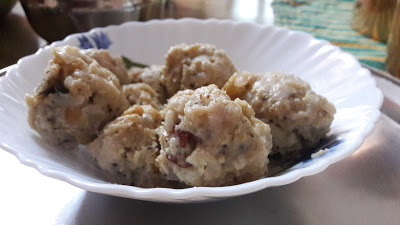 1. Heat a non stick kadai with oil, temper with mustard seeds, channa dal and curry leaves.Also add the asafoetida.
2. Once channa dhal turns dark, add chopped onions and finely chopped ginger to it.
saute until onions turn translucent.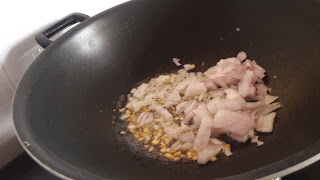 3. Now add the batter, also add a little water and start stirring.
If your Batter is already runny, do not add water.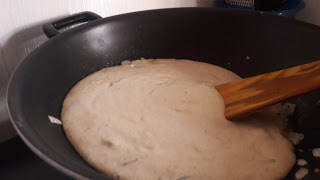 4. Keep stirring continuously until the entire mixture becomes non sticky. cook this in a low flame.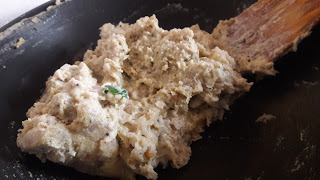 5. Remove from heat, when its warm enough to handle, wet your hands and make small balls or kozhukattais.
Never mind about the exact ball shape.:)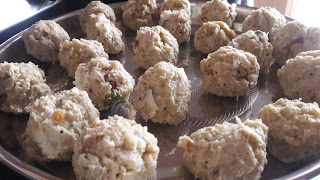 6. Place the balls in a idly cooker or pressure cooker and steam for 20 to 25 minutes.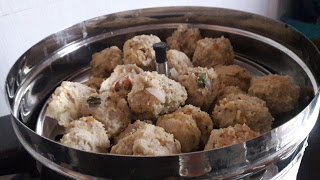 Healthy adai kozhukattai is ready. Serve hot with coconut getti(thick) chutney.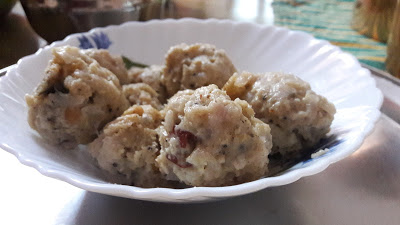 Adai Kozhukattai recipe- mixed cereal Modak Recipe-How to Make Adai Kozhukattai