Fried potato and chilly curry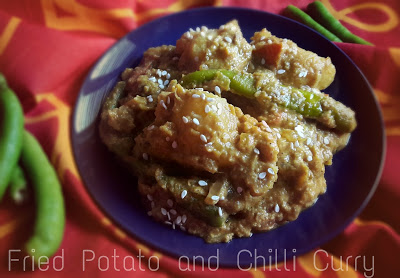 Ingredients:
Potato – 2 medium boiled and cubed
Green chillies long variety 4 nos
Onion 1 no finely chopped
Tomato 1 no finely chopped
Ginger garlic paste 1 tsp
Turmeric powder 1/2 tsp
Garam masala 1 tsp
Corriander powder 1 tsp
Cumin seeds 1 tsp
white Sesame seeds 1 tbsp
Peanuts 2 tbsp
Coconut grated 1 tbsp
Fennel seeds 1 tsp
Salt to taste
Oil
Butter
Directions:
1. Dry roast peanuts,sesame seeds and fennel seeds for a minute and grind to a fine paste along with grated coconut and little water.
2. Slit chillies half way and remove the seeds from inside.
3. Boil the potatoes and cut into big cubes and roast them in little oil or deep fry and keep it ready.
4. Now heat oil, splutter cumin seeds. Add chopped onions and ginger garlic paste. Along with this add slit chillies as well.
5. Saute them until green chillies starts to shrink.
6. Now add fried potatoes and salt, mix well. Do not break the potaoes.
7. Add tomatoes and saute for a min. Add in all spice powders along with the ground mixture and salt.
8. Mix well and add little water and let it boil.
9. Once it starts leaving out oil, put off and serve hot. Adjust the amount of water to be added according to your choice of consisitency.
And there you go! yummy subzi for hot hot roti!!
Fried potato and chilly curry