Kappa curry for chapathi | Tapioca curry for chapathi
Kappa curry chapathi – Tapioca curry for chapathi
Kappa curry, a simple dish made for chapathi with basic spices and coconut milk. Suitable for chapatis, pooris and even for rice. It is also called as Kappa Masala and is made in the traditional Kerala style.
Simple and easy tapioca curry recipe that can be had for basic Indian breads and Rice with step by step pictorial instructions and video recipe. This recipe can be made without coconut milk as well. In that case, adjust the spiciness accordingly.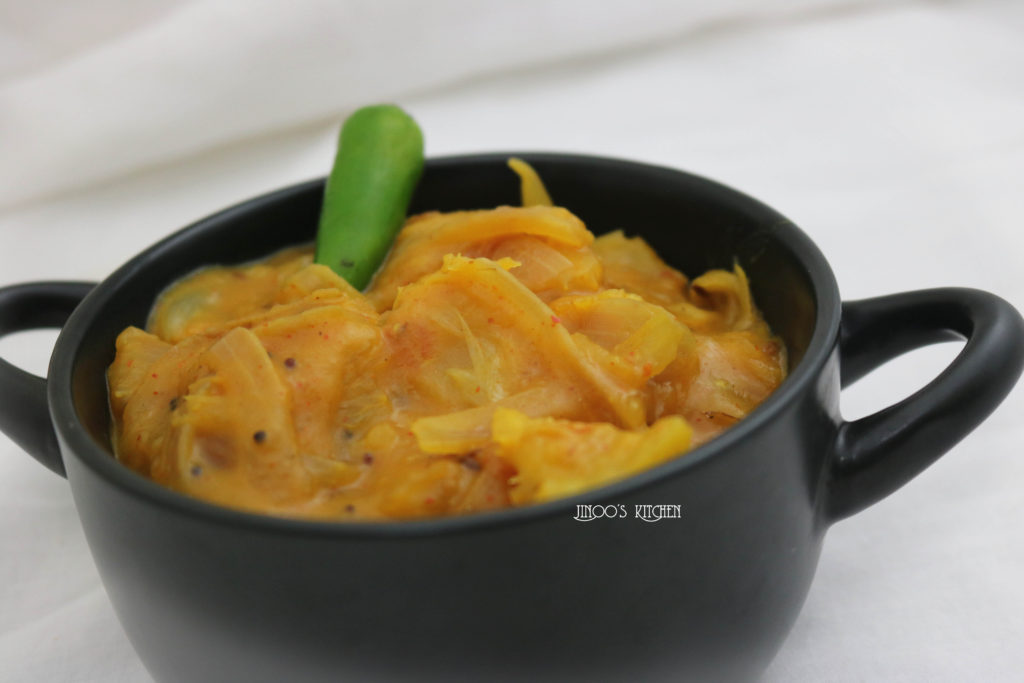 Kappa thol vadagam which is tapioca skin chips, Chicken Kappa Biryani which is made with tapioca and shredded chicken and Kappa Ularthiyathu is Simple tapioca stir fry recipe.
Kappa curry for chapathi video recipe:
Check out our youtube channel for more interesting recipe videos
Kappa curry chapathi -recipe:
Kappa curry
Ingredients
3

cups

tapioca

1/4

tsp

turmeric powder

2

tbsp

oil

3/4

tsp

mustard seeds

1

tsp

cumin seeds

4-5

cloves

garlic

1

inch

ginger

2

no

green chilli

2

medium sized

onions

sliced

1

medium

tomato

finely chopped

1

tsp

chilli powder

1/2

cup

coconut milk
Instructions
Boil water and add clean tapioca pieces and turmeric powder and let it boil. Switch off once the tapioca is cooked well and strain the water

Heat oil in a pan and crackle mustard seeds, cumin seeds, let it crackle.

Roughly crush garlic, ginger and green chilli in a mortar pestle and add it to the oil

Add sliced onions along with it and Fry for 2 minutes

Now drop in the chopped tomatoes. Now add salt to the tomatoes to get fried and fry for a minute

add chilli powder and mix well

furthermore, add Cooked tapioca and smash it slightly

Pour in little water to adjust the consistency

Adjust salt in the curry. Mix well until well blended.


Add coconut milk to the curry and adjust to the consistency required. Mix well and just give it a boil. Let it just heat up. Switch off and your curry is ready
Kappa curry for chapathi- pictorial description:
Boil water and add clean tapioca pieces in it.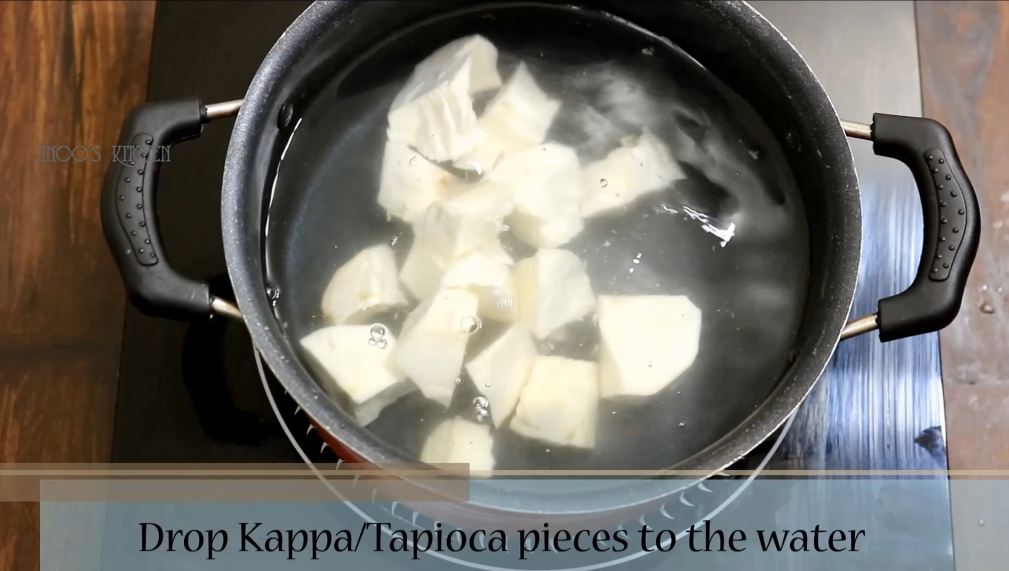 Add turmeric powder and let it boil
Switch off once the tapioca is cooked well and strain the water
Heat oil in a pan and crackle mustard seeds
Further goes in cumin seeds, let it crackle.
Roughly crush garlic, ginger and green chilli in a mortar pestle and add it to the oil
Add sliced onions along with it
Fry for 2 minutes
Now drop in the chopped tomatoes.
Now add salt to the tomatoes to get fried and fry for a minute
add chilli powder and mix well
furthermore, add Cooked tapioca and smash it slightly
Pour in little water to adjust the consistency
Adjust salt in the curry. Remember we have already added for the onions and tomatoes.
Mix well until well blended
Add coconut milk to the curry and adjust to the consistency you require
Mix well and just give it a boil. Let it just heat up.
Switch off and your curry is ready