Kids lunch box recipes # 3 Cheese and vegetable Rice cutlet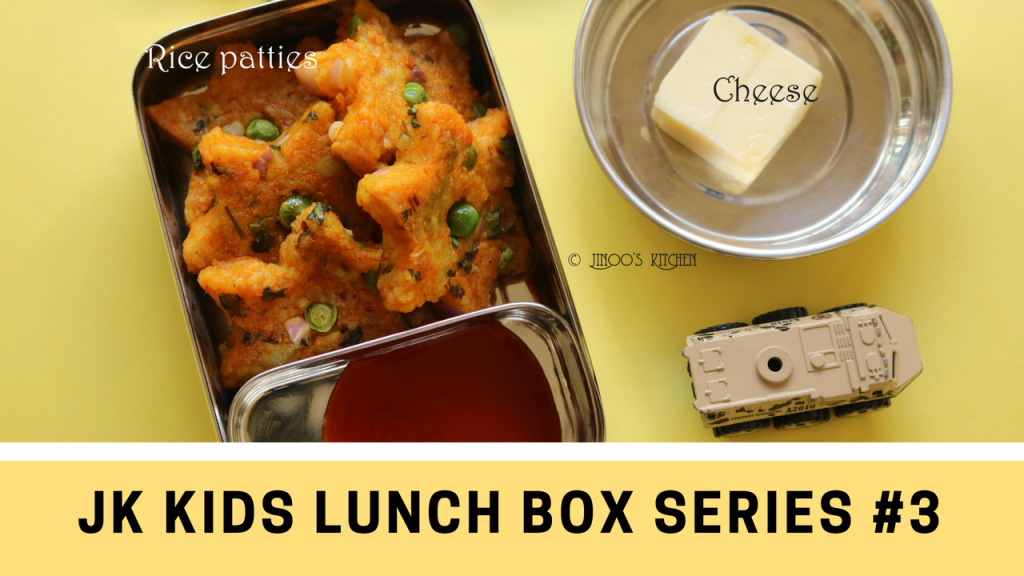 Kids lunch box recipes # 3 Cheese and vegetable Rice cutlet
snacks: processed cheese cube
lunch: vegetable rice cutlet
for a collection of kids lunch box ideas, check here.
these rice cutlets can be one of the healthy and easiest recipes to make with leftover rice. But while packing it for kids, it is best to cook the rice fresh and until almost mushy so that cutlets get binded well.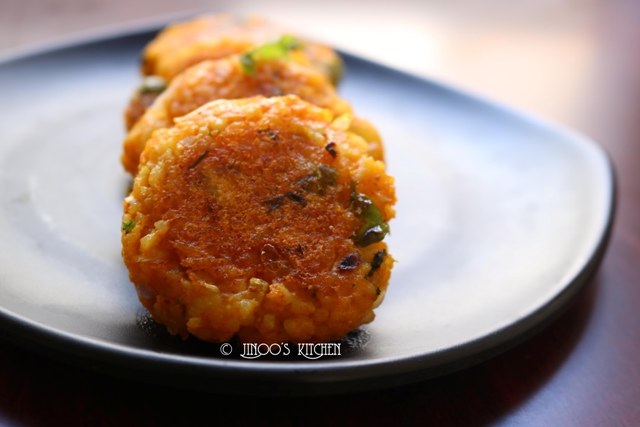 quick video on Kids lunch box recipes # 3 Cheese and vegetable Rice cutlet:
step wise pics of vegetable Rice cutlet:
In a large mixing bowl, take cooked rice, cooked and mashed potatoes, chopped onions, cooked peas, turmeric powder, chilli powder, corn flour, garam masala, salt and chopped coriander leaves.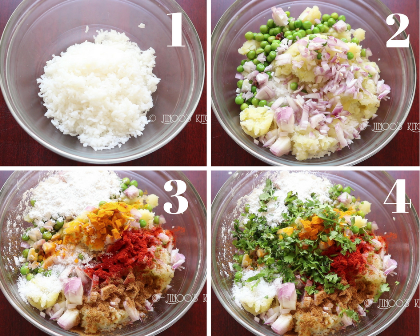 mix it up very well until rice mashes well and gets combined with all other ingredients. take out a scoop of it.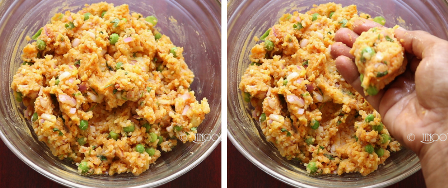 place in a desired cookie cutter mould and flatten it gently all over the edges. gently remove the mould out. prepare rest of the  dough the same way. If you do not have cookie cutter. Just any shapes or a perfect round, square go with anything you prefer making shapes with hands.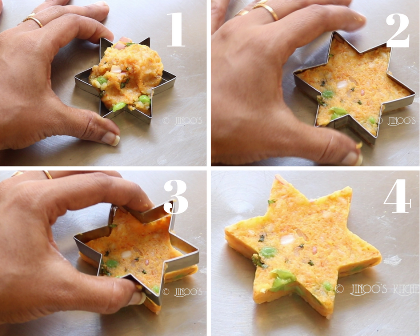 place it on greased hot tawa and press a peas in the centre. cook on both sides by turning over now and then until both sides are golden brown in color. serve hot or pack it with tomato sauce.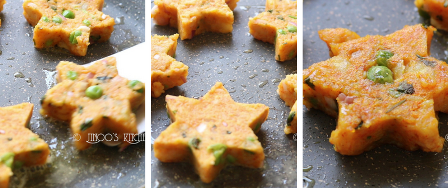 Kids lunch box recipes # 3 Cheese and vegetable Rice cutlet recipe card:
Rice cutlet | vegetable Rice patties
Ingredients
2

cups

cooked rice`

1/4

cup

cooked peas

1.5

cups

potato cooked and mashed

1

no

onion

chopped finely

1/4

tsp

turmeric powder

1

tsp

chilli powder

1/2

tsp

garam masala

1/8

cup

corn flour

salt to taste

2

tbsp

coriander leaves
Instructions
In a large mixing bowl, take cooked rice, cooked and mashed potatoes, chopped onions, cooked peas, turmeric powder, chilli powder, corn flour, garam masala, salt and chopped coriander leaves.

mix it up very well until rice mashes well and gets combined with all other ingredients. take out a scoop of it.

place in a desired cookie cutter mould and flatten it gently all over the edges. gently remove the mould out. prepare rest of the dough the same way.

place it on greased hot tawa and press a peas in the center. cook on both sides by turning over now and then until both sides are golden brown in color.

serve hot or pack it in lunch box with tomato sauce
Video