Kulukki sarbath recipe | cochin special kulukki sharbath
Kulukki sarbath recipe | cochin special kulukki sharbath with step by step photos and video recipe. this shaken lemonade is spiced with ginger and green chillies. it is a very famous street food in cochin. kulukki meaning "shaken", this drink is a spiced shaken limeade/lemonade.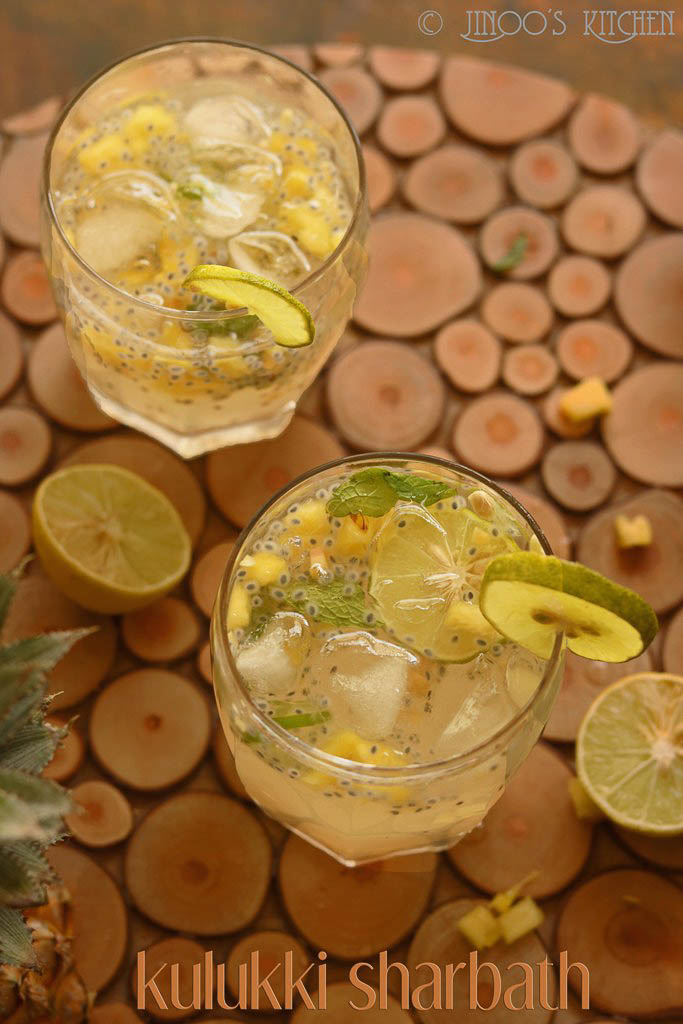 our trips to cochin were each a memorable one. those streets of fort cochin, Mattancherry shops, marine drive ground, Chinese fishing net, and many other places gave tons of memories to us. 
I have been thinking to write a post on it but not getting time. few things that are must-try in Kochi – fish fries, fish curries, kulukki, prawns and a few other seafoods.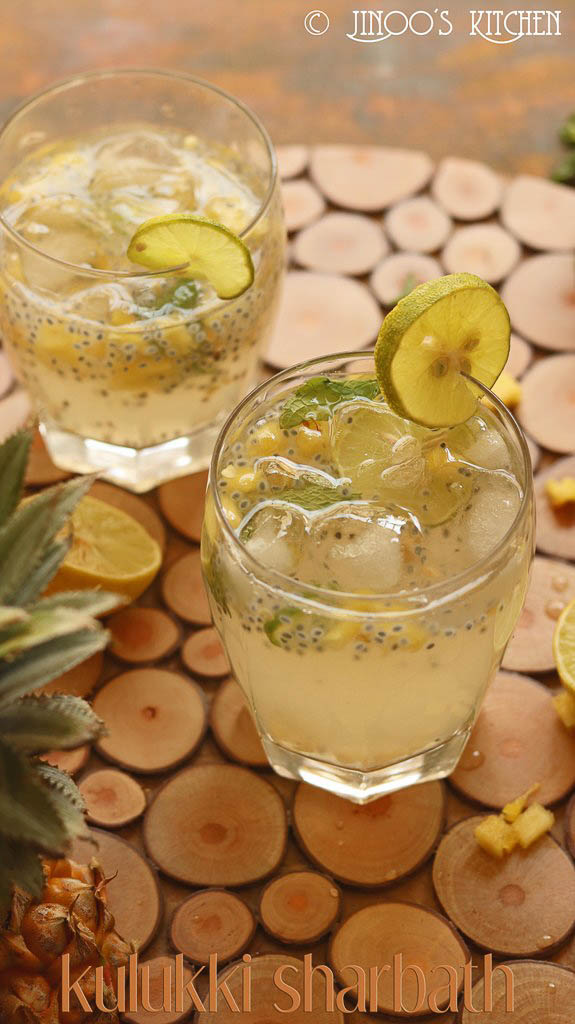 soak the sabja seeds/basil seeds in water, squeeze out the lemon juice, chopped ginger, green chillies, and sliced lime. chop pineapples. there you go. I prefer adding pineapple chunks as the flavor is triple times tasty. 
---
Kulukki sarbath recipe
cochin special kulukki sharbath
Ingredients
1

tsp

sabja seeds/basil seeds

2

small

lemon

1/8

tsp

ginger chopped

2

slice

green chillies

2

slice

lime

2

tsp

pineapple chopped

5

tbsp

sugar

2

cups

water
Instructions
soak the sabja in water for 10 minutes. squeeze lemon juice from 2 small lemons and keep it ready.

crush few ice cubes and keep it ready

take a jar with lid and start adding chopped ginger, sliced green chillies, lime slices, sabja seeds, lemon juice, pineapple chopped, sugar and water.

close the lid and shake it well for 30 seconds.

open and serve in the glass with the crushed ice cubes.
Video
Notes
you can also grind the pineapple and add the paste. 
also, add a pinch of salt if you like the sweet and salt flavour. 
optionally, add few leaves of mint. 
---
cochin special kulukki sharbath recipe
1.firstly, soak the sabja seeds/basil seeds in enough water for 5-10 minutes.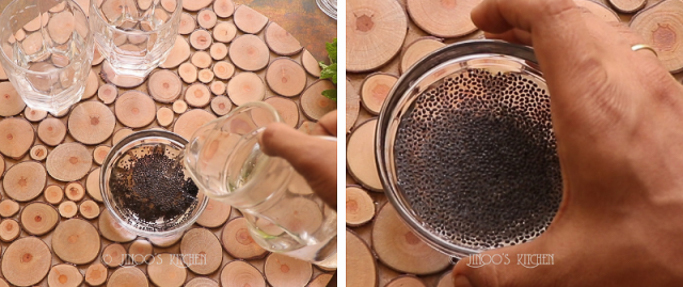 2. take a glass jar with lid, or even a steel box if you have with airtight lid or just close one tumbler with another as like they do in the street shops. add chopped ginger, 2 slices of green chillies not more than that.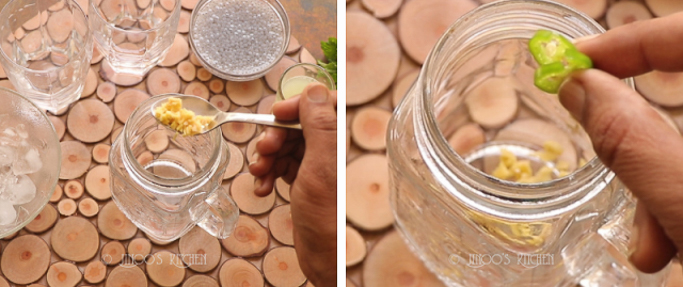 3. chopped pineapple pieces as per your taste. also 2 slices of lime. if you don't have lime, add lemon slice.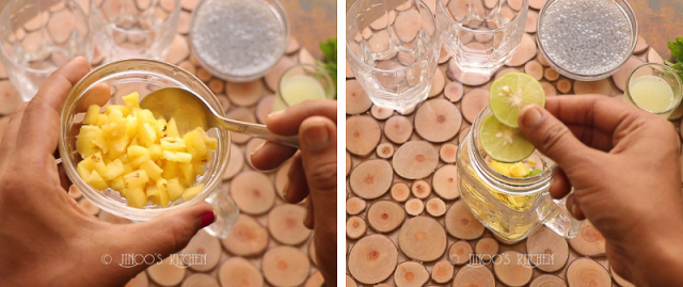 4. further add lemon juice and bloomed sabja seeds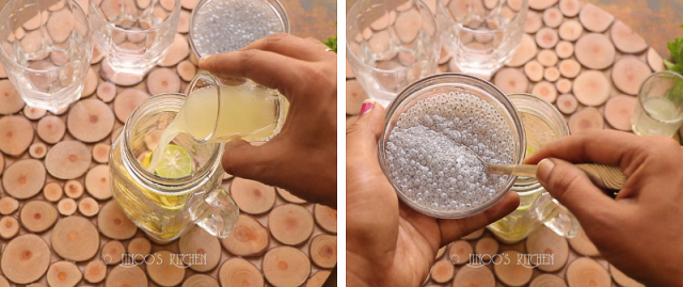 5. add sugar and water. if pineapples are very sweet you can adjust sugar quantity accordingly.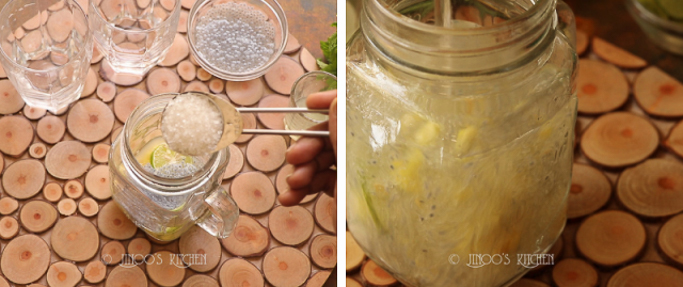 6. shake it for at least 3 seconds or until the sugar dissolves completely. it will definitely take 30 seconds or more.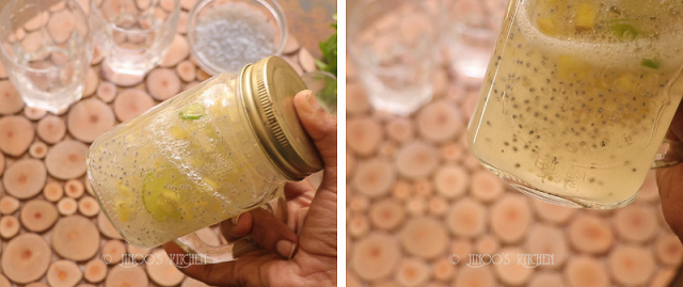 7. pour it on to the glass and drop ice cubes in it. I prefer adding ice cubes after we shake else it may break into small pieces and may cause disturbance while drinking. also when you shake vigorously, ice cubes may cause scratches on a glass jar.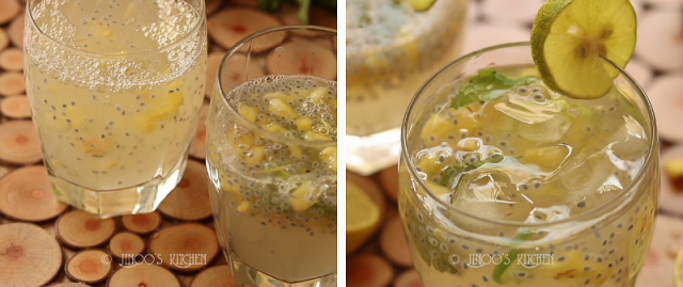 serve the refreshing kulukki sharbath fresh.