Mango Halwa recipe | Mambazha Alwa Recipe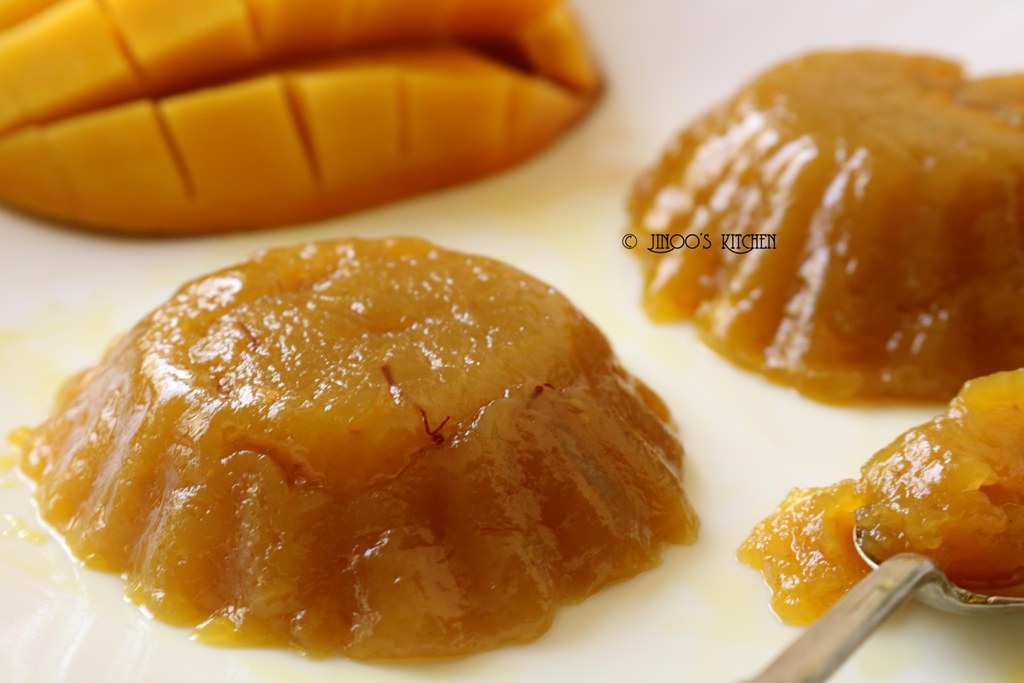 Mango desserts are so flavorsome and tempting especially when we find so many mango varieties during summer, other than mango curry, desserts are always very exciting not only to prepare but also to eat. though am not a sweet tooth person, I love trying out new dishes.
this is one such simple recipe with ripe mango. super easy mango halwa recipe which has a smooth soft melt in mouth texture that can be molded into any shape and size. if you wanted to make it little solid in texture, then add more corn flour.
I have chosen Alphonse mango. for mango halwa we shouldn't be using the fibrous ones/ nar manga. smooth soft texture is needed for best results. choose any variety that is very sweet and smooth in texture.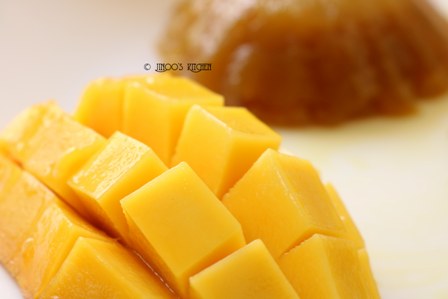 quick video of Mango Halwa recipe :
step by step making of the Mango Halwa recipe :
Squeeze out maximum pulp from one single large Alphonse mango. I got roughly 1.5-2 cups of pulp. add almonds to it and grind to a smooth paste.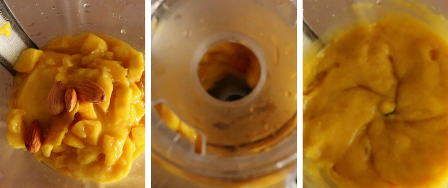 add ghee to the hot pan and spread it all over the sides of the pan and then add the mango puree. mix and cook for a minute until it just eats up all the ghee.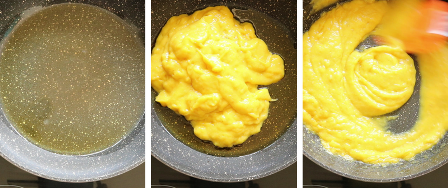 now take a cup, add corn flour and make a thin slurry by adding water. I have taken 3 tbsp corn flour and 1/2 cup water. Mix well until it is free of lumps.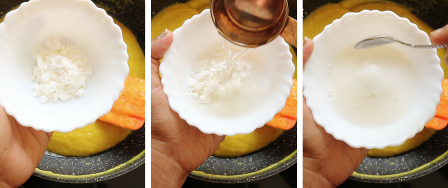 add the corn flour liquid to the pan and keep stirring until it thickens and starts boiling.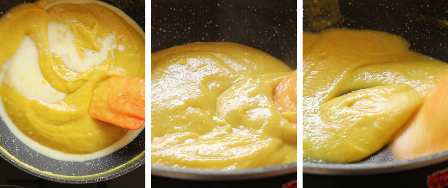 add 1/2 cup sugar when it starts boiling. adjust the quantity of sugar based on the sweetness of the mango.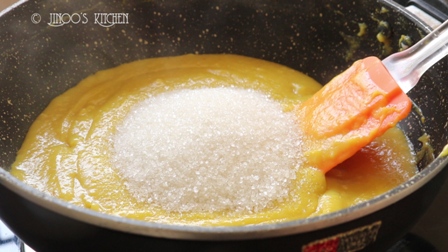 keep stirring while adding ghee in between. I have used about 1-2 tbsp ghee in intervals while stirring to a thick paste like consistency in medium flame.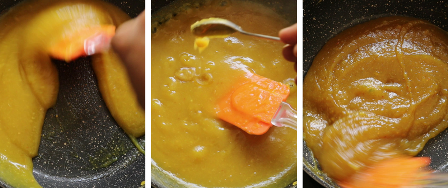 add saffron threads at the last and stir until oil leaves the sides and the halwa combines together and leaves the pan while stirring.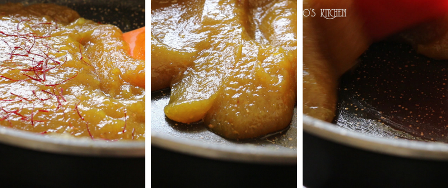 grease the tray/bowl/mould with ghee. pour the halwa into the tray and smooth the top part.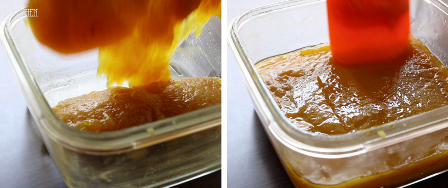 cool it completely and then transfer to a plate. the halwa can be had as such without even cutting it which is how we prefer.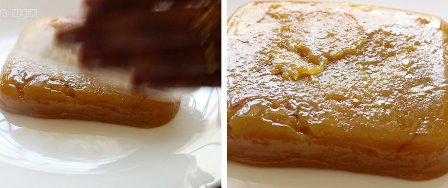 if your cutting it, cut to square pieces or simply into any desired shapes.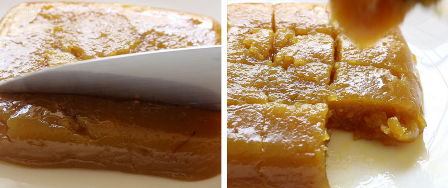 delicious mango halwa is ready to be served.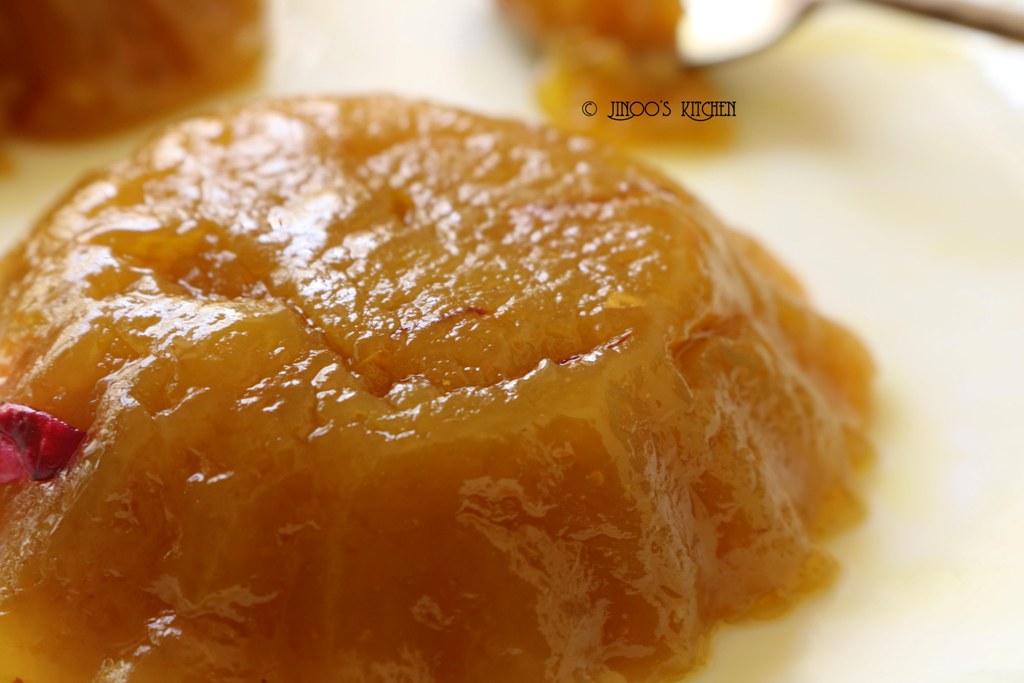 notes:
use non stick pan so that halwa does not stick to the pan.
use only required quantity of ghee as and when needed. adding more will cause too much ghee in final halwa and may not look and taste good.
you can also grate the almonds and add instead of grinding it. As i wanted smooth texture, i have grinded the halwa
As i said before, if you wanted thick halwa, add more corn flour.
need not add water while making pulp of mango.
tutty fruti or grated nuts or simply saffron threads can be added at last and mixed well before transferring it to mold.
this can be stored for up to 2 weeks if refrigerated.
Mango halwa recipe
Ingredients
1

large

alphonse mango

4-5

no

almonds

3-4

tbsp

ghee

2.5

tbsp

corn flour

1/4

cup

water

1/2

cup

sugar

1

pinch

saffron threads
Instructions
squeeze out pulp from mango and grind it along with almonds to a fine paste

heat ghee in a pan and add the puree to it. stir for a minute.

make corn flour slurry with corn flour and water. mix until it is lumps free and then add it to the pan.

stir well in medium flame until it boils.

when it starts boiling, add sugar and keep stirring to a thick glossy consistency where the halwa combines together and starts leaving out oil.

at this stage, add saffron strands and mix well.

grease a mould with ghee and pour the hot halwa into it.

let it cool completely and then transfer to a plate.

cut them to desired shape and serve