Bajra roti recipe | pearl millet roti | kambu roti recipe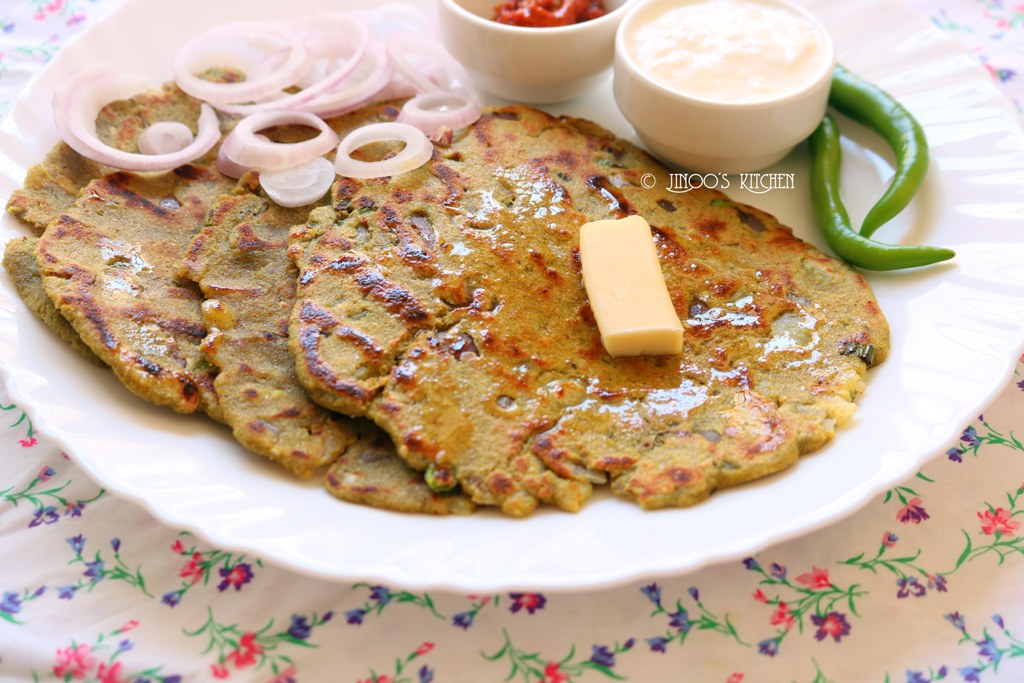 Bajra roti recipe | pearl millet roti | kambu roti recipe – bajra flour is used as dosa mostly in south India while roti is of least preference at least to me. ofcourse, it tastes good but it has to be had super hot to get the actual taste unlike dosa which tastes the same anyway.
but it was in my long time to do list and happen to do it. i made it with little masalas, potatoes and made it flavorful that it just can be had as such without anything.
here is the quick video of making the bajra roti:
so lets start the step by step making of bajra roti with pics.
take bajra flour in a bowl and add together chopped onions, green chilli, chopped ginger, curry leaves, cooked and mashed potatoes, salt and turmeric powder.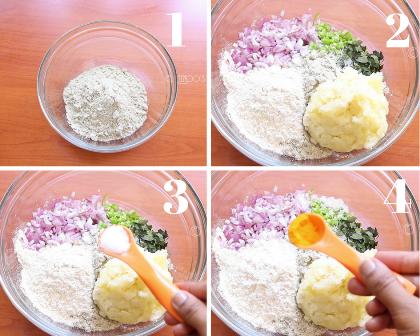 also add ajwain/carom seeds, sesame seeds, kasuri methi and mix well. crumble with hands.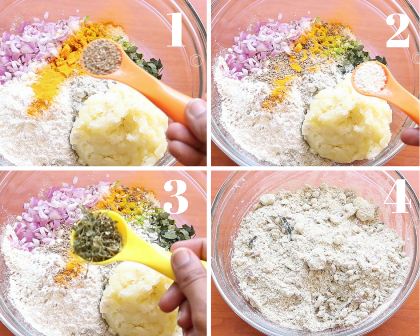 add water little at a time and make a smooth soft dough. the onions will let the water out. this is the reason we crumble well first and then add water. need to rest it as it tends to leave out water. can be prepared immediately.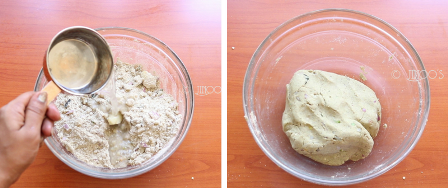 use butter paper, aluminium foil to flatten the disc. never use plastic wrapper or plastic sheets to flatten. reason is, when we transfer the roti to the dosa pan, it tends to stick to the pan and melts slightly which is very harmful. so use either butter sheet or aluminium foil for safer side. pinch out a lemon sized portion from the dough. amke ball out of it.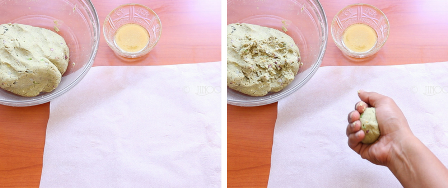 place it over the sheet and start to flatten it with ghee. thin it out from center to sides. i made it small and medium thick.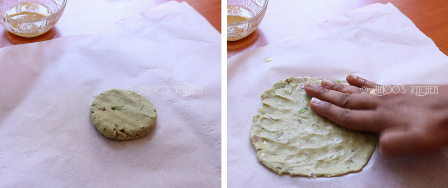 when the tawa is hot, transfer to the tawa upside down and slowly and carefully remove the sheet from the roti. let ti cook on both sides.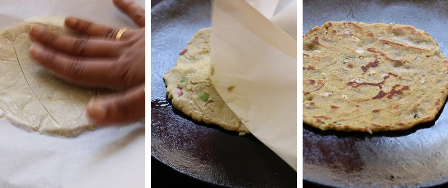 turn sides and apply ghee. when both sides are done. serve hot with curd, pickle and your favorite curry.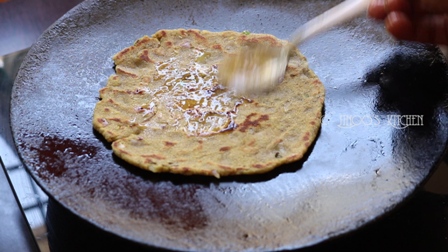 Bajra roti recipe
Ingredients
1.5

cups

pearl millet flour

0.5

cups

wheat flour

1

large

onion

finely chopped

1

tbsp

green chilli

finely chopped

1/2

tbsp

ginger

finely chopped

1

tbsp

curry leaves

chopped

1

cup

potatoes

cooked and mashed

salt to taste

3/4

tsp

turmeric powder

1

tsp

ajwain /carom seeds

1

tsp

sesame seeds

1

tbsp

kasuri methi

2-3

tbsp

ghee

for flattening
Instructions
add all the ingredients together except ghee in a bowl and crumble them first.

add water little at a time to make soft dough

pinch a lemon sized dough and flatten it on to the butter sheet with the help of ghee.

when the tawa is hot, transfer the roti upside down and slowly remove the paper out.

cook on both sides and brush with ghee. serve hot with curd and pickle.