Baby corn Manchurian recipe | with sauce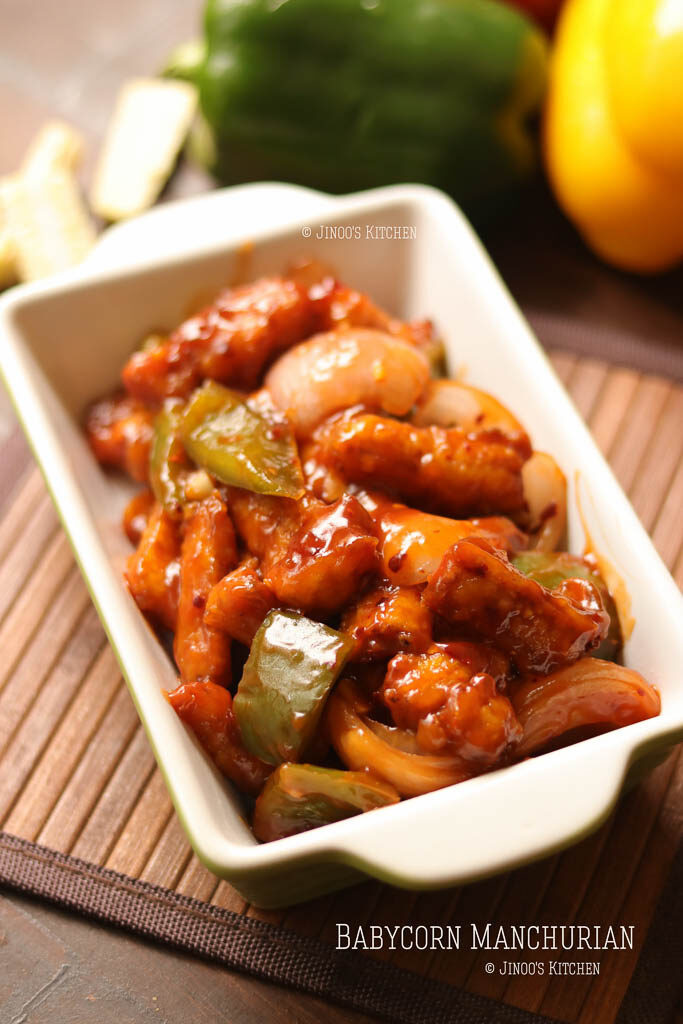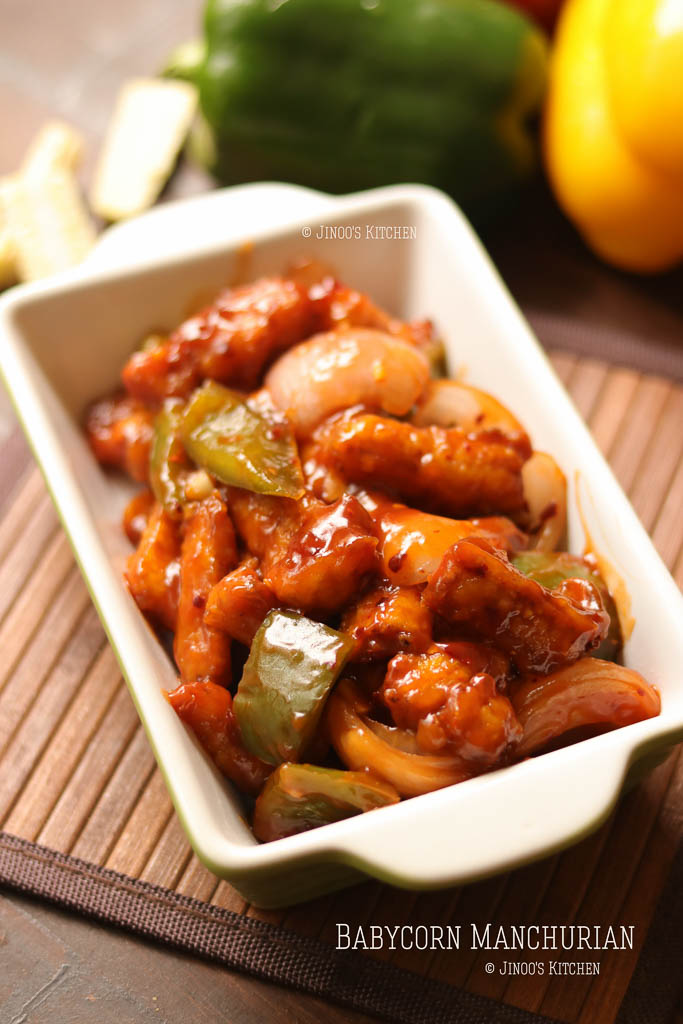 Baby corn Manchurian with step pics and video recipe. This is a very common vegetarian starter recipe found in almost all the restaurants. simple, tasty and easy to make starters with baby corn at home.
If you have guests visiting. You can fry the baby corn once and make the sauce too. Just that when they arrive, double fry the pieces and heat it with the prepared sauce. delicious Manchurian is ready in minutes.
double frying the baby corn is to make it golden and crispy. as soon as you add the baby corn in the sauce. toss it until well combined and serve immediately. the more it stays in the sauce, it will lose its crispiness.
Blanching the baby corn before frying is essential to make it perfectly cooked and to reduce the cooking time in the oil.
Similar recipes: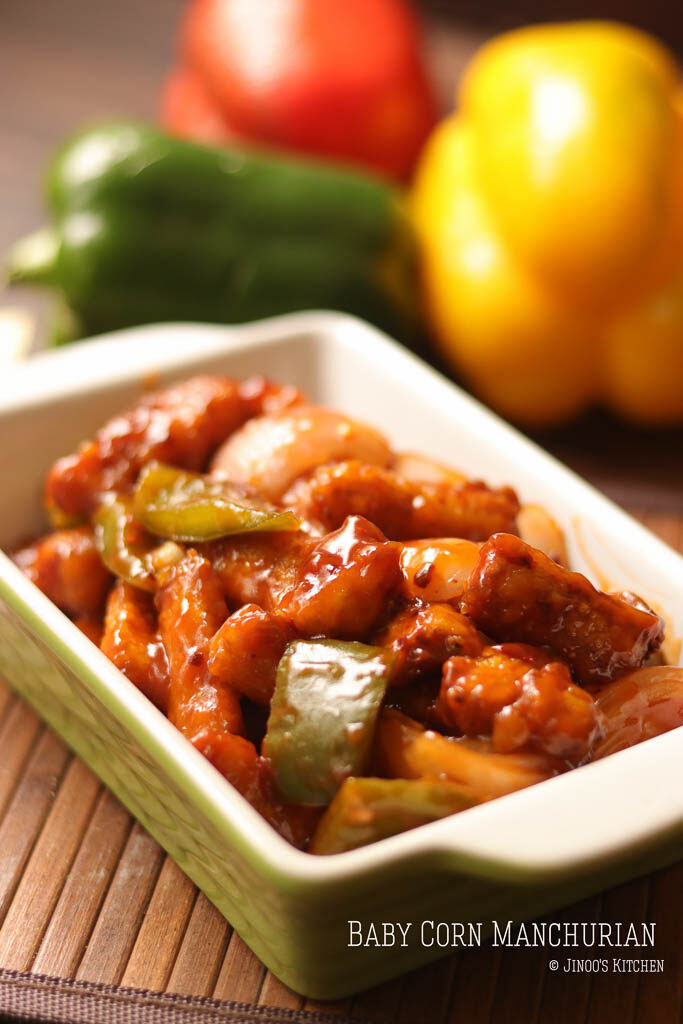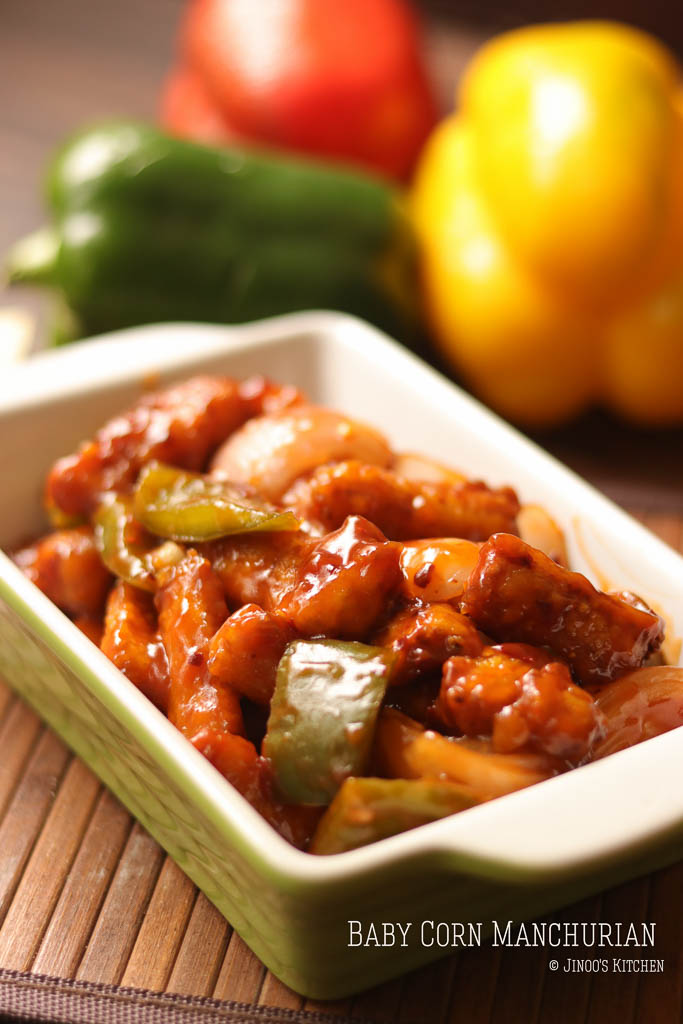 quick video recipe of Baby corn Manchurian
How to make baby corn Manchurian with step by step pics
To make this crispy baby corn Manchurian, Firstly, lets Blanche it. Cut the babycorn lengthwise into two and cut each piece again into half. Boil a pot of water with salt. Add the prepared baby corn pieces into it and let it boil for 2-3 minutes.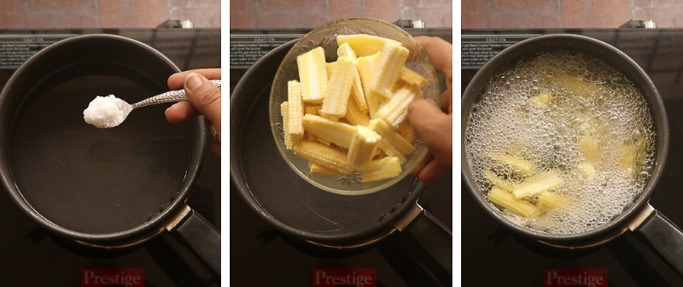 Put off the stove and drain the water. Let the baby corn cool a bit. If needed, dry it under the fan. take it in a bowl.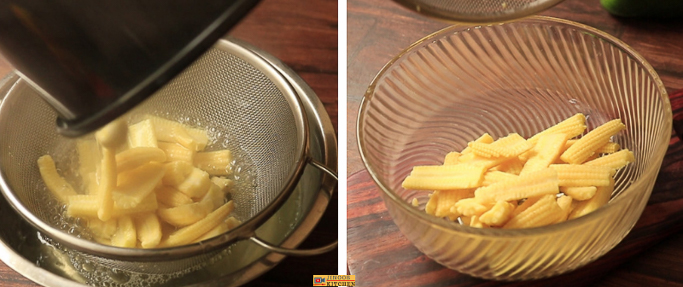 Add the maida, cornflour, turmeric powder, ginger garlic paste, and a little salt. Mix well to coat it all over.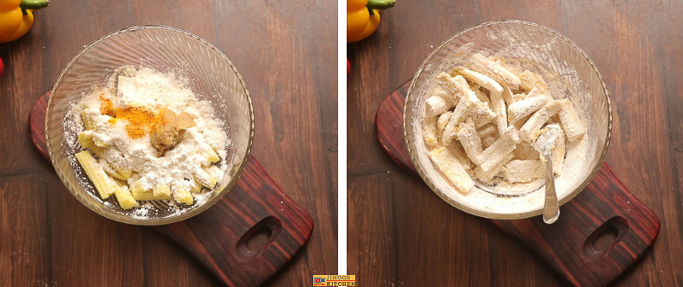 Sprinkle water little at a time and mix to a sticky batter.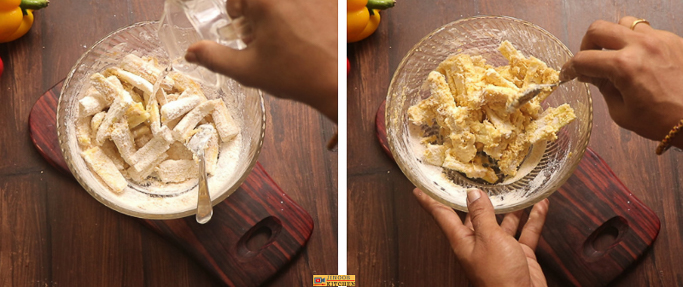 add more water if needed and mix again. the batter should be well coated and sticky on the baby corn pieces.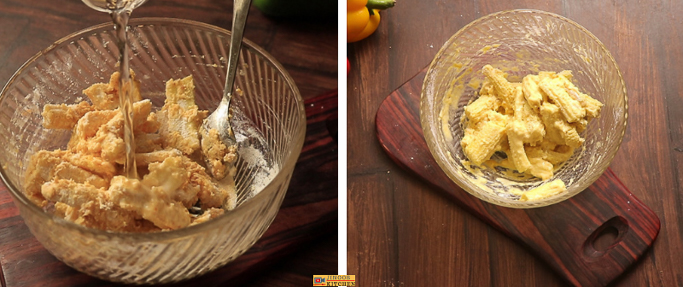 Heat oil and fry the pieces until the oil sizzle reduces. take it to a paper towel. repeat the process for the entire batch of corn.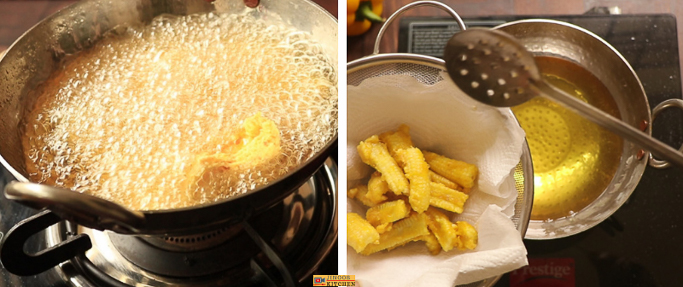 When it cools down a bit. fry it again until golden crisp.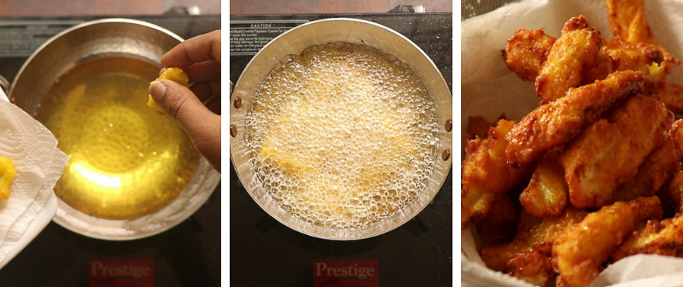 In another pan, add a little oil and fry chopped ginger, garlic and green chilli. fry till you get the nice aroma of roasted garlic.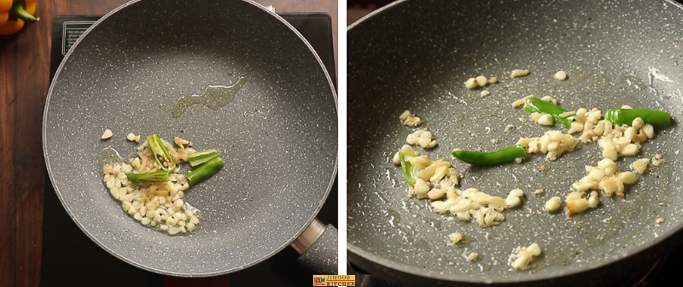 Immediately, add the onion petals and capsicum cubes with a pinch of salt. fry until blisters appear on the onions.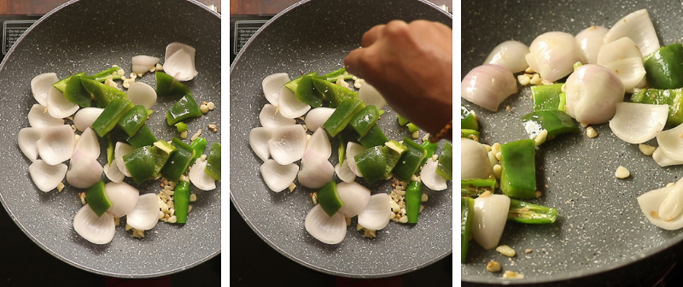 To this, further, add in all the sauces. tomato sauce, red chilli sauce, soya sauce, and vinegar. mix well and fry for half a minute.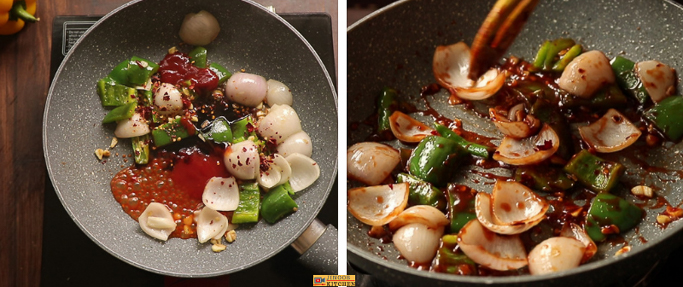 Pour water to thin it down and let it come to a boil.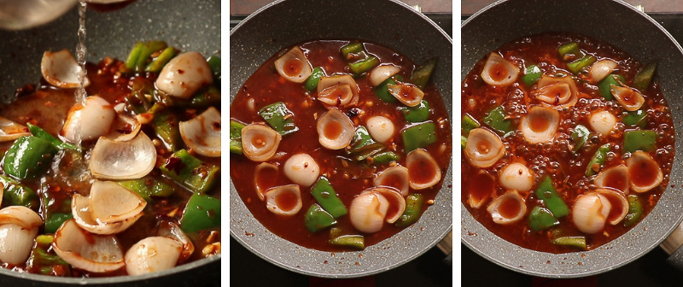 While it is boiling, mix cornflour with water to make a slurry of it and add the slurry to the pan. cook in simmer until it thickens to a sauce consistency.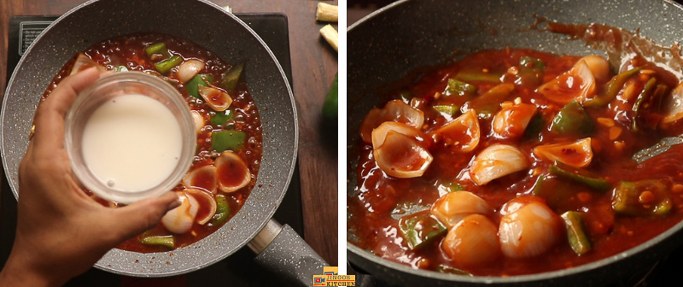 Furthermore, add a dash of honey and fried baby corn.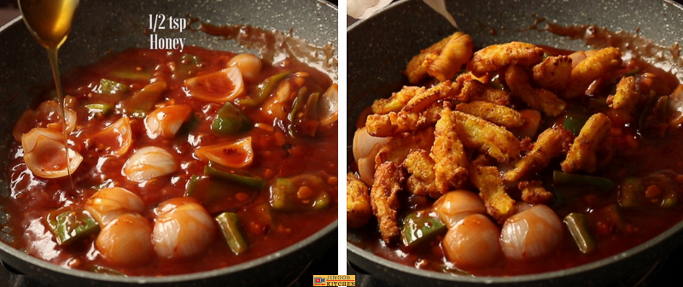 Mix well just until it combines well. lastly, if you prefer an extra spicy starter, add a pinch of red chilli flakes and serve it super hot.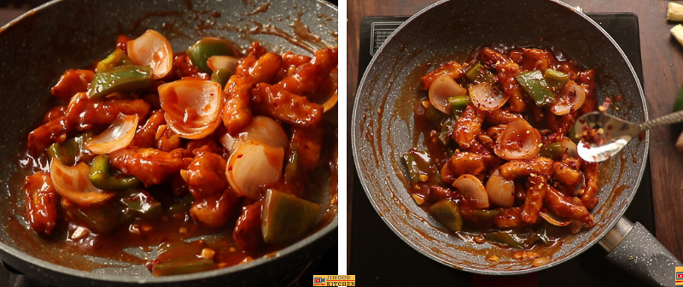 Baby corn Manchurian
Ingredients
3-4

cups

water

salt to taste

10-12

no

baby corn

1/4

cup

corn flour

1/4

cup

maida

1

tsp

ginger garlic paste

salt to taste

1/4

tsp

turmeric powder

oil

for deep frying
for making sauce
1/4

tsp

oil

1

tbsp

chopped garlic

1/2

tbsp

chopped ginger

1

no

green chilli

slit

1

medium

onion

petals

1/4

medium

capsicum

cubes

salt a pinch

1

tsp

red chilli flakes

3-4

tbsp

tomato sauce

2

tsp

chilli sauce

1/8

tsp

vinegar

1/2

tsp

soya sauce

2

tbsp

corn slurry

1/2

tsp

honey

1//4

tsp

chilli flakes

to garnish
Instructions
prepare the baby corn pieces and blanch it in a pot of water with salt. boil for 2-3 minutes.

Add maida, cornflour, salt, ginger-garlic, and turmeric powder. mix well to combine.

deep fry the pieces in hot oil once and take it in a paper towel.

once it cools a bit, double fry it until golden crisp.
to make the sauce
heat oil, fry chopped garlic, chopped ginger, and slit green chillies.

add onion petals, capsicum and a pinch of salt.

fry until blisters are seen on onions.

further, add all the sauces: tomato, chilli sauce, soya sauce, and vinegar along with red chilli flakes.

mix everything together and add water. let the mixture boil.

make a slurry of cornflour with water and add it back to the pan.

mix well and cook in simmer until it is saucy.

Lastly, add honey and fried baby corn.

optionally garnish with red chilli flakes.
Video