Parotta salna recipe | Empty salna recipe | Vegetable gravy for biryani
Parotta salna recipe | Empty salna recipe | Vegetable gravy for biryani with step by step photos and video recipe. Empty gravy without any vegetables that suits for most of the street food style dishes like parotta, biryani, salna.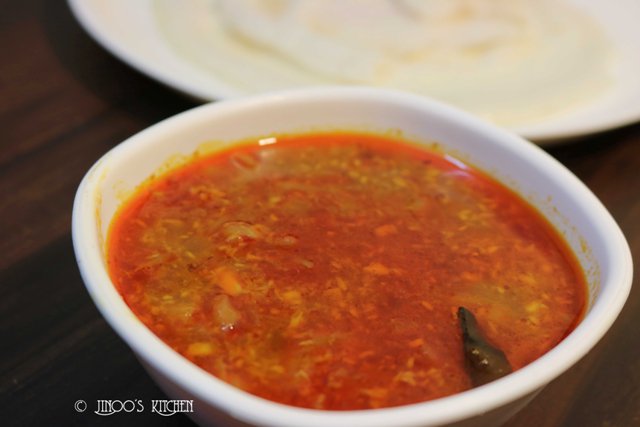 This biryani gravy is easy to make, spicy and thin gravy that goes good for idlis, biryani and parottas. generally we prefer soaking idlis and parottas in gravy and have it. to make the veg version of such finger licking gravy, follow this recipe. empty biryani/kuska and empty salna is popular combination.
For best results, You can use vegetable stock instead of plain water. In small hotels, they use chicken stock to make this salna thus giving an exact match for nonveg biryani and parottas. If you prefer veg version, simply add vegetable stock or plain water as in this recipe.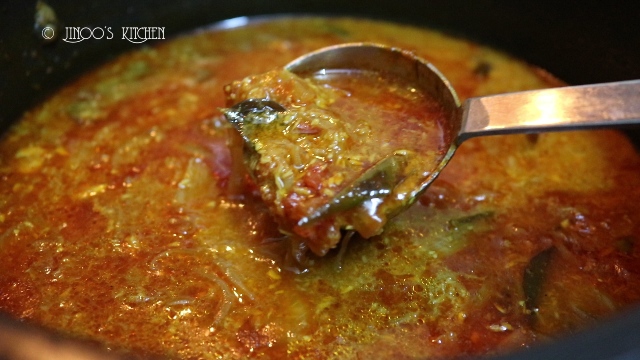 I have added potatoes in this recipe which is merely to add thickness to the recipe and is optional. You can skip it if you don't want. there is one technique in grinding coconut while making such salnas, which is explained in pictorial description. follow the same procedure to get the same hotel style texture of the gravy.
Parotta salna recipe video recipe:
Empty salna recipe | Vegetable gravy for biryani step by step pictorial
firstly, heat oil in a cooker and add a slit green chilli and 2 springs curry leaves. let the curry leaves gets slightly roasted.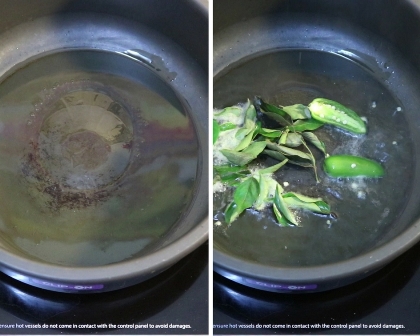 Now add very thinly sliced onions and enough salt for frying the onions. Fry until it turns slightly brown. need not over brown. just when it turns from transparent to brown, go to next step.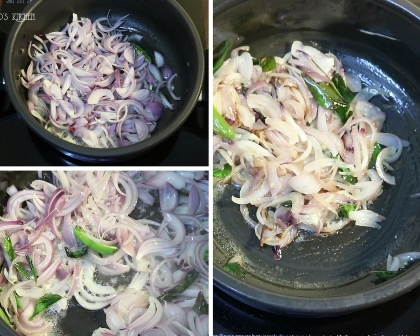 Further to the brown onions, add ginger garlic paste and finely chopped potatoes. As i said before, potatoes are optional and it is just to thicken the gravy. fry this until raw smell of ginger garlic goes off.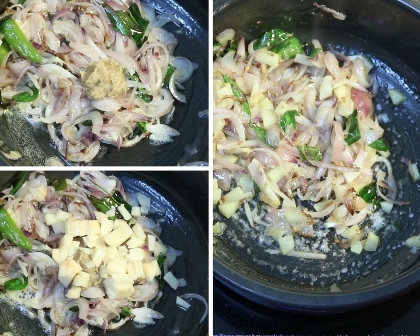 To this, add finely chopped tomatoes and fry until mushy.
Furthermore, add spice powders to the onion tomato mixture: turmeric powder, chilli powder,coriander powder, garam masala and fennel powder. mix well and fry for a minute until oil oozes out. fry it in simmer so that spices doesn't get burnt. If your not comfortable adding oil for frying spices. You can also add little water and fry so that spices gets blended well.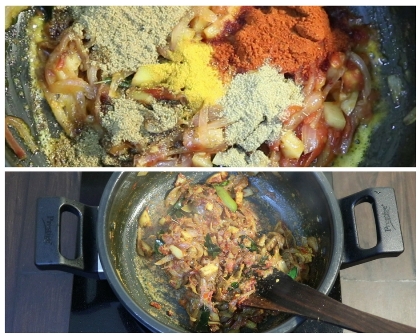 more than enough water has to be added to the curry. I added approximately 3 cups of water as the curry has to be very thin.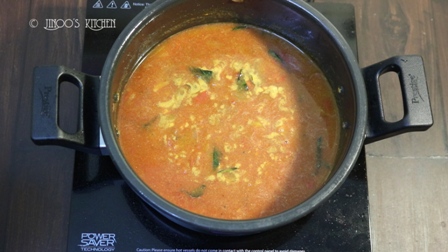 The most important stage of the curry is the grinding the coconut. Simple process yet at the technique of grinding is important and gives the perfect texture to the gravy. Firstly, don't grate the coconut. Instead, cut them to pieces and grind coarsely. Now add more water and just give a pulse. not more than that. the coconut has to be seen in the gravy and should not be fine paste.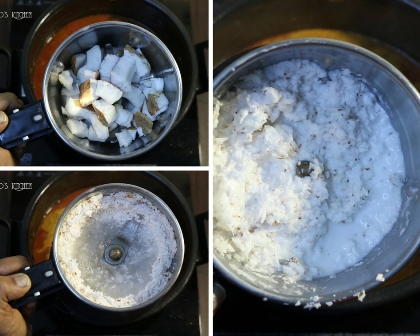 Add the coconut paste to the curry, enough salt and let it come to a boil. Close and pressure cook for 3 whistles. If not adding potatoes, 2 whistle will be fine.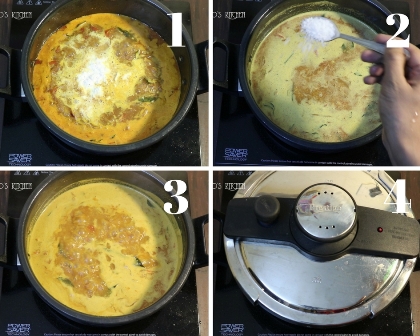 Open once the pressure settles down. mix and serve hot. you can see the oily layer on top with the reddish color which indicates perfectly cooked salna.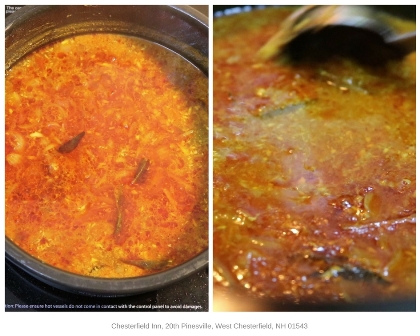 Parotta salna recipe | Vegetable gravy for biryani recipe card:
Parotta salna recipe
Ingredients
3

tbsp

oil

1

no

green chilli

slit

2

spring

curry leaves

2

large

onion

thinly sliced

1

tbsp

ginger garlic paste

1

small

potato

finely chopped

1

large

tomato

finely chopped

1/4

tsp

turmeric powder

2

tbsp

coriander powder

1

tbsp

chilli powder

1

tsp

garam masala

1/4

tsp

fennel powder

3.5

cups

water

1/2

cup

coconut

for grinding

salt to taste
Instructions
heat oil in a cooker, add green chilli, curry leaves and let it get roasted

to this, add onions and fry till brown.

add ginger garlic paste and potatoes and fry till raw smell goes off

further add tomatoes and fry until mushy.

spice powders: turmeric, chilly powder, coriander powder, fennel powder and garam masala are added

pour 3-3.5 cups water, grind coconut to coarse paste and add to the curry

mix well, add salt. close and pressure cook for 2-3 whistles,