Restaurant Recipe Series | Seasons – All Day Dining, Radisson Coimbatore
Restaurant Recipe Series | Seasons – All Day Dining, Radisson Coimbatore
Generally, we all love to try different dishes especially when it is made by some expert chefs. Imagine, that too when they launch their signature recipes? How special it could be.
Radisson Blu, Coimbatore needs no introduction to us. The each and every cuisine served there has always stood out in terms of taste and quality. The hospitality and ambiance by all means is making us enjoy the meal served there.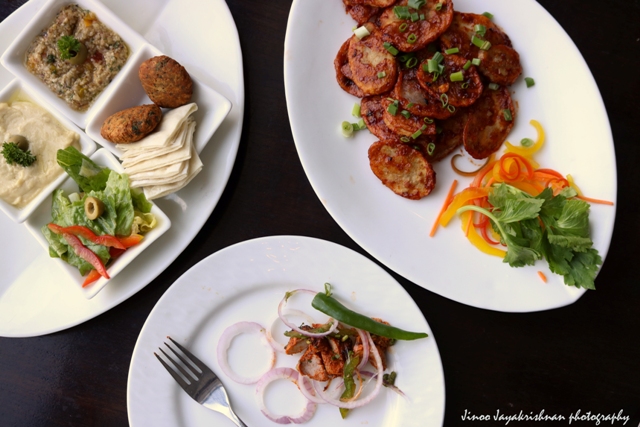 How is it looking in?
The ambiance is such that its well lit naturally and spacious. The atmosphere is so good that you can spend relaxed hours together. The pool by the window side which can be viewed from in, the outdoor gang seating facility , very tall roof all together sets in simple and elegant mood to the guests.
Inside view of the restaurant which is bright, well lit with tall windows.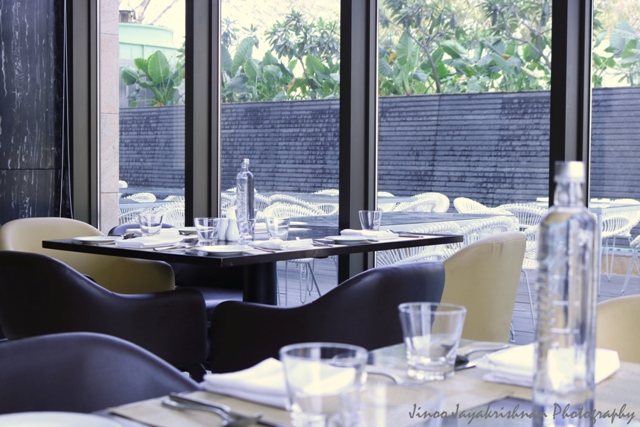 outdoor seating besides a small pool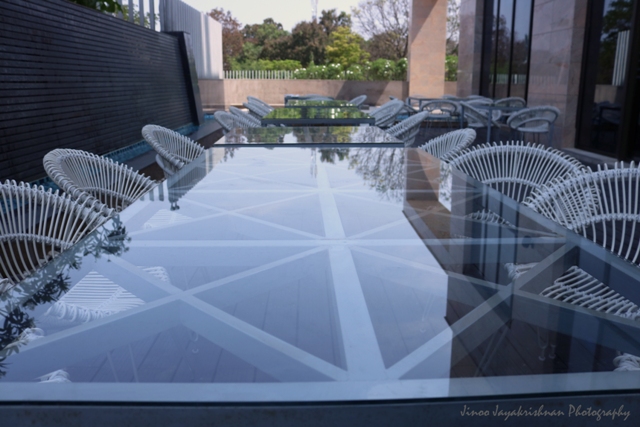 another view of it, wooden flooring, glass tables and classy attractive look.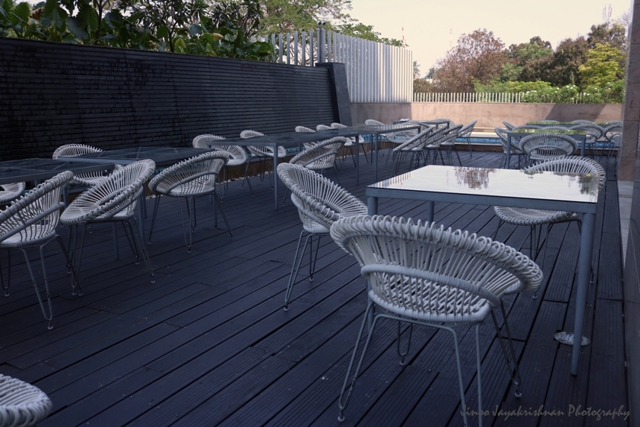 The buffet lunch served: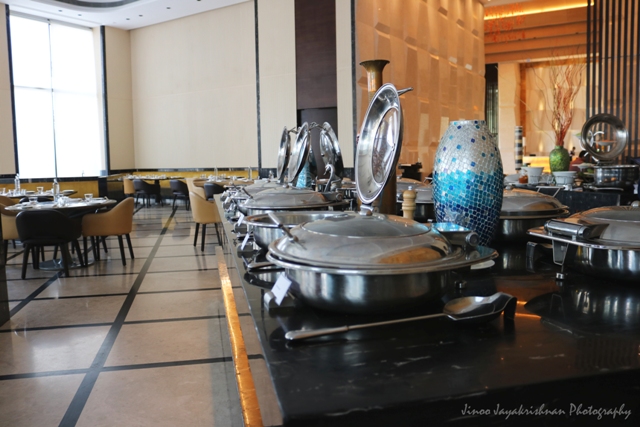 The pastry shop on the entrance of the dining.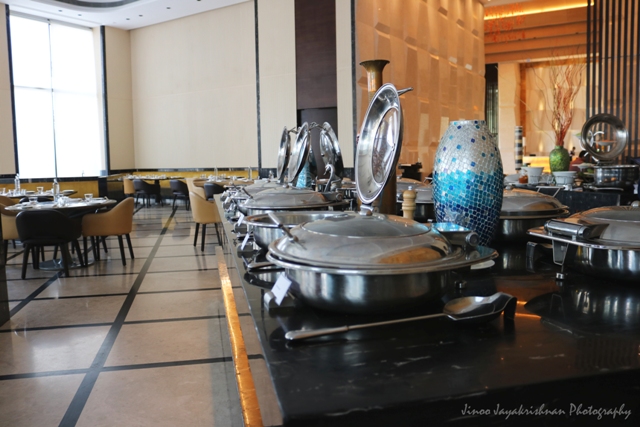 Whats New to Seasons – all day dining?
In case, you have already been to seasons. then I have got some great news to you. It is not about their regular buffet. Its about their signature recipes launched recently as part of the wine dining. the al-carte menu that is well planned, tested, tweaked to perfection, styled sincerely by a team of expert chefs under the guidance of the executive chef, Indirajith Singh.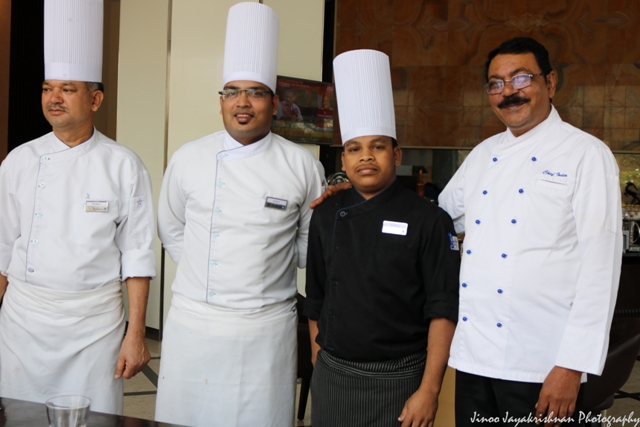 Chef gave us a brief idea of what they are going to introduce and how well they have brought their ideas to plate. We had a talk with the chefs individually about their preparation of each dish, its specialty.
The menu on the list had a mix of all cuisines and were unique by its naming in itself. I should surely mention about the wine pairing that Mr. Madhusoodhanan (Director- Food & Beverage) detailed us about. They have exclusively planned unique and different wine with each dish like the red meat goes well with red wine, laal maas with malbec, so on. I had not tasted wine but if your interested to taste different wine pairing options they have, head in!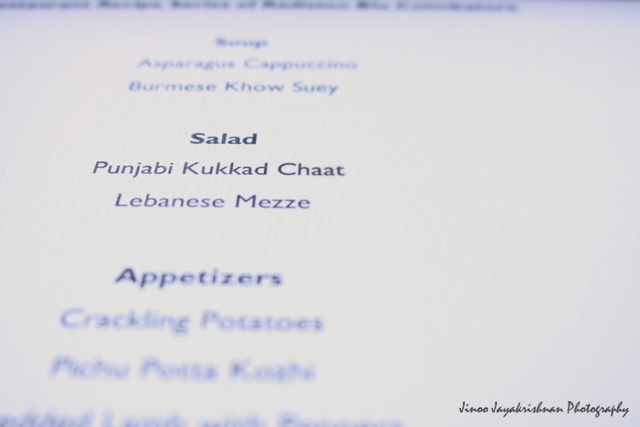 New menu launched:
Now, that's about the favorite section of the blog. Food photos with its genuine feedback. we happen to taste two soups, Burmese Khow seuy and asparagus cappucino – My favourite was khow seuy which was served in style and tasted sooo good. asaparagus cappucino was similar to cream of mushroom soup but with some chefs twist in it.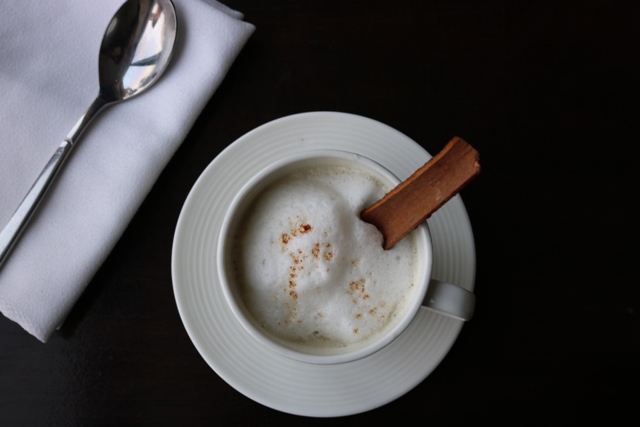 Below one is the Burmese Khow seuy which was served with 7 different toppings which includes fried garlic, boiled noodles, spring onions, grated egg white, coriander leaves, fried noodles and fried onions. The soup served in bun was creamy made with coconut milk base and was rich and tasty.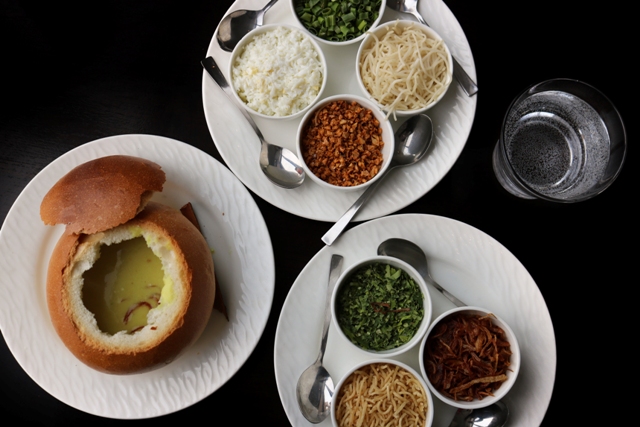 Salads had this lebanese mezze and Punjabi kukkad chaat. First one is veg which had dal vada, pita bread, hummus, green salad and eggplant dip. second one is non veg which had chilled chicken tandoori pieces, with bell peppers served in a cup shaped papad. roasted garlic flavoured Hummus and pita bread tasted awesome of all.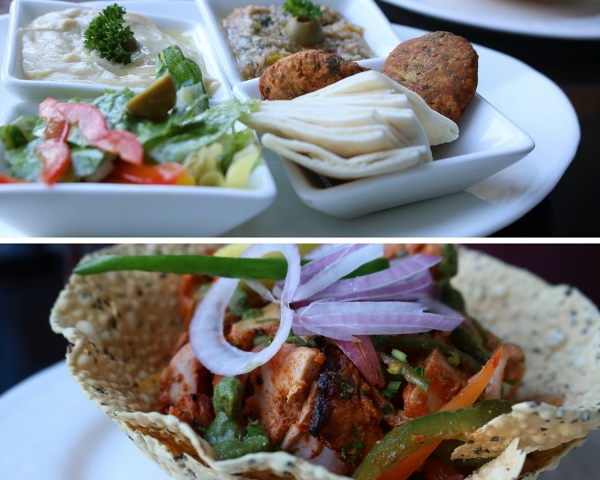 Some of the appetizers : 1. Pichu pota kozhi which was juicy, perfectly spiced and cooked.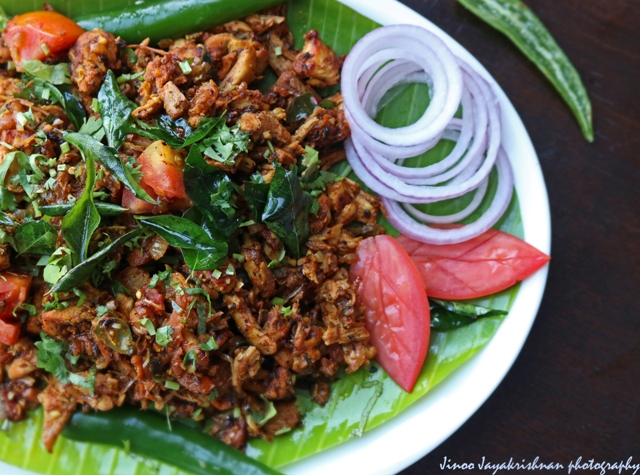 Shredded lamb with peppers: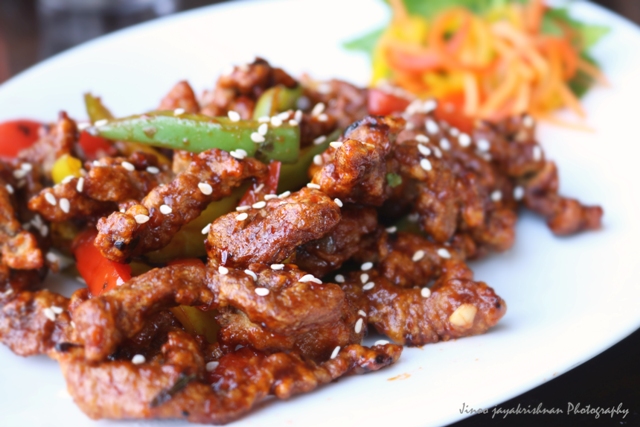 Main course looked like this from top: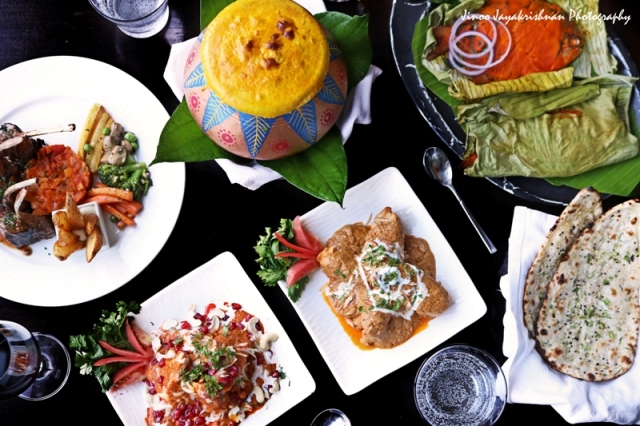 Paneer Gulnar curry should get a ++++ review. I simply loved it.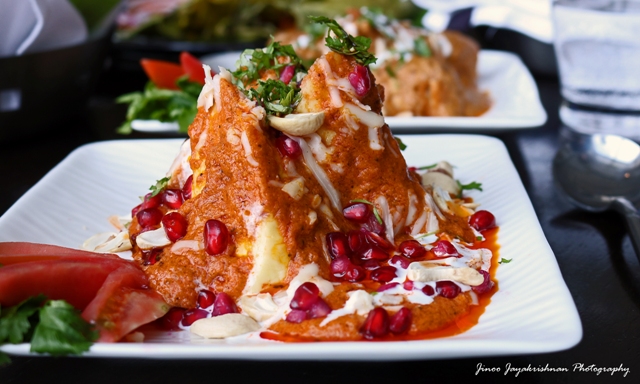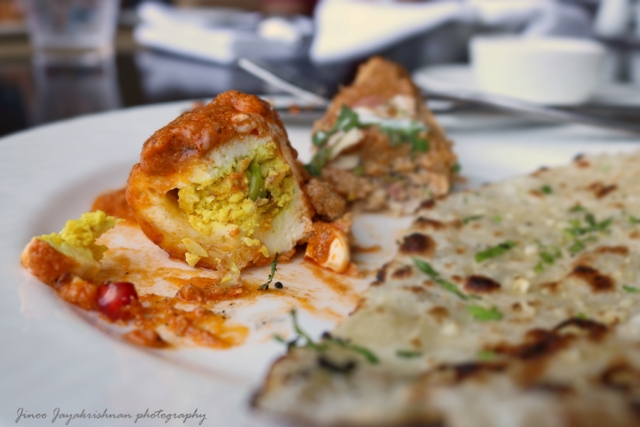 Paan biryani – I could keep talking about it, Rice was so soft, moistourous and melted in mouth with just the enough spices set in. The flavour of pan and saffron, each one had its turn in surprising us in every bite. I would surely mention about the raita which was served along. creamy yoghurt and roasted garlic raita was top in class to go with this paan biryani. Enough said, You can try it yourself and enjoy! Hats off to the Chef who introduced paneer Gulnar and paan biryani.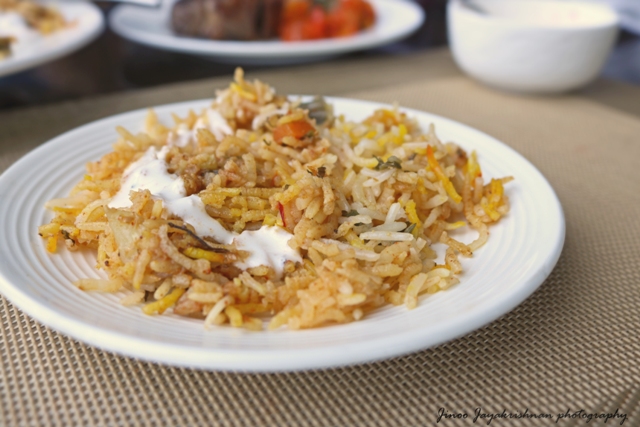 last one is dessert, "Baklava", melt in mouth super delicious dish finely curated by bakery chef Kannan. loaded with caramelized dry fruits packed between layers of pastry sheets and caramel glazed. heaven it was to end our one awesome lunch to remember.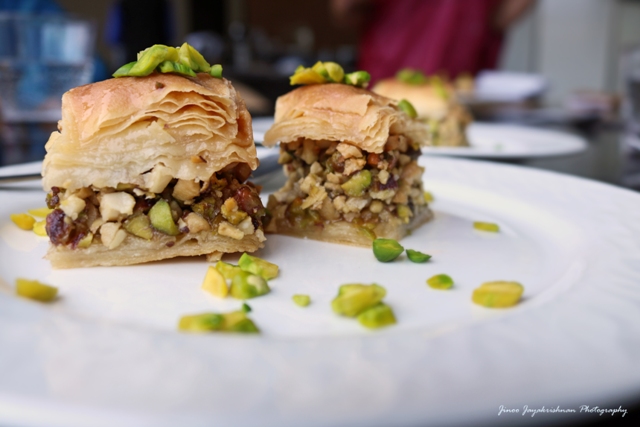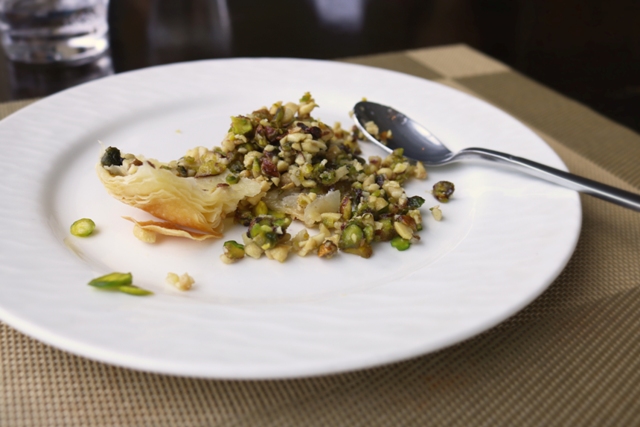 Here is the glimpse of their restaurant recipe series:
Address and reservations:
Address: Radisson Blu Coimbatore, 164/165 Avinashi Road, Peelamedu, Coimbatore – 641 004, India
Website: www.radissonblu.com
Tel: +91 422 2226000
That sweet company I had through the day
That is Me, padmaja and sharmili. Happy and memorable hours spent. Thanks to Radisson group again for inviting us . You have helped us to create a wonderful experience meeting expert chefs and having such special meal.