Mutton Chinthamani ~ Spicy Mutton fry
Mutton Chinthamani ~ Spicy Mutton fry recipe. Chinthamani is very famous among the regions in and around Coimbatore, tamilnadu. Made with just a couple of ingredients and slow cooked. The final fry is spicy, juicy and flavorful.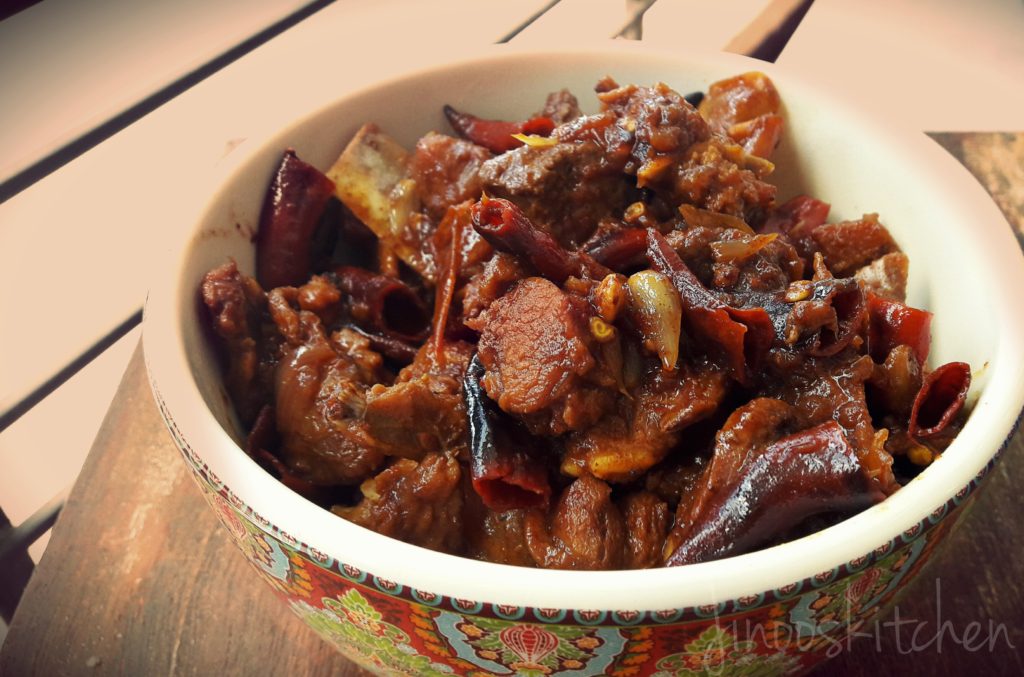 The base for Chinthamani is shallots and red chilli. We would need lot of shallots/small onions for this recipe. I would always go with 1/2 the amount of the chicken/mutton. That is, If am preparing chicken Chinthamani with 1 kg chicken, I will use 1/2 kg shallots. Same applies for mutton also. We are not going to add any masalas. So the juice of Onions and red chilli slowly gets into the mutton and makes it taste yummiest of all.
This recipe is one of the favorite of my family. My husband just needs a bowl of this fry for his breakfast/lunch and nothing else. It is so yummy and must try recipe. It is best when we use Tender mutton incase of mutton chinthamani and country chicken/nattu kozhi in case of chicken chinthamani.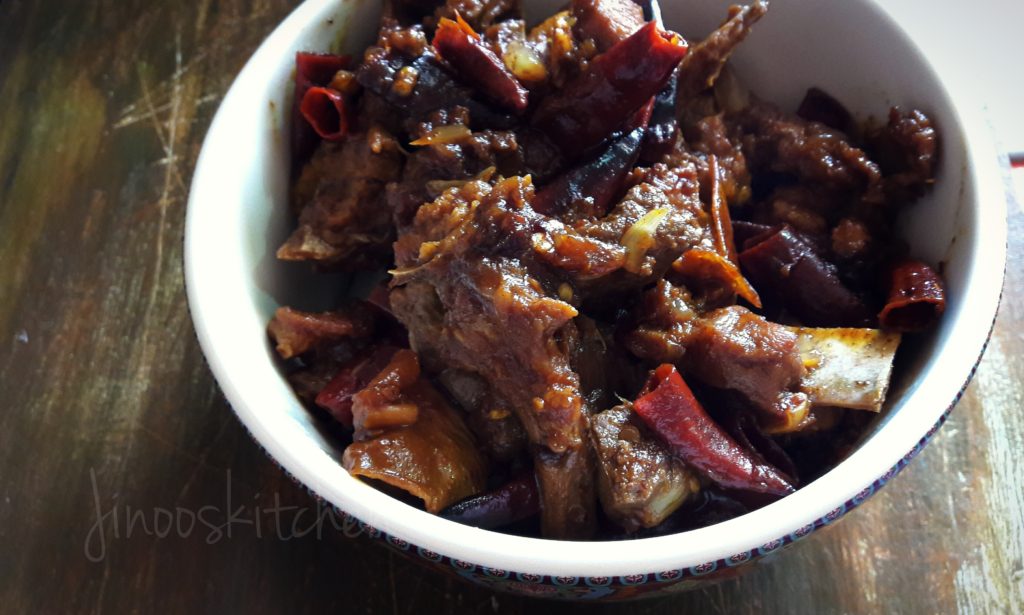 Mutton Chinthamani directions:
Break and De-seed all the red chillies, get it ready.
Peel the small onions and get them ready as well.
Heat oil, put in shallots, red chillies and fry until onions are brown.   Need not chop small onions, they will get cooked and smashed. If it is too big, then cut into halves or roughly chop them.
Few use to crackle mustard seeds before adding shallots but that is optional.
Put in the Mutton pieces along with salt and turmeric powder and let it fry for a couple of minutes until it leaves out water. Now add little bit of water if needed. close and cook in simmer until mutton is done.
We can be sure that mutton is completely done when the flesh falls off from the bones.
Mutton Chinthamani recipe:
Mutton chinthamani
Ingredients
1/2

kg

Mutton

10-15

dry

red chillies

broken and deseded

1/4

kg

small onions

salt

to taste

1/2

tsp

turmeric powder
Instructions
de-seed all the red chillies.


Heat oil in a pan, put in shallots and red chilli and fry till onions are brown.


Add the mutton pieces, turmeric powder and salt. let it fry for a couple of minutes.


sprinkle little water and close and cook for 40 min or until mutton is done. cook in simmer.