Quick and easy | Capsicum Masala fry
Ingredients :
Capsicum – 3 colors each half – sliced
Freshly ground gram flour – 1/2 cup
Mustard seeds
Chilli powder
Turmeric powder
Cumin seeds
Salt
Oil
Method:
Heat oil, splutter mustard seeds and cumin seeds . To this , add sliced capsicum pieces and rest of ingredients except gram flour.
Stir fry until capsicum is done. At the end, add gram flour and mix well. Cook in simmer for 5 min until gram flour mixes well with the vegetable.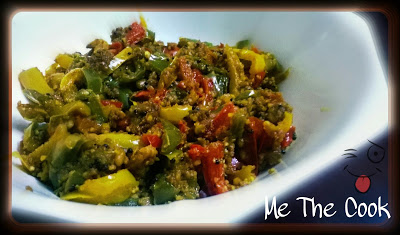 Quick and easy | Capsicum Masala fry