Sabudana roti recipe | sabudana thalipeeth recipe | sabakki roti
Sabudana roti recipe | sabudhana thalipeeth recipe | sabakki roti with step by step photo and quick video recipe. savory roti/flatbread made with sago pearls / sabudana or tapioca pearls. spicy and tasty roti than can is usually made for religious vrat.
I have used onions in this recipe which gives absolutely tasty masala rotis. but in case you are following it for vrat, just skip them from the below recipe. here is a special mango sago pudding recipe mango-sabhudana kheer.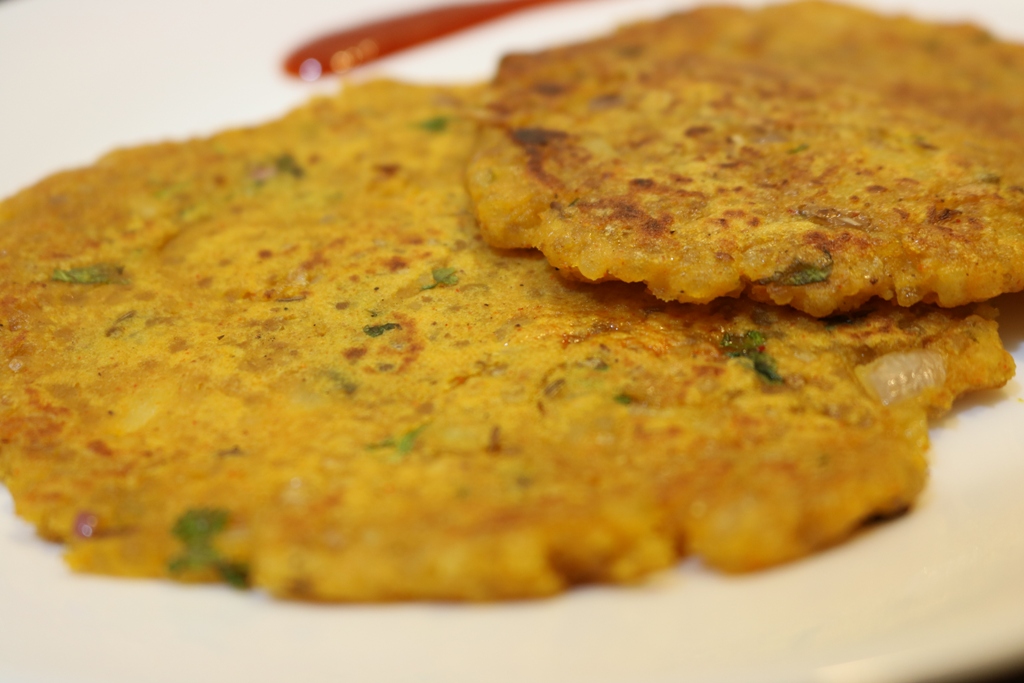 there are few hiccups in making this recipe,
flattening the roti is not so easy. but if you follow the process of flattening as given below, it will come out perfect. In case, it fails, add little wheat flour for binding.
you somehow manage to flatten and transfer to dosa pan but not able to turn it over and it breaks. then make very small sized rotis so that its easy to turn over with flat ladle without breaking it.
sabudana roti recipe video:
Sabudana roti recipe /thalipeeth step by step instructions:
1.soak sabudana in more than enough water for a minimum of 5 hours to overnight until it is easily mashable.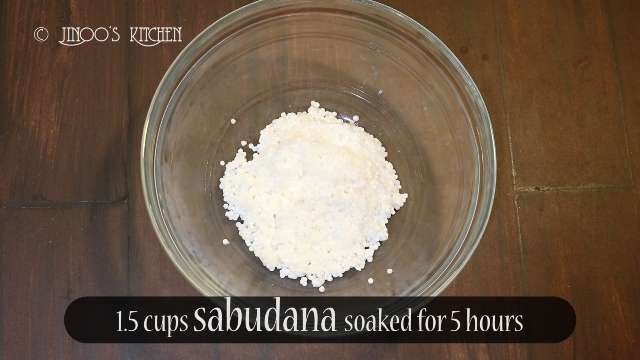 2.squeeze out water completely from sago and take it in a mixing bowl. add finely chopped onions to the mixing bowl along with the sago. Boil and mash the potatoes. it has to get mashed well so that it binds with sago pearls. add the mashed potatoes to the bowl.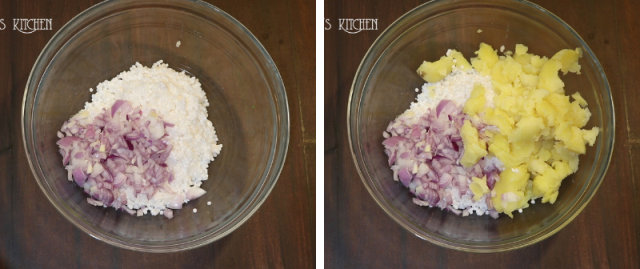 3. take 1/4 cup peanuts preferably roasted peanuts and crush them coarsely in blender. you can store the leftover if any and use it later for aval upma/sago upma etc., . add the coarsely ground peanuts to the bowl. further add butter to the bowl which is optional. You can also add ghee instead of butter.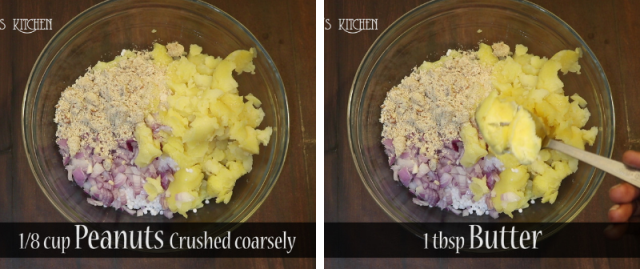 4.together, add turmeric powder and chilli powder. You can also add a mix of kashmiri chilli powder and chilli powder to get dark red thalipeeth/rotis. But, i have added just plain red chilli powder.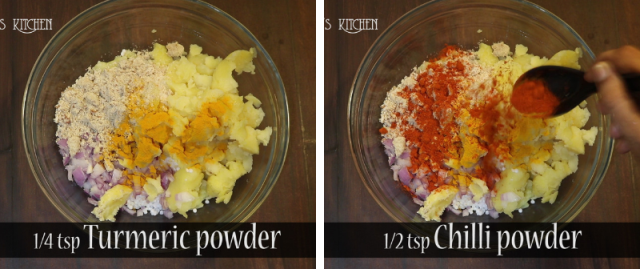 goes in garam masala, cumin seeds and pepper powder.. I have used this homemade garam masala which is really flavorful and very little of it gives so much flavour.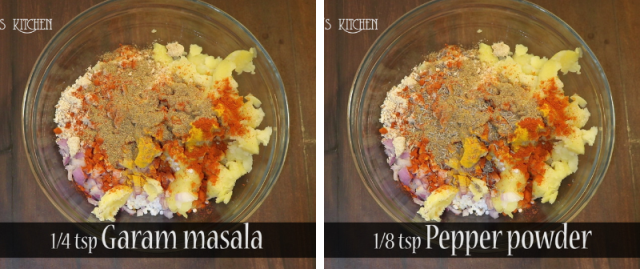 furthermore, add chopped coriander leaves and finely chopped ginger to the bowl.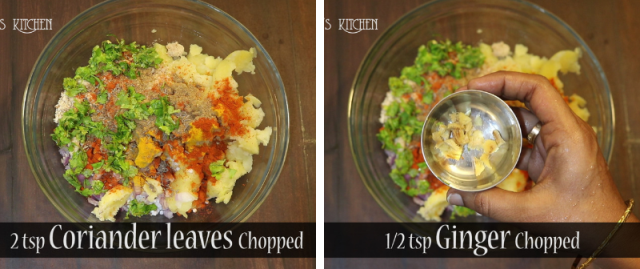 next goes sugar a pinch and salt to taste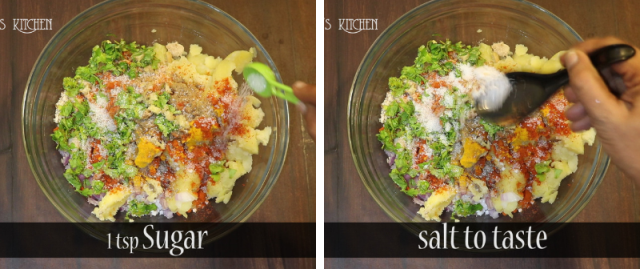 mix well. the moisture in sago/potato is enough to bind them. so need not add any water to make dough. dough will be slightly sticky but thats not a problem at all.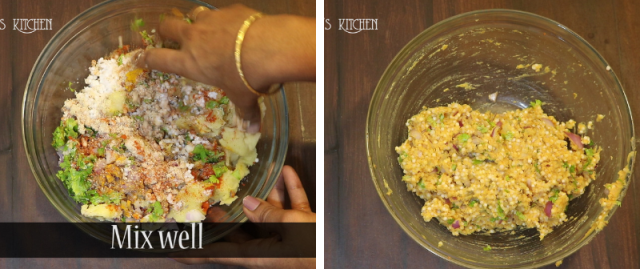 wet your hands and take a small portion of the dough. spread a butter sheet/aluminium foil or if you don't have both, simply use plastic cover. 
place the portion of dough and start spreading out. wet your hands and spread out so that its easy to spread and doesn't stick to your hands.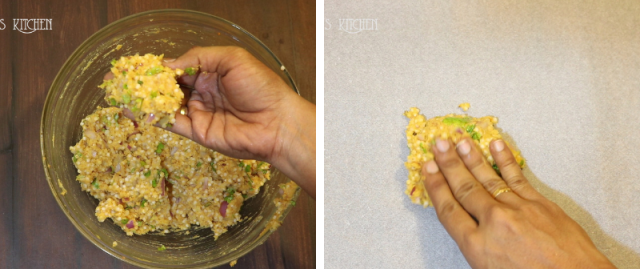 gently flatten to a medium thick roti.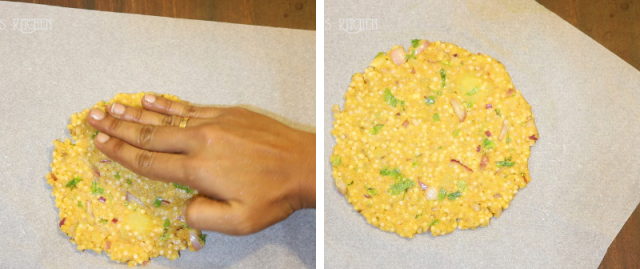 heat dosa pan and transfer the roti to the pan upside down. gently press the centre of the roti. remove the sheet slowly.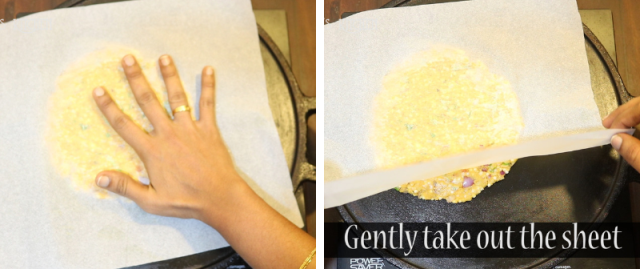 put oil in the sides and cook in medium flame until done on both sides.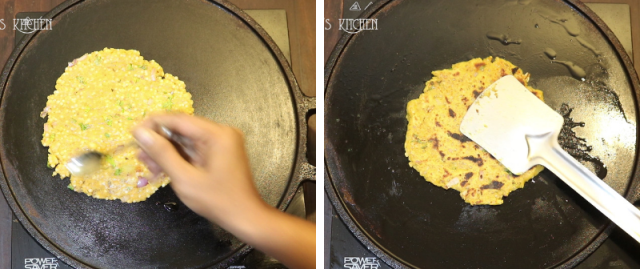 turn side and cook on both the sides. after turning, apply ghee/butter/oil on top. take out and serve hot !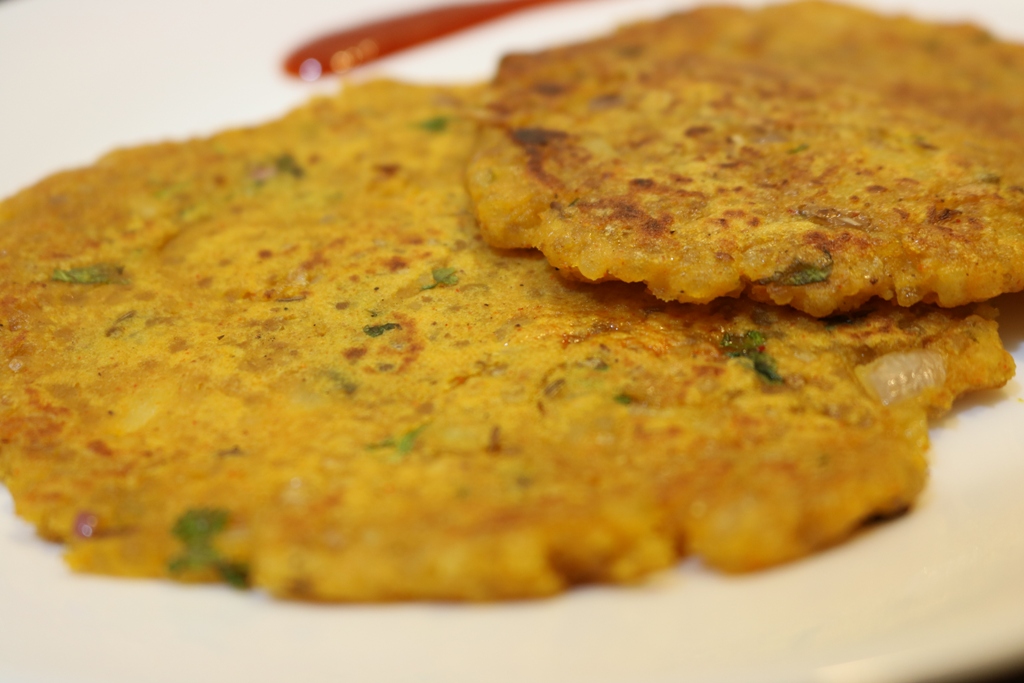 Sabudana roti recipe /sabudana thalipeeth recipe card:
sabudana thalipeeth
Ingredients
1.5

cups

sabudana/ sago pearls

1

medium

onion

finely chopped

2

medium

potatoes

cooked and mashed

1/8

cup

roasted peanuts

coarsely crushed

1

tbsp

butter

1/4

tsp

turmeric powder

1/2

tsp

chilli powder

1/4

tsp

garam masala

1/8

tsp

pepper powder

2

tsp

coriander leaves

finely chopped

1/2

tsp

ginger

finely chopped

1

tsp

sugar

salt to taste

1/8

tsp

cumin seeds
Instructions
soak sabudana for 5 hours or overnight and squeeze out water completely.

take it in a mixing bowl, add the rest of the ingredients and make stiff dough

take a small portion and spread over the butter sheet/foil

grease hands and flatten it to thin disc

transfer to hot tawa upside down along with sheet (sheet/foil on top)

gently remove the butter sheet/foil and apply oil on sides

turn over and cook on both sides until done.