Koova payasam |Thiruvathira recipes| arrow root payasam
Koova payasam |Thiruvathira recipes| arrow root payasam with step by step photos and video recipe. This kuva/ koova payasam is one of the simplest and important dessert that is made on the day of thiruvathira/thiruvathirai.
Made with arrow root powder and very minimal ingredients, this is served to god and had as a fasting/"orikkil" prasadam. it is almost like a jam consistency unlike the normal payasam.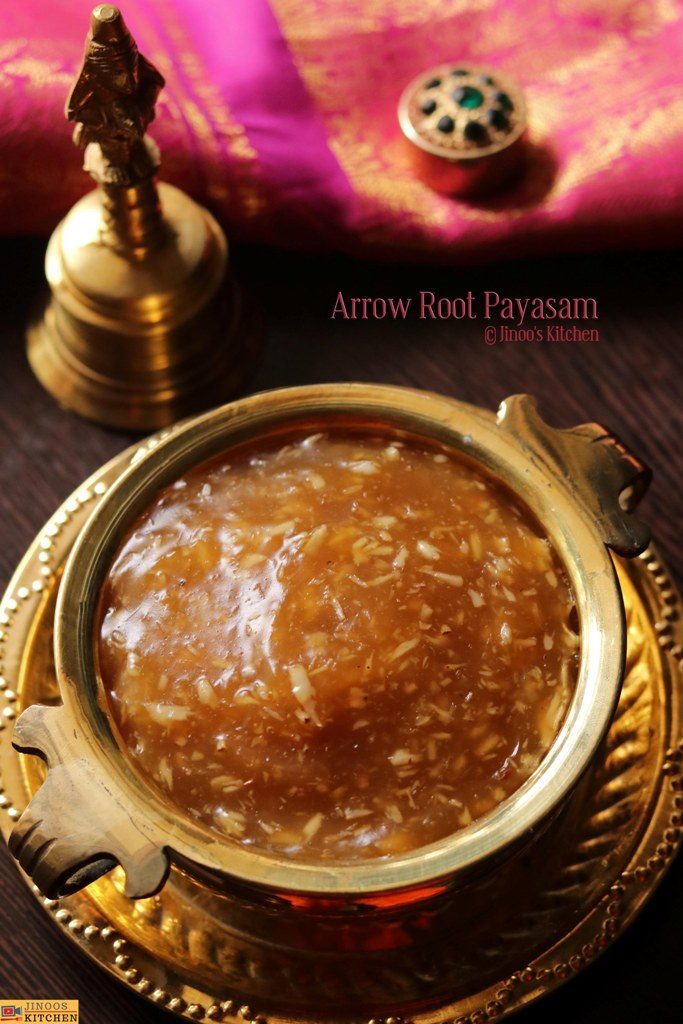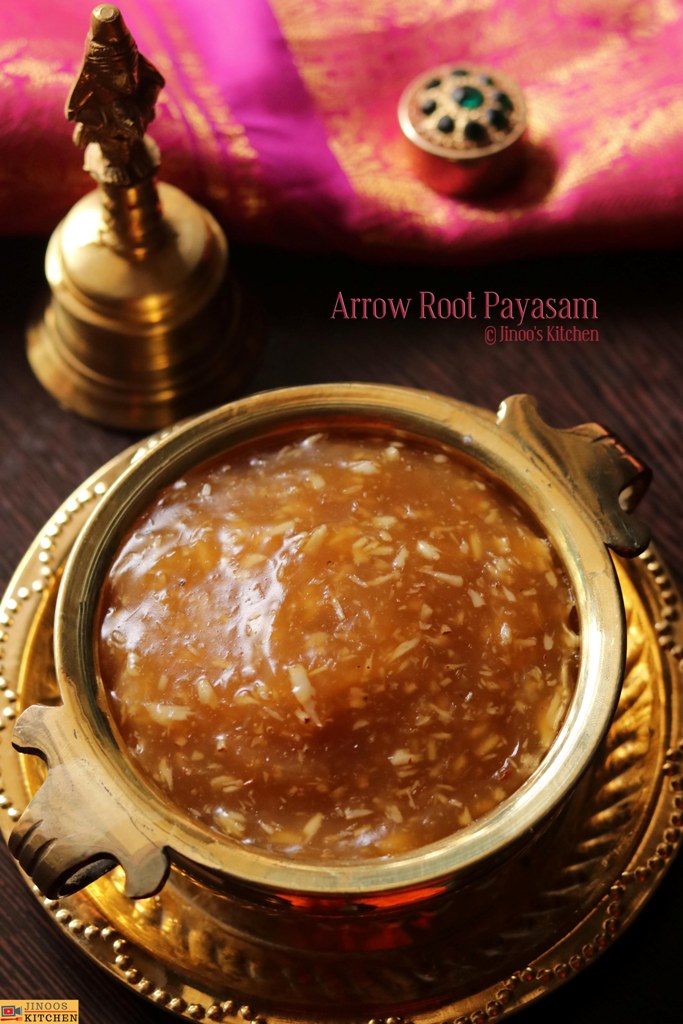 thiruvathira/thiruvathirai/arudraa dharisanam is a Hindu festival. We take up this fast and prayers to Lord Shiva for the well being of the husband, Brother or Son.
I had posted this recipe in 2015 and updating it with recent photos and video. Also Thiruvathira puzhukku is made on this day. worshipping Lord shiva and having wheat(non – rice) and one time meal is often followed in the vratam.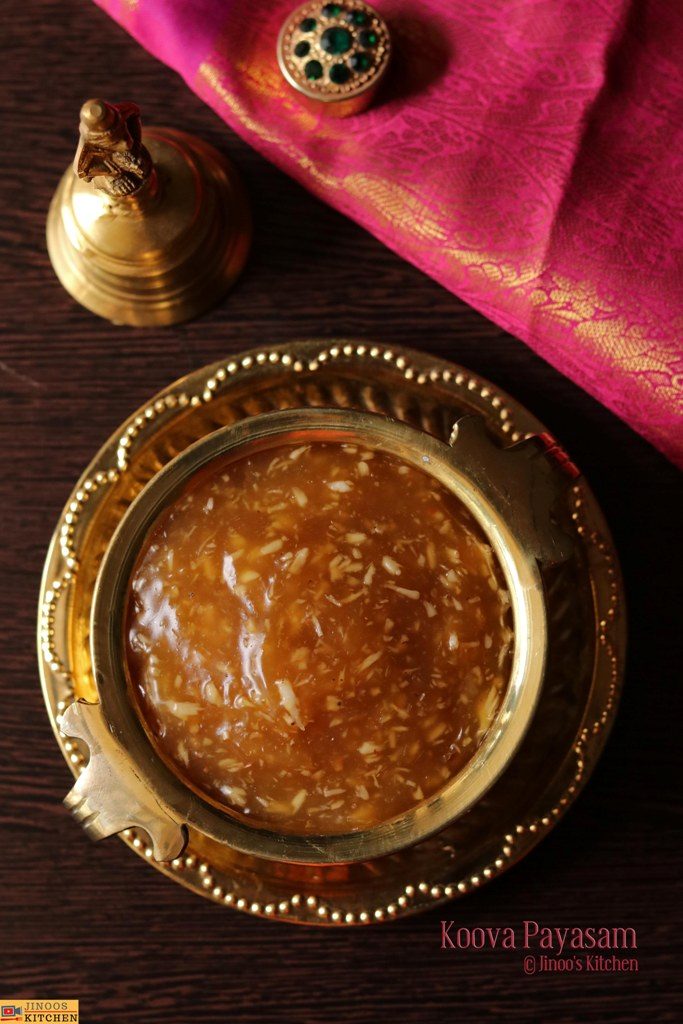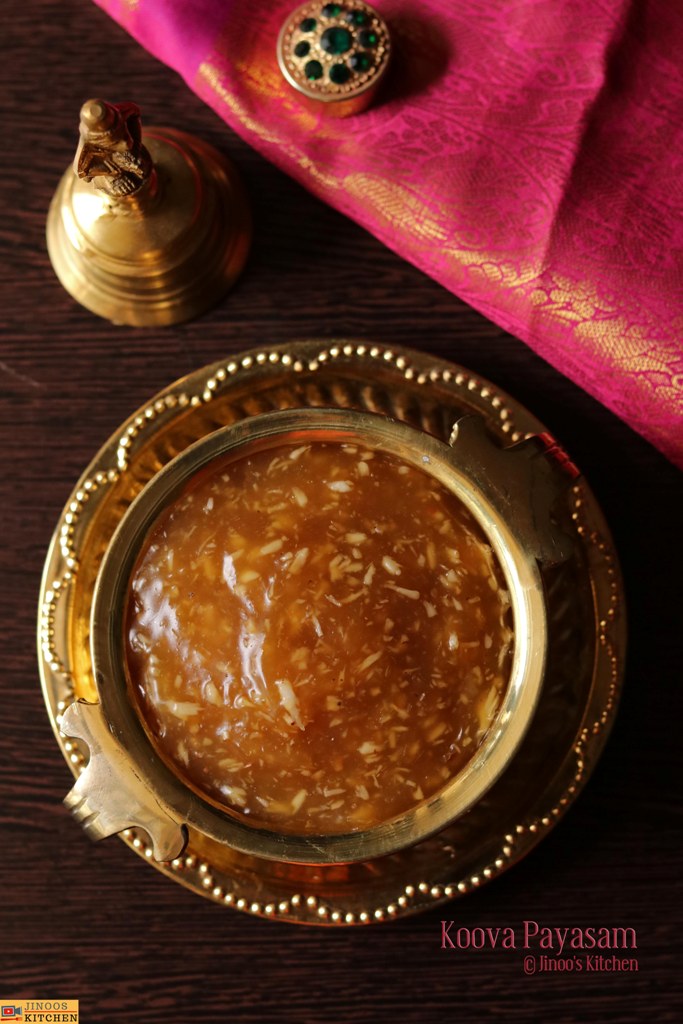 ---
Koova payasam recipe
Koova payasam
Ingredients
1/2

cup

Koova podi / arrow root powder

1

cup

Jaggery

1/2

cup

grated coconut

1/4

tsp

Cardomon  powder

1

pinch

dry ginger powder

1

pinch

cumin powder

1

tsp

ghee
Instructions
Mix the arrow root powder/ koova podi in 1/2 cup water until lumps free.

add cardamom powder, cumin powder and dry ginger powder to it.

meanwhile, melt the jaggery in 1 cup water. let it come to a boil.

let it become warm and then strain and add it to the arrow root mix.

now add grated coconut, 1.5 cups water and ghee. mix well.

until now, we haven't placed the vessel on stove. after mixing everything together. place it on the stove and cook in simmer

cook in simmer while stirring continuously.

it thickens in few minutes. stop when you reach the desired consistency.
Video
Notes
some even add chopped bananas finally for an added flavour. 
---
Thiruvathira recipes| arrow root payasam
1.very first step in making the koova payasam is to mix the arrow root in water and making it lumps free. for this take the pan in which your cooking to cook and add arrow root powder and water in equal measure.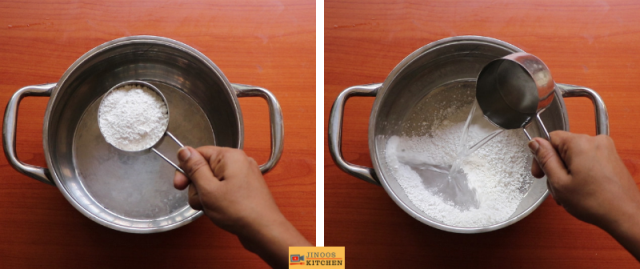 2. mix well until lumps free.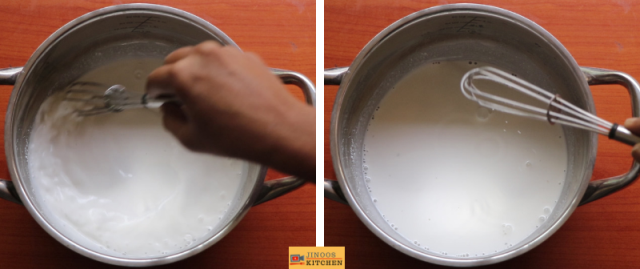 3. to this, add cardamom powder, dry ginger powder and cumin powder.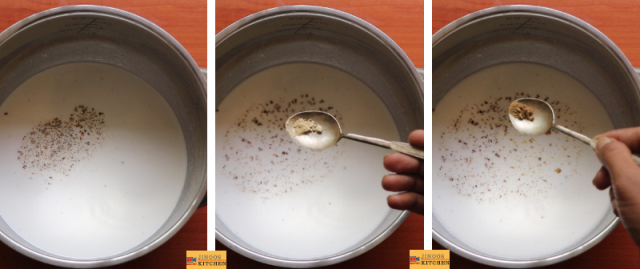 4. meanwhile, in another pan. Melt the jaggery with 1 cup water.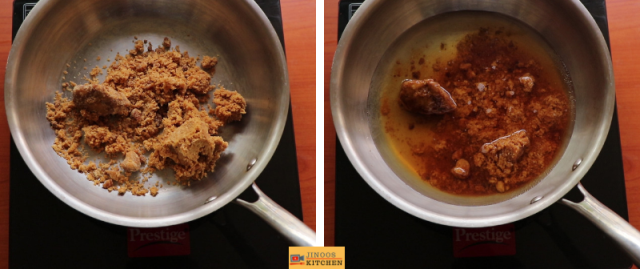 5. Mix and melt until lumps free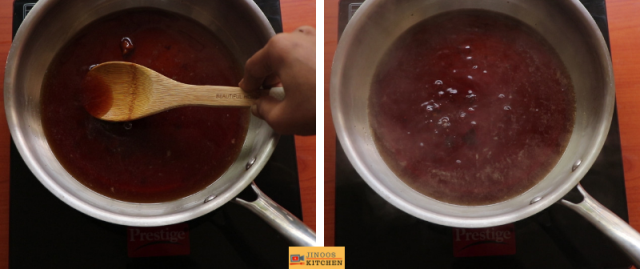 6. let it cool a bit and while it is warm, add it to the arrow root along with coconut grated.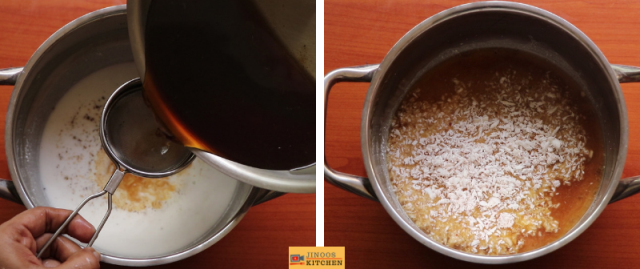 7. add 1.5 cups water. mix well. in total we have added around 3 cups water including the water used to melt jaggery. 1/2 arrow root powder :3 water ratio.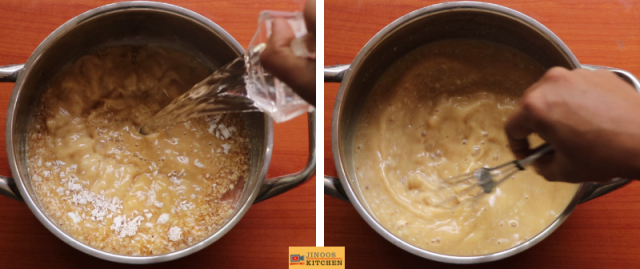 8. Lastly, add ghee and mix again. cook on a low flame while stirring continuously.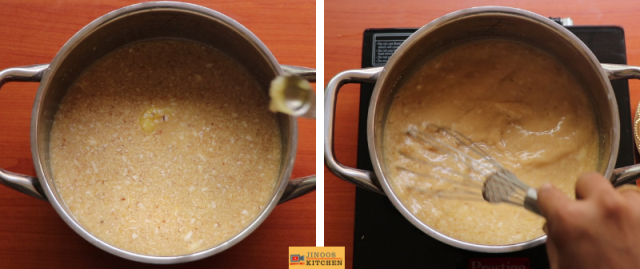 9. keep stirring until it thickens. takes 2-3 minutes. but thickens quickly. so keep an eye and stir quickly.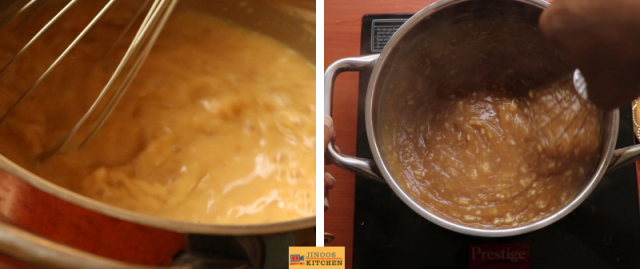 10. while it thickens, put off the stove and stir well to make it smooth and without lumps. remove from stove once you reach the consistency desired.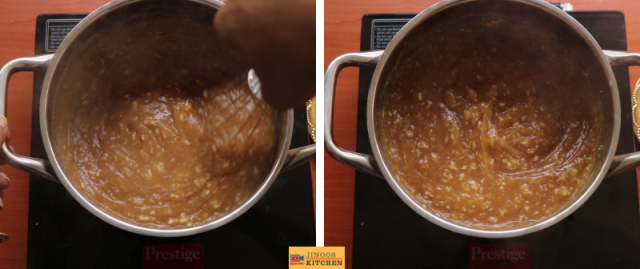 traditionally, this payasam is like kool/jam like consistency. but in case you like it runny, then have hot water besides and add it little at a time and mix well to make it thin.