Variety Rice| Ari Parupu Choru ~ Dhal Rice
Ari Parupu Choru is a most common variety rice made at any south Indian kitchen, This recipe is unique pepper flavored rice variety.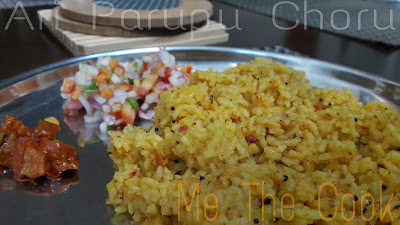 Ari Parupu Choru recipe:
Rice – 1 cup
Dhal – 1/4 cup
Red chilli – 2 nos
Corriander seeds – 2 1/4 tsp
Peppercorns – 1 tsp
Cumin seeds – 1 tsp
Garlic – 4 cloves roughly chopped
Mustard seeds – 1 tsp
Shallots/onions – 1/4 cup chopped
Tomato – 1/4 cup chopped
Green chilly – 1 no
Turmeric powder – 1 tsp
Coriander leaves
Salt
Water
Oil
Ari Parupu Choru directions:
1. Soak rice and dhal in water 30 min before cooking
2. Dry roast red chilli, corriander seeds, peppercorns, cumin seeds
3. Grind the above roasted spices along with garlic
4. Heat oil in cooker, splutter mustard seeds. fry chopped shallots and then add curry leaves. Saute until onions are pink.
5. Add tomato and green chilli and saute well until mushy.
6. Add turmeric powder and dhal without adding water.
7. Mix well and add rice, salt and water
Water to be added in 1:2.5/3 ratio
8. Add chopped corriander leaves and a tsp ghee
9. Cook for 15 min in simmer and then let it cook in medium flame to 2 whistles.
Serve hot with pickle and raita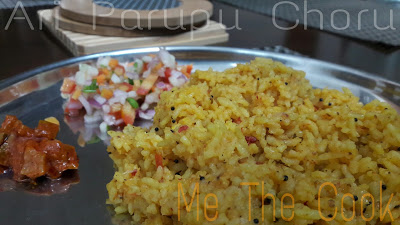 Variety Rice| Ari Parupu Choru ~ Dhal Rice